Drake's "In My Feelings" Music Video References The Viral Dance Challenge In A Playful Way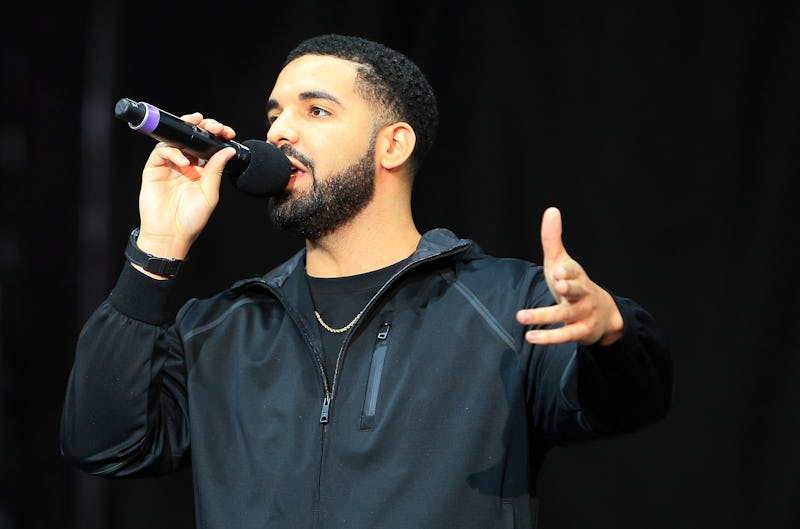 Vaughn Ridley/Getty Images Sport/Getty Images
On Aug. 2, the world finally got to meet the famous Kiki. Drake's "In My Feelings" music video dropped on Thursday night and playfully referenced the viral dance challenge. It even features Shiggy, the originator of the #InMyFeelings challenge that has become the Summer sensation.
The video starts out with a piano intro playing during a montage of night sights from New Orleans. Drake pulls up to a beautiful house, exits his car, and throws a rock at one of the windows in that old-fashioned romantic way. He calls out for — who else? — Kiki, who is played by Lala Anthony. She comes to the window. "I've been texting you all day and you've been ignoring me," Drake tells her in the video. "I'm trying to come to you like a man."
Kiki, however, isn't having it. "You're too old to be on somebody's front lawn acting like this," she tells him. Then, Drake professes his love for her, but it seems like she has a good reason to be skeptical. "If you love me, then you'll make them other girls in your phone disappear," Kiki says in the video. At this point, the legendary Phylicia Rashad makes a cameo as Kiki's mother — and kicks Drake off their lawn.
"This is not a Taye Diggs movie, sir," Kiki's mom tells Drake. "You're a grown man." But once Kiki's mother goes back in the house, Drake returns, asking Kiki to meet him at their usual spot. But then Rashad comes back outside to tell him to get off their lawn once more.
And that's when the song begins as Drake takes the viewer throughout the city of New Orleans, where Drake and the residents are dancing to "In My Feelings." Some of the dance moves even seem to echo the now-famous "In My Feelings" Challenge started by Shiggy.
Shiggy himself appears in Drake's "In My Feelings" music video, dancing on a trolley and in a fun dialogue with Drake at the end of the video. The video's conclusion has Drake wondering if the #InMyFeelings Challenge — along with the song's success and his own music video — was all a dream. But then Shiggy knocks on his trailer door and Drake seems to recognize him... from somewhere.
Shiggy posted clips from the music video on his Instagram account with the following caption:
Had A Great Time On Set Shooting This Video Tried My Best To Hold This In But It's Out Now So Go Check Me Out In The Official "In My Feelings" Video Special S/O To @champagnepapi For Having Me In This And @karenaevans For Letting Me Be Me
The music video is directed by Karena Evans, who also directed Drake's videos for the songs "Nice For What" and "I'm Upset."
On July 17, Drake posted a photo with Shiggy when "In My Feelings" reached No. 1 on the Billboard Hot 100 chart. Drake wrote in the caption: "Met the legend on the night we went number one. ✅🙏🏽🙌🏽 @theshiggyshow"
The credits of the "In My Feelings" music video contains fan videos of the challenge, as well as the videos by the cast of Queer Eye and Will Smith's own epic take on the challenge.
And with that, the "In My Feelings" Challenge has truly come full circle.