Dre Thomas Is Taking The Taboo Out Of Menstruation & Mental Health For The Girls Who Need It Most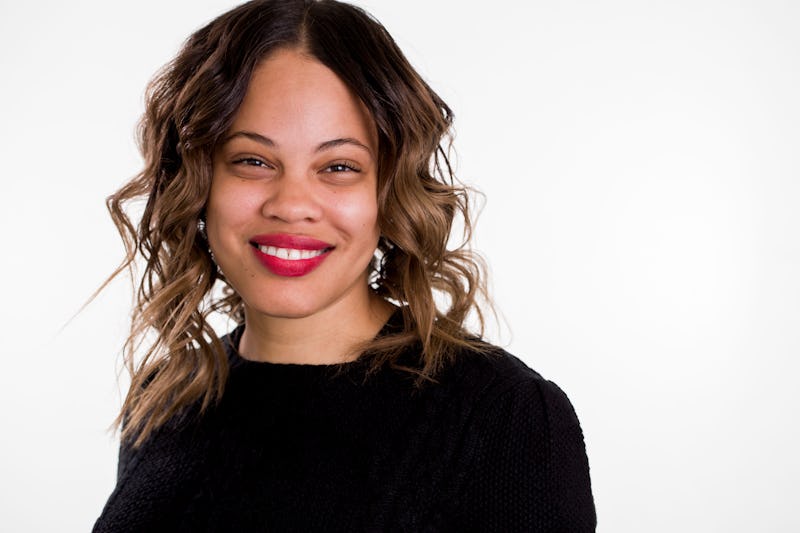 Courtesy of Dre Thomas
Bustle's list of Rule Breakers is essentially a reminder of the power we all possess — and there's no group more powerful than our readers. That's why we wanted to make sure you were involved in the exciting process of creating this dynamic lineup of game changers.
Dre Thomas is our readers' Rule Breakers pick. Thomas' organization, Smile On Me, provides inner-city girls with a safe space and the necessary tools to understand menstruation, and to become all-around comfortable in their adolescent skin. In a conversation with good friend and supporter Tiffany Perez, Thomas shares more about Smile On Me, and how you can get involved to support its much-needed mission.
Tiffany Perez: How is Smile On Me rule breaking?
Dre Thomas: I think Smile On Me is breaking the rules because we're providing a space for girls, especially for girls of color, to discuss topics that are still taboo like menstruation and mental health. I [also] think wellness for the community that we serve is really not talked about at home, like your mental health. So we like to provide space for girls to learn how to meditate, how to take care of themselves, and also [how to] take care of their bodies when they're going through puberty.
TP: I think that's plain breaking a lot of rules that are set with society today.
DT: Yeah, I like to believe so. I always grew up asking, "How can I do this differently?" I like to say that I like to do old things new ways. So yeah, I think I am pretty much a rule breaker!
TP: Sounds like you are. What prompted you to start Smile On Me?
DT: This has been something I've been thinking about doing since I was in 11th grade. I always wanted to impact girls or change the world, so I was initially wanting to do a thing where I provided girls with underwear and bras. I wanted to call it Underoos. So we [would] like go house to house, deliver underwear and bras and things like that. I was always confused about when a period [would come] and how to use a pad or a tampon, so I realized that if that happened for me, girls are still having to go through that.
Ultimately that's what I want Smile On Me to be: a space where girls can come and work and connect with their peers.
TP: Out of the fundraisers and the donations that you've been collecting for the girls, which are the products that you think they need the most? And on the flip side, what are some of the things that the girls like the most?
DT: I think that [what] girls need the most is soap. Bar soap. We work with girls who are just going into puberty — so 9 and 10 and 11 — and a lot of times they're unaware of body odor or how their body is changing. But what they like the most [are] just the cute things. We also give out pads and tampons and things like that, which a lot of them are grossed out by, because they're just so embarrassed about periods, which we all were.
TP: If you can have any partnership with any organization, [which] would it be and why?
DT: There [are] so many, but I really would love to partner with The Wing one day. The Wing is a social club for women, and I've been a member there for about two years now, and that's honestly where I got the motivation to start Smile On Me. I love that they're just providing a space for women to be safe and calm and work and gather. Ultimately, that's what I want Smile On Me to be: a space where girls can come and work and connect with their peers. And I really love their mission, I love their vision, and the co-founders are just regular down-to-earth women.
TP: What would be one of the most valuable things that [your mentees have] taught you when working with them?
DT: One of my mentees is going to eighth grade, and these girls are so much smarter and wiser than I was at that age. I was asking her, if she [could] change the world, what would she do? And she said she would want to help homeless people because they're right in our backyard. For me, they've taught me to slow down and look around myself and see where I can actually make impact. The girls coming up behind us are really gonna shake the city and change the world.
TP: What's next for Smile On Me?
DT: Oh gosh. Well, in October, we're hosting an event for the International Day of the Girl. We're gonna be talking about topics like sexual assault, dating violence, ... how to stay safe on the streets, sexual harassment, things like that. But in the future, my goal is to continue to grow. I wanna host a summit annually and reach more girls, and hopefully global domination soon!
[My 6-year-old niece] is already breaking rules at home so I want her to start breaking rules for the greater good.
TP: What do you think is the rule that women, especially women of color, need to break more often?
DT: I think that's beautiful. I love this trajectory we are going in now with women and the #MeToo movement, and women speaking up and no longer being afraid or ashamed to talk about things like sexual assault and harassment. And black girls are often overly sexualized at a young age, so I would love to be part of the conversation where we're bringing these topics to younger girls and how to face these realities of society. I firmly believe that it's all about representation.
TP: So, if there was a handful of things that you can tell your friends or your family or your co-workers to donate [to Smile On Me] what would those things be?
DT: Of course, hygiene products. Like I said, bar soap, pads, toothbrushes, toothpaste, shampoo, those types of things. Also, if you have the resources to donate things like books. [And] they really love makeup, face masks, lip gloss and things like that. I'm trying to continue to collect donations, but also ask for the beauty products. Like, for me, I'm obsessed with Glossier now, so we had a few people donate some lip balm from Glossier and the girls loved it.
TP: If you could choose one person to be your rule-breaker icon, who do you think you would choose?
DT: Well besides Miki Agrawal, I think my [6-year-old] niece, because she's crazy. I really have so [many] high hopes for her. I'm excited to see her grow up. I want her to have the confidence to do things that aren't normal or to help someone else. I want her to be that person for our family and for herself. I'm really excited to see the person she grows up to be. She's already breaking rules at home so I want her to start breaking rules for the greater good.
This interview has been edited and condensed for clarity.