Drew Barrymore Just Chopped Off All Her Hair As A Clapback To Cyberbullies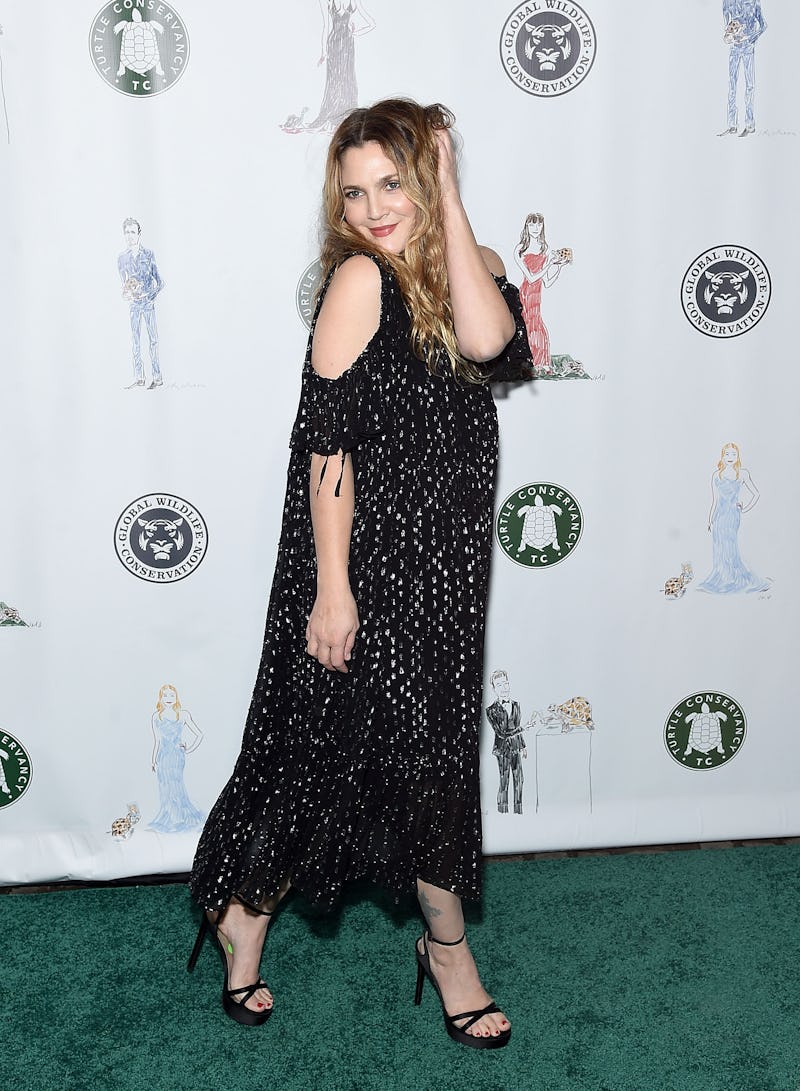 Jamie McCarthy/Getty Images Entertainment/Getty Images
Congratulations, Drew Barrymore. You have officially won the Internet. Drew Barrymore just cut off her hair, trading her long, beachy waves for a glossy, shoulder-skimming lob. While a celeb hacking off her hair is a pretty common occurrence that often generates loads of online chatter, Barrymore's sleek and chic chop was a touch different. In addition to being several inches shorter, the cut was actually a clapback to the cyberbullies that have recently polluted her Instagram feed.
Here's the situation: Barrymore recently posted a Boomerang holding a red starfish and noted that its stunning color matched a new red lipstick from her Flower Beauty range.
The internet went ballistic over the video, since handling a starfish is something one must do with extreme caution and care, as the creatures are delicate. While Barrymore didn't appear negligent when cradling the marine life, Insta users saw Barrymore's starfish seflie as egregious, careless, and potentially dangerous to a living, breathing thing. However, plenty of animal sympathizers came to Barrymore's defense regarding the act and the image, saying she appeared careful with the creature.
Rather than engage the web, Barrymore took time for herself. She followed up all the online drama with a shot of her new haircut, letting the world know that the haters would not get her down nor would they ruin her day.
Here is the post that kicked off fevered arguments.
Barrymore went "under the scissors" and shed several inches of hair, blowing her center-parted strands straight. Despite the new haircut being a lot shorter than her recent mermaid waves, the style offers versatility and has plenty of length that she can sweep into a messy bun or a high pony.
But way more importantly, Barrymore released a strong message into the world, namely to women and her young daughters. We can and should practice beauty rituals because they make us look, and more importantly, feel good. They are an outward reflection of our inner selves.
ICYMI, here's a rundown of the heated debate that raged on in the comments of the original starfish post. Animal rights activists and those with marine biology backgrounds were making points and counterpoints about whether or not the starfish selfie was an act of cruelty. Discussions quickly devolved, with some trolls insulting Barrymore and attacking one another in downright cruel and unnecessary ways.
This argument that popped up multiple times and it makes a valid point.
Many users also commented that the starfish being out of water jeopardized its life.
This commenter disputed that the fish was safe in her hands.
It's worth nothing that an army of Barrymore fans turned up in the comments of the post, telling haters to back off and reminding Barrymore how beautiful and awesome she is. Despite the outpouring of support she received, the star saw the flood of activity on her feed and was obviously effected by the haters.
She ultimately made the decision to "do you" — or in this case, to "do Drew" —focusing on herself rather than getting lost in the Internet's often-toxic ether. Her new coif is gorgeous and she paired the cut with statement, Old Hollywood, matte red lips.
Here's the actor's previous cascade of epic, Cali girl waves.
Barrymore's new hairstyle is definitely glam AF, but the actor made a seriously significant point on the caption of her post revealing her newly shorn locks: "Pretty is on the inside. But a little love on the outside never hurts."
The Internet can be an ugly place, but Drew Barrymore did her part to find the beauty in celebrating herself even among the hate. And that's a lesson we can all learn from.