Texas Might Jail You For Driving A Friend To Get An Abortion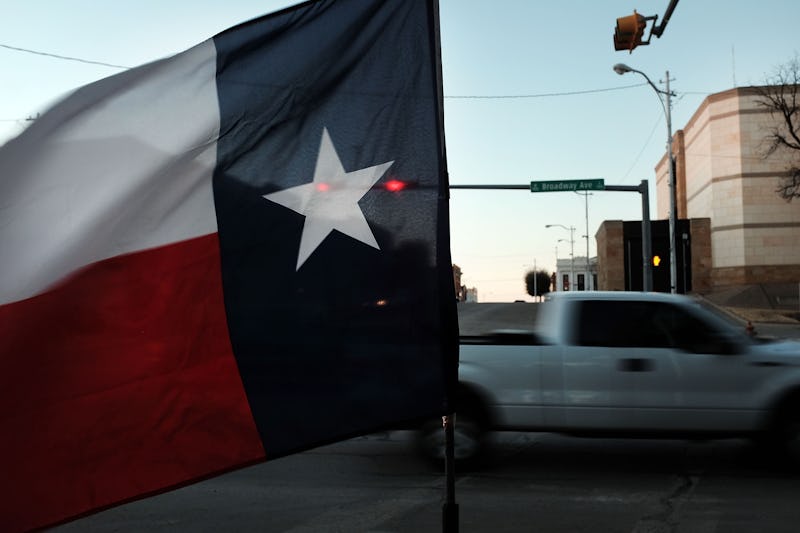 Spencer Platt/Getty Images News/Getty Images
When the Texas legislature passed Senate Bill 8 last week, it was clear that lawmakers wanted to prevent doctors in the state from performing abortions. What may not have been clear was the extent to which the conservative law could apply. Now, at least one state lawmaker is concerned that Texas could jail people for driving women to get abortions.
According to the Texas Observer, Texas Rep. Joe Moody, a respected legal expert and former prosecutor, launched an effort to amend SB 8 in order to reduce its potential scope. As passed, SB 8 could give Texas the ability to prosecute anyone involved in the process of getting an abortion with a state felony, which could mean jail time. It's up for interpretation, but Moody fears the law's writing could mean people who drive women to get an abortion could be prosecuted, as it's part of the "process" of getting the procedure. Speaking to the legislature, Moody reportedly called such a provision "an unintended consequence of the law."
Intended or not, the law — as is — could be here to stay. The Observer reported Tuesday that Moody's amendment failed to pass, suffering a loss at the hands of a 51 (for)-83 (against) vote. That margin was only slightly closer than the entire bill itself had when it passed. The Texas House reportedly passed SB 8 with a vote of 93-45.
As of Tuesday, SB 8 awaited Texas Gov. Greg Abbott's signature. If it becomes law, SB 8 could severely limit the ability of women to get abortions within the Lone Star State. In fact, the Dallas Observer on Tuesday called SB 8 the "most stringent" anti-abortion bill to be passed by the legislature in four years.
While troubling, the new bill might not be surprising to many Americans — Texas has a strong precedent for passing harsh anti-abortion legislation. In 2013, then-Gov. Rick Perry signed into law an anti-abortion bill that banned abortions after 20 weeks of pregnancy and required abortion facilities to meet the same requirements as outpatient surgery centers. More recently, in March of this year, the Texas Senate passed a bill that would allow doctors to withhold information about a baby's disabilities or abnormalities from pregnant mothers. Not surprisingly, the Texas legislature is composed of about 80 percent men, many of whom are conservative.
Planned Parenthood in Texas called SB 8 "controversial and dangerous" after last week's House vote. By potentially criminalizing those who perform or facilitate abortion procedures, Planned Parenthood's status in the state is undeniably threatened.
Thanks to Texas' long-standing commitment to reducing access to abortion, that threat is nothing new, but it could cause women to lose an important freedom over their bodies in the state.