The FDA Just Approved A New Drug To Help Fight The Flu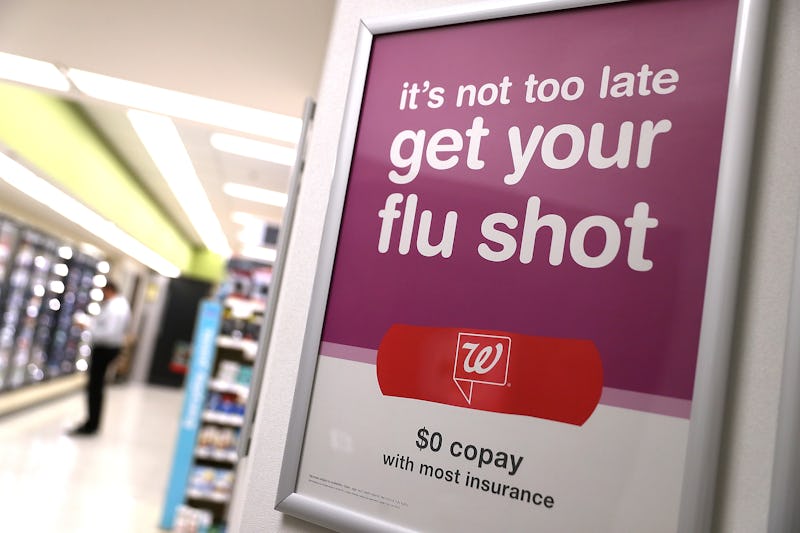 Justin Sullivan/Getty Images News/Getty Images
Getting your flu shot should be your first line of defense against the virus, but while the vaccine protects against the most common strains of flu, it's still possible to get the illness over the course of the season. Many of us who get the flu may simply wait it out at home, but what you might not know is that drugs to treat the flu (and speed up your recovery time) are available. Now, the U.S. Food and Drug Administration has approved a brand-new flu drug. Xofluza is the first antiviral flu drug approved by the FDA in nearly 20 years, according to the FDA's statement on the approval. The drug is approved for patients 12 years of age or older who've had acute, uncomplicated flu symptoms for no more that 48 hours, and it'll be available in the U.S. within the next few weeks.
"This is the first new antiviral flu treatment with a novel mechanism of action approved by the FDA in nearly 20 years," FDA Commissioner Scott Gottlieb, MD, said in the statement. "With thousands of people getting the flu every year, and many people becoming seriously ill, having safe and effective treatment options is critical. This novel drug provides an important, additional treatment option."
Gottlieb further stated that while your first line of defense in terms of avoiding the flu is to get vaccinated, the new drug is an important treatment option for people who do get sick. "While there are several FDA-approved antiviral drugs to treat flu, they're not a substitute for yearly vaccination," Gottlieb said. With flu season already in full swing, Gottlieb further suggests that you get your flu shot by the end of October, "as seasonal flu vaccine is one of the most effective and safest ways to protect yourself, your family, and your community from the flu and serious flu-related complications."
According to CNN, Xofluza is a single-dose pill available by prescription. CNN further notes that when patients with the flu are treated with antiviral drugs within 48 hours of getting sick, both the symptoms and duration of the respiratory illness can be significantly reduced.
The major difference between Xofluza and other antiviral drugs on the market is the way that it's taken, says TIME. Xofluza is the only antiviral drug available that can be taken orally and in single doses. Other drugs include Relenza, which is is an inhaled powder, and Tamiflu, which must be taken orally twice a day for five days.
TIME further notes that, in clinical trials, patients who took Xofluza recovered faster than those who were given a placebo. That said, the new drug did not eliminate symptoms any faster than other available flu treatments. TIME also reports that the new drug will be available to the U.S. public soon. Insured patients will be able to buy the drug for as little as $30, while the wholesale cost is slated at $150.
"Having more treatment options that work in different ways to attack the virus is important, because flu viruses can become resistant to antiviral drugs," said Debra Birnkrant, MD, director of the Division of Antiviral Products in the FDA's Center for Drug Evaluation and Research said in the FDA's statement.
Research involving over 1,800 study participants shows that Xofluza is safe when taken as directed. However, some patients did develop side effects including diarrhea and bronchitis, per the recent statement.
While the flu shot will help keep you from getting the flu in the first place, antiviral drugs can help lessen the duration and severity of the illness. Other important flu prevention steps include frequent hand-washing and avoiding others who are sick. Practicing good overall self-care, like sleeping enough, managing stress, eating well, and getting regular exercise, can also help. The flu can cause dangerous complications, so see your doctor as soon as you can if you start developing symptoms — especially if your symptoms are getting worse, or if you develop a fever of 103 degrees Fahrenheit or higher.