You Can Now Get Manis & Pedis In Some DSW Stores — And Here's How The VIP Treatment Works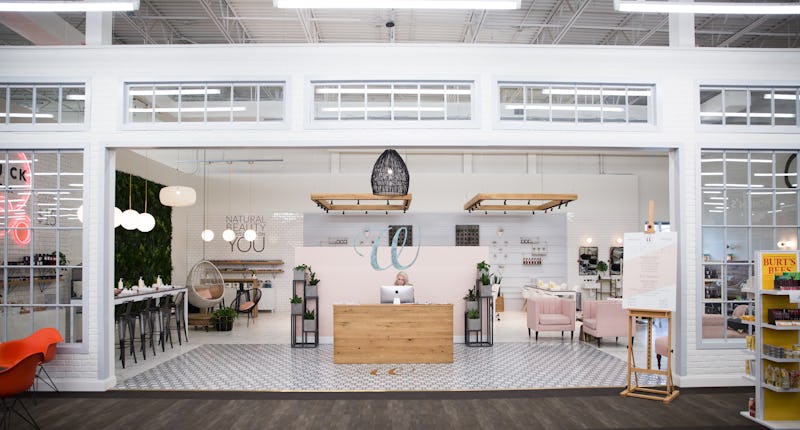 Courtesy of DSW
You probably shop at DSW Designer Shoe Warehouse because the retailer offers a legit assortment of footwear — from heels to kicks. It's a solid one-stop shoe shop since prices are incredibly attractive. Plus, you can browse the spacious aisles for hours and discover several "must own" pairs. The brand's revamped DSW VIP loyalty program, store makeovers, and concept locations are a major step up and make the retailer even more appealing. This is no ordinary rewards program — because it's not every day you can shop for shoes, do a polish change, repair shoes, and earn points!
DSW's new Polaris Lab Store offers natural manis and pedis, concierge service, and triple the shoe options.
The DSW Polaris Lab is a concept store located in Ohio, which is the brand's HQ. This design is rolling out in other locations later this year— including Miami; Yonkers, NY; Oakbrook, IL; San Diego; Dallas; Clearwater; Daytona, FL; and at the company's Easton store in Columbus, Ohio — which will also be the second location of the company's posh W Nail Bar.
So you may be able to enjoy some self-care in your fave shoe store soon!
The DSW concept store is not awesome simply because you can squeeze in a mani and pedi while shopping. This location makeover and those that will follow are a direct response to feedback and considered customer experience. Customers wanted services along with their shoes so the retailer answered that call in a gorgeous way.
"Given DSW's mission of inspiring self-expression, manicures and pedicures make so much sense," DSW's Simon Nankervis told Bustle in an email. "Dedicated nail customers also come back to the store every few weeks, making it an ideal traffic driver for our business."
DSW opted to partner with W Nail Bar not simply due to the local Columbus connection but also because the salon is "known for their commitment to natural, locally sourced, green products," Nankervis told us.
He furthered, "They have a focus on expressive nail art, impeccable customer service and a maniacal focus on cleanliness and sanitation practices. Plus, nail bar customers earn rewards points on their services as part of our new DSW VIP loyalty program."
Whoa! Pedi points? Sign us up!
Other elements of the concept stores include the "Sole Lounge," which offers pickups, returns, and donation options in a relaxing environment where you can sit down, rest, and charge your phone. The Lounge also offer repairs — ranging from heel, stitching, and leather fixes to waterproofing.
The Sole Lounge also features Fit Step Pro, which offers custom insoles for athletes and those with orthopedic issues.
The "First Dibs" test area allows Gold and Elite VIP rewards members exclusive access to new products. We'll get to the levels of rewards membership in a moment.
There's also a "Kids' Area" for the little ones. Wow, right?
You truly can pamper yourself and shop in a peaceful and modern environment. But you can also support others with the new DSW VIP loyalty program — in addition to enjoying your own perks. The retooled program allows you to donate shoes to Soles4Souls, which creates sustainable jobs and provides relief through the distribution of shoes and clothing in the U.S., Canada and around the world, in exchange for rewards points.
Members also enjoy free shipping on any purchase and the ability to earn more rewards more frequently. As Nankervis mentioned, getting mani or a pedi at W also earns rewards points. If you aren't already one of the program's 25 million members, aren't you itching to sign up? You should be!
In a press release, DSW Chief Operating Officer Michele Love explained the impetus for this program — to make the customers that the retailer loves look and feel good. She said, "The new DSW VIP program continues this legacy by offering members compelling benefits and emotional experiences when they shop for shoes. We want to inspire their self-expression. Our customers are very important people, so we want every member to feel like a VIP when they shop at DSW."
The DSW rewards program boasts three tiers: VIP Club (free to join), VIP Gold ($200 in annual spending), and VIP Elite ($500 in annual spending). All three tiers receive birthday rewards, while Gold and Elite can also give two $5 birthday rewards to friends and enjoy early access to exclusive offers and events.
If you also like to consider the planet when shopping, the loyalty program is also killer because it allows you to shop conscientiously. The brand's research shows that nearly 75% of women own more than 21 pairs of shoes while 95% own more than 10 pairs. Shoppers can try new trends without penalty due to the free shipping and free return options to stores for all VIP members and the free returns offered for up to a year for Elite members. The donation arm also reduces personal waste and helps someone in need.
The new DSW VIP program and concept store satisfy all your shoe, self-care, and philanthropic needs at once.