Dua Lipa Chopped All Her Hair Off & It Will Make You Want To Reach For The Scissors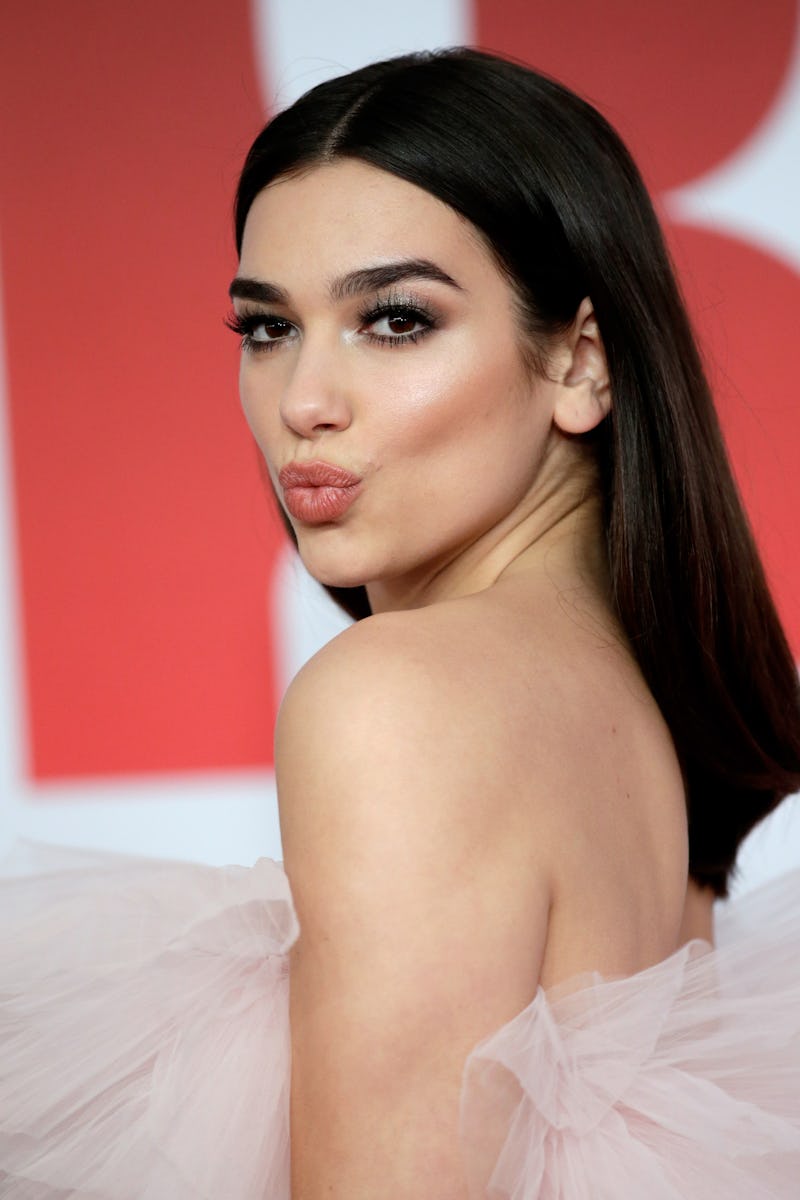 John Phillips/Getty Images Entertainment/Getty Images
Spring has sprung in the beauty world, and 'tis the season for cutting off inches of hair. As BuzzFeed found, Dua Lipa chopped her hair off and she looks absolutely incredible. While this isn't her first time going short, it's the shortest style she's ever rocked. Be warned: Just one look and you'll be reaching for the scissors yourself.
If you're only familiar with the sound and not the look of Dua Lipa, let me refresh your memory. The singer has, err, had long dark locks. While she's played around with the length a bit recently, she decided to go shorter than ever for spring.
According to her Instagram post, Dua Lipa went through with the "snip snip" on April 6. Although it happened early in the month, fans were commenting things like, "I'm still not over this" days later. Needless to say, fans are pretty obsessed with the look. Just one glance at the image and you'll know exactly why.
There are haircuts that make you feel super confident and then there are haircut that were just made for you. Dua Lipa's was the later. You'll almost forget that she ever had long hair in the first place. This is your last warning: get ready, because you're going to want to chop your hair off after seeing this style.
It's almost like you forgot that she ever had long hair in the first place. She makes the cut look so effortlessly cool. The singer has opted for a side part instead of her classic middle part as well. It's almost like she's a completely different person with just a few inches gone and a brand new part.
Fans are very opinionated on the new hairstyle. People either love it or they hate it. There is no in-between. While some people are positively freaking out over the look over the look, others are wishing that she would have kept the inches that she has. Either way, Dua Lipa love it, so that's really all that matters.
Here are all side of the conversation, so you can decide for yourself.
Blessings on blessings on blessings from Dua Lipa. She's completely rocking the new 'do in all of the photos she's been taking lately, and her fans are noticing.
Compliments come in a lot of different forms. This one is oddly specific, but a compliment none the less.
If this isn't spot on, I don't know what is. This singer might have just gotten herself a new stage name.
Good thing that there's not a limited amount of heart-eye emojis, because this hairstyle deserves them all.
People are getting very specific with their compliments. Is this hairstyle trademarked? Because if not, she might want to.
If ever there was a hairstyle that deserves to be talked about in all caps, it is this one. Dua Lipa with the short hair is the new Becky with the good hair.
How many fans does it take to call it a blessing for the entire world to realize that it truly is one?
Hello, hair dresser. I would like to get the Dua Lipa. Please and thank you.
Live footage of Dua Lipa's new hairstyle inspiring all of her fans to run out and get a bob too.
I'm not trying to be dramatic here, but Dua Lipa's new bob is literally out there saving lives.
If you haven't already noticed, more people are obsessed over this hairstyle than they do hate it. Stop what you're doing and go call your hairstylist, because the next big trend is here.