Well, Dua Lipa Just Wore The Biggest Ugg Boots You've Ever Seen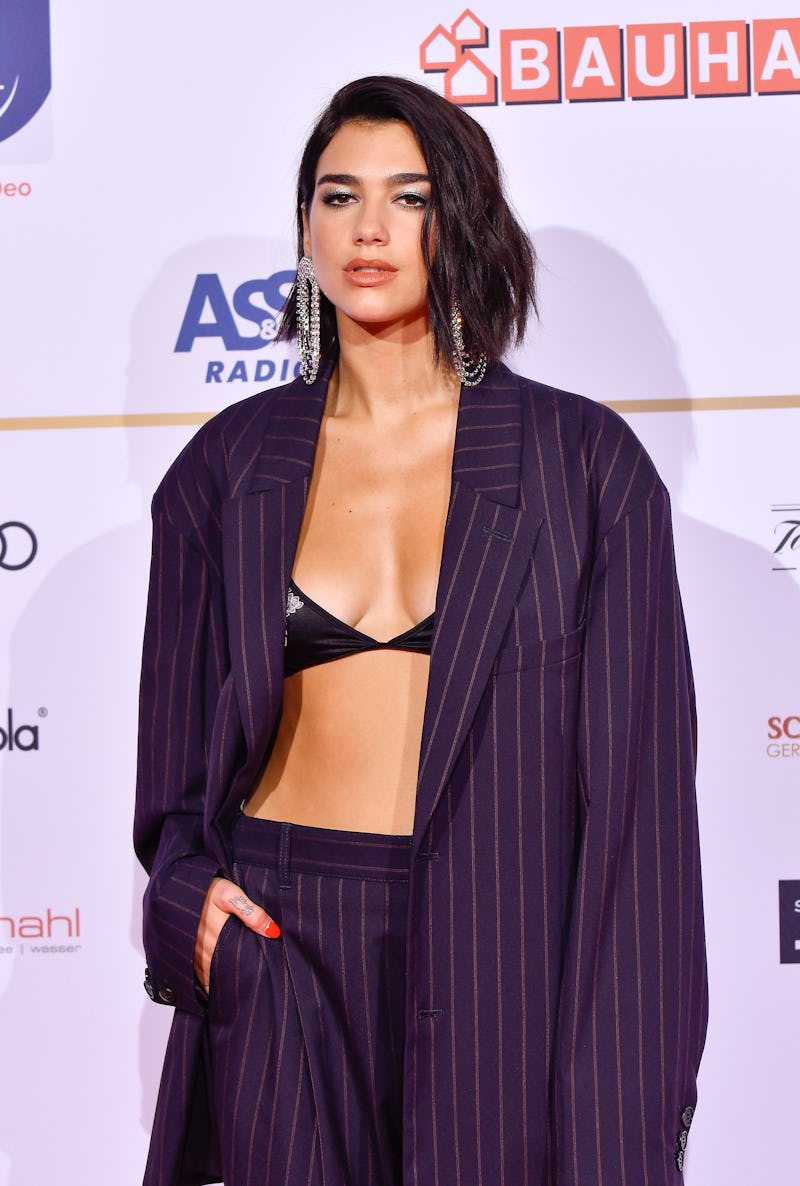 Christian Augustin/Getty Images Entertainment/Getty Images
Dua Lipa has Instagram divided over one of her bolder fashion choices, proving that a pair of shoes could incite some pretty strong opinions. Dua Lipa wore thigh high Ugg boots, and fans had a lot to say about them. She posted a photo of herself on her account in celebration of a social media milestone, where the artist hit 18 million followers. "Feeling golden. Thank you for 18 million followers!!" she wrote in the caption.
The photo consisted of Lipa in front of a gold curtain, wearing nothing but a baggy t-shirt and thigh high slouchy Ugg boots. Made in collaboration with Ugg and high-fashion label Y/Project, the brand released the slouchy shoes on their Paris Fashion Week runway, creating a lot of buzz over their avant garde shape.
Y/Project is a Parisian brand that likes to get creative with their collections, often times opting for innovative shapes and interesting silhouettes. For example, one of their boots from the last collection was a pleather bootie that looked like it unravelled and snaked up the thighs. The brand likes to take risks and push the boundaries of fashion, making them a fun label to watch.
Knowing their penchant for the weird and interesting, their Ugg boots design didn't come as a shock. Taking the iconic winter boots and putting them on a stiletto heel, it was a creative take on the winter staple. Couple that with making the boots aggressively slouchy, and you have yourself a piece that is unexpected and playful.
"The UGG Classic boot is one of the most recognizable shoes in history. It's timeless and challenging design made it a worldwide statement. Y/Project is about challenges. Since launch we've been twisting the grounded codes, we challenged the acceptable and triggered people by putting focus on the unexpected," Glenn Martens, the designer behind the brand, said in a release.
Of course Lipa isn't the first celebrity to wear the shoes out. Rihanna wore the collaborative boot earlier this year, where she wore head-to-toe Y/Project for a day at Coachella. She took the slouchy thigh-high boots and matched them with a knotted kaftan from the same label, creating a bold but cozy look.
The inspiration behind the thigh high boots was all about comfort and inciting cozy feelings. "Putting on Uggs is like putting your foot in a warm pot of butter, and I thought why not elevate that and immerse your full legs!" wrote Martens. "So we decided to design an Ugg boot that climbs up to the crotch and covers the whole leg."
In case you love the thigh high look but don't want heels, Martens also created a flat version of the shoe, incorporating that ruched, Shar-Pei dog look without the tall stiletto.
But not everyone was a fan under Lipa's photo, where followers expressed some of their confusion. "I don't get those boots," one fan wrote. "Omg these boots are so funny but u pull them off dua," another shared.
Whether you love them or hate them, you have to admit that they're definitely one of a kind.