Dunkin' Donuts Is Cutting Over 10 Major Menu Items — Here's What's Leaving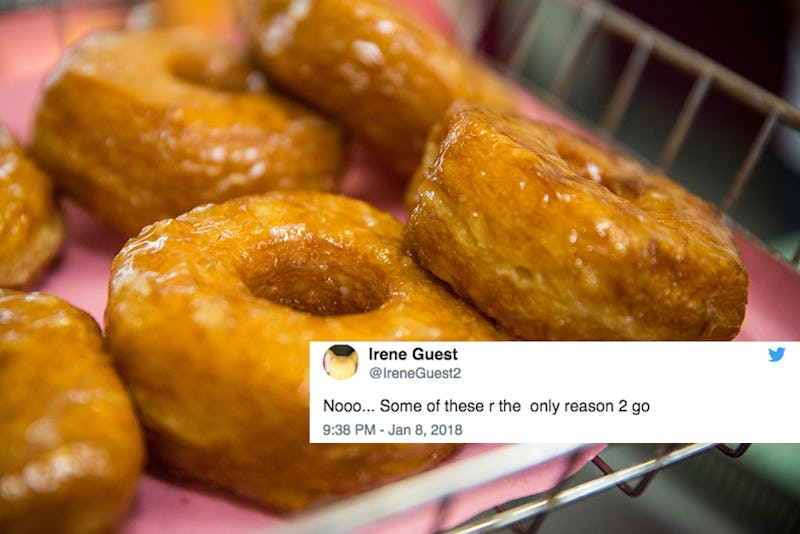 Andrew Burton/Getty Images News/Getty Images
Are you sitting down? Good. OK, so... don't freak out... but, Dunkin' Donuts is cutting over 10 major menu items from their stores. Hey, listen, changes happen. And let's start off this news with a positive note: Coffee, most donuts, and select breakfast sandwiches are not being slashed from the menu, so you can still start the day with a large coffee and a munchkin. Or five. But the key word there is "select." If your morning Dunkin' ritual includes a specific order, you might want to check out what's staying and what's being let go.
Changes happen, but the commonality of their occurrence doesn't make it easier to adapt to. Seemingly permanent menus like Dunkin' Donuts' are a comfort from which we find stability. Often, before a crazy day or a long drive, it's a sandwich from Dunkin' that fuels us. When they switch up on us there's a feeling of sadness — it forces one to confront the fleetingness of life. For instance, when my favorite local restaurant randomly nixed my favorite roasted vegetable wrap from their lunch menu, I was lost in a sea of less than worthy replacements. But because I was already sitting there, I picked a new sandwich. The verdict? I liked it enough to have an epiphany. Sometimes change leads to new discoveries we otherwise wouldn't experience because we were so stuck in our ways. So, while it's okay to mourn the loss of these items from the menu, maybe you'll unite with a drink or sandwich you otherwise wouldn't have picked up when you were so stuck in your ordering ways.
If your local Dunkin' is located in New England or upstate New York, you might've already seen some menu items being cut — some of these locations are where the chain began testing their new, stream-lined menu. For the rest of the nation, remember to have an open mind when Dunkin' Donuts starts reducing their menu between now and March.
So why the change? A spokesperson told Boston.com that the changes are to create, "faster, more accurate service and a more consistent consumer experience from store to store." So if you think that the shrinking menu is just savage, remember it is for the best, and essentially, our benefit. The faster we get our Dunkin' the faster we can enjoy our glazed donut dipped in hazelnut coffee.
So, here's the part I know you care most about: What's leaving. Well, you can start bidding farewell to:
Turkey Cheddar Bacon Sandwich
Ham & Cheddar Sandwich
Tuna Salad Sandwich
Chicken Salad Sandwich
Big N' Toasted Breakfast Sandwich
Angus Steak & Egg Breakfast Sandwich
Strawberry Banana and Tropical Mango Smoothies
Peach, Caramel, and Mocha flavor shots
Select muffins: Honey Bran Raisin, Reduced-Fat Blueberry
Select bagels: Garlic, Blueberry, Onion, Salt, Whole Wheat, Poppyseed and Sour Cream & Onion
Select cream cheese flavors: Plain Reduced-Fat, Chive & Onion
Bagel twists
Flatbreads
Understandably, some Twitter users are having ~feelings~ about the menu makeover, and taking the news hard.
Savor every bite of your Dunkin' bagel before March when these items are a thing of the past. On the plus side, these changes come based off of official Dunkin' conducted ~research~. Dunkin' spokesperson Michelle King told the Boston Globe in July 2017, "We have conducted extensive consumer research and our customers have told us that our menu was too complex and confusing." To some saying goodbye to what is not the basics is a good thing.
Whether you're Team Back To Basics or Team Dunkin' Bagels, you should know that these edits come with the news that the coffee chain has plans, according to WHDH News 7 Boston, to add 9,000 more stores in the future. So even if you ~feel~ like you're getting less Dunkin', you're really getting a more ~efficient~ Dunkin' so that you can literally run on it.
To those who are struggling with the news, change is a good thing. Embrace the simplicity of the menu. We may not have all the bagels and cream cheese, but at least the coffee and donuts aren't going anywhere.