Dunkin' Donuts May Be Changing Its Iconic Name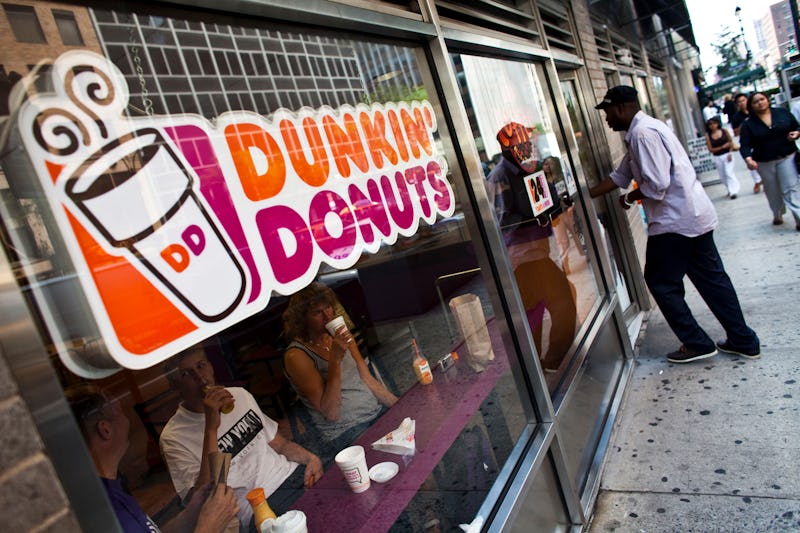 Ramin Talaie/Getty Images News/Getty Images
If you're a longtime fan of Dunkin' Donuts, you probably know how to spot one of the chain's stores from a mile away. The signature pink-and-orange bubbly text and little coffee illustration can be recognized from anywhere--after all, America runs on Dunkin'. Fans of the coffee-and-donut spot might need to prepare themselves for a huge change in the brand: Dunkin' Donuts might be changing its name to just "Dunkin'." Bustle reached out to Dunkin' Donuts about the rumors of a name change, and the company provided Bustle with the statement below:
Dunkin' Donuts has been testing signage in a few locations across the country that refers to the brand simply as "Dunkin'." We do not plan to make any decisions regarding the branding until later this year.
The chain started dabbling in its first efforts at a company-wide name change last summer, with a location in Pasadena, California simply called "Dunkin,'" as well as one in Boston, Massachusetts. According to Delish, there hasn't been a lot of coverage on the matter since then — but things might change soon. Just last month, 30 more of the donut spot's locations across Boston were seen sporting "Dunkin'" logos across the storefronts.
Don't worry — even if the name changes, the donuts aren't going anywhere. The concept behind the shift to "Dunkin'" is a part of the company's major rebranding program, according to Business Insider. The new and improved Dunkin' locations are set to include a revamped store design, coffee-lover approved drinks like nitro infused cold brew, and digital kiosks increase order efficiency. The first Dunkin' location debuted in Quincy, Massachusetts, and Business Insider reports that the new concept will be at 30 locations in Boston and 20 nationwide by the end of 2018. Dunkin' might just be the most chic spot in town — keep it in mind for all future coffee dates.
Although dropping the "donuts" in their name isn't set to be a completely permanent change — as per the statement mentioned earlier — it's certainly struck a cord with some fans. I'm not surprised, I mean, let's not forget IHOb-gate (shivers).
Definitely a fan of the last one.
Valid point.
Okay, now we seriously need to talk about this guy predicting the future from nearly a decade ago.
I hope he reads this article and gives himself a pat on the back.
Dunkin' Donuts has its vision for the "Dunkin'" concept stores laid out perfectly. In a news release about the first location in Quincy, MA, they described each major feature of the rebranding platform. First and foremost, they're focusing on modern design: "The special interior design uses lighter colored materials, an open layout and natural light to create an approachable, positive and energetic environment," the company explained. Great lighting? I told you it was going to be a go-to first date spot. Next, they mention a "faster-than-ever drive-thru experience," which will use an On-the-Go drive-thru lane that allows DD Perks members who order ahead via Dunkin's Mobile App "bypass the ordering lane and merge straight into the line for the pickup window."
They discuss their brand new premium coffee innovations: "Dunkin' Donuts' signature cold beverages are now served through an innovative tap system serving eight consistently cold beverages such as coffees, iced teas, cold brew coffee and nitro infused cold brew coffee." Sounds good to me. Other new perks will include employee uniforms designed by brand Life is Good, an expanded grab-and-go food and beverage selection, and increased energy efficiency — DD Green Achievement restaurants (like the one in Quincy and future Dunkin' locations) are designed to save 25 percent more energy than a standard Dunkin' Donuts restaurant.
Whether you love or hate the potential name change, you have to admit — the upgrades sound too good to resist. Here's hoping that a Dunkin' restaurant hits all of our cities as soon as possible.