Dunkin' Donuts Sneakers Are Actually A Thing & They're Sweeter Than A Coffee Coolata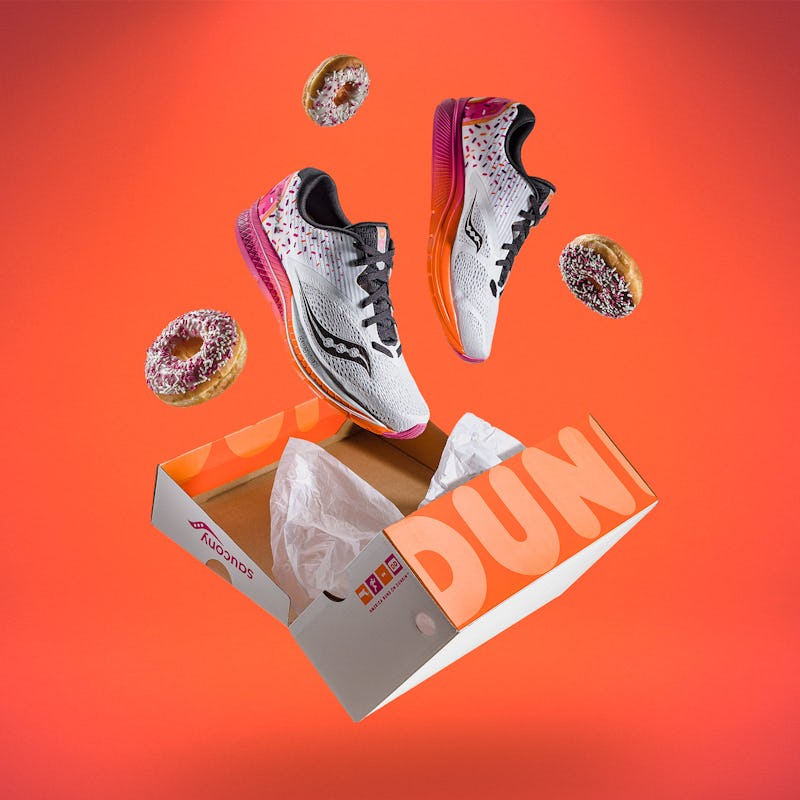 Courtesy of Saucony x Dunkin' Donuts
Say hello to the coolest, coffee-inspired dad shoes you'll ever wear. Saucony x Dunkin' Donuts Kinvara 9 sneakers were just released, and they are a sweet treat for your feet. The kicks celebrate the 2018 Boston Marathon, as both brands have deeply embedded Boston roots. The duo say it made sense for them to finally join forces for a pair of sneakers that honor the city's historic and iconic race and the mutually beneficial relationship between runners, coffee, and — of course — donuts.
The shoes are inspired by Boston Marathon runners and their love of Dunkin' Donuts coffee, which serves as a galvanazing, pre-race fuel. Runners also routinely enjoy the chain's sugary, sprinkly donuts for a post-race nosh.
The Saucony Kinvara 9 running shoe serves as the base, with tons of playful and delish DD detailing. These shoes can carry you through a 26.2 — and yes, they can be purchased.
The Dunkin' Donuts x Saucony Kinvara 9 sneakers are available for pre-order via the Saucony site as of Tuesday, March 27. Orders will then ship on Tuesday, April 3.
The kicks will be available at Marathon Sports stores on April 3, as well. Additionally, you can scoop up these kicks at the John Hancock Sports & Fitness Expo starting April 13, while supplies last.
These limited edition sneaks have a decidedly "Dad shoe" shape. They cost $110 a pair and feature a wealth of playful elements woven into one of Saucony's most popular running silhouettes. They boast a lightweight feel and yummy graphics and flourishes.
The body is decked out in the white, magenta, and orange colorway aka Dunkin' Donuts' signature hues. Further tasty imagery is featured throughout, such as the sprinkles and a frosted donut heel. The sprinkles are strategically placed to appear as though they are "flying" throughout the shoe — implying the sort of movement and speed that defines marathon runners.
There is the also-signature Saucony river logo featuring coffee bean print detail, while the instantly recognizable DD logo sits at the top of the tongue.
Hey, java lovers! Coffee factors heavily into the soles. The right insole boasts an image of a Dunkin' hot coffee while the left insole touts an iced version.
Your beverage temperature preference doesn't matter — these sneakers include both.
The infamous and thoroughly fitting "America Runs on Dunkin'" phrase is placed in the center along the reflective stripe.
The shoes come with three sets of laces in black, magenta, and orange, so the wearer can customize or switch things up. The kicks also come packaged in a custom Dunkin' Donuts box that can be repurposed for storage.
The sizing is pretty expansive, too. The Dunkin' sneaks come in men's sizes 7 through 15. The sneakers also come in women's sizes, from 5 through 12.
You can now show your Beantown pride in ways that don't involve the Red Sox or the Patriots. You don't need to be a runner to wear these dad shoes, either. Pair 'em with leggings or skinnies and add a pop of color to any ensemble.
If you are a Dunkin' loyalist, this collectible box is a fun keepsake.
The Dunkin' x Saucony sneaks aren't simply an outward expression of your love of an A.M. coffee 'n' cruller, running, Boston, or some combination thereof. They are a fab athleisure fashion statement.