A Doctor Who Dyed A Woman's Vagina As A "Joke" Won't Face Any Jail Time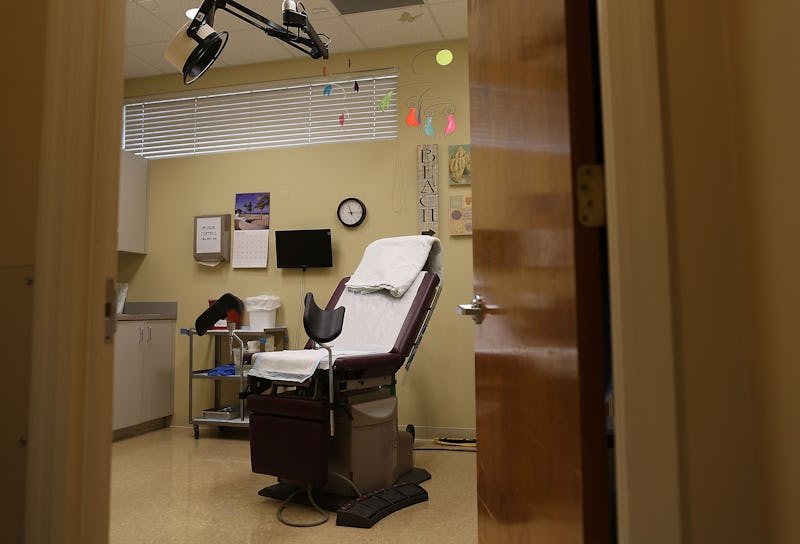 Joe Raedle/Getty Images News/Getty Images
After undergoing a gynecological exam last year, a Colorado woman learned that she had been victim to a startling practical "joke." The doctor had dyed the woman's vagina purple, intending to play a "joke" on her. That doctor, Dr. Barry. W King, pled guilty last Friday to a misdemeanor count of harassment related to the incident, per the Grand Junction Daily Sentinel, and his conviction will be dropped if he goes two years without harassing anybody else.
King's conviction comes as part of a plea deal, according to the Sentinel. He is required to perform 100 hours of community service, as well as donate $500 to the Western Slope Center for Children and apologize to the victim. In the meantime, he will be allowed to continue practicing medicine.
The incident in question took place back in 2017, when the victim — who worked for King at the time — approached him for medical advice. The woman was a breast cancer survivor, per the Sentinel, having undergone a double mastectomy. At the time, she had grown concerned that the cancer had returned after finding a lesion on her vagina. She asked King if he would take a look at the lesion because her own gynecologist had retired, and she had yet to find a replacement. King agreed to give her an exam, during which he reportedly dyed the woman's vagina purple using gentian violet, a coloring agent used to help treat unrelated gynecological issues.
King ultimately admit to intentionally dyeing the woman's vagina, describing it as a "joke," according to the victim. "He said, '... It was a joke,'" she told Judge Michael Grattan. "It was a joke for [my husband.]" He also reportedly told other people in their office about it before the woman returned to work the next day.
The woman said that after the exam, King suggested she ask her husband also take a look at her vagina later that night, which ultimately did not happen. She reportedly began to notice purple coloring residue on toilet paper later on in the day.
King was only charged with harassment because prosectors did not believe that they could prove "sexual intent," which is required for sexual assault charges, per the Sentinel. Since the incident, King has left Colorado for Louisiana, where he reportedly works as a doctor on a military base.
The woman said she believed the end-goal of the prank was that she would have sex with her husband, transferring some of the dye over to his genitals. "I was sexually objectified as a prank on my husband in hopes that his penis would be stained purple," the woman told Grattan. "That's disgusting."
Though the incident was shocking, the woman said she did not initially intend to press charges against King, but was prompted to after she confided in a friend who said they were required to report the incident to the authorities. "I didn't want to ruin his life," the woman said. "I was just going to get another job and leave, like most victims do."