Early Voting Turnout In Georgia Absolutely Shattered The Record Set In 2014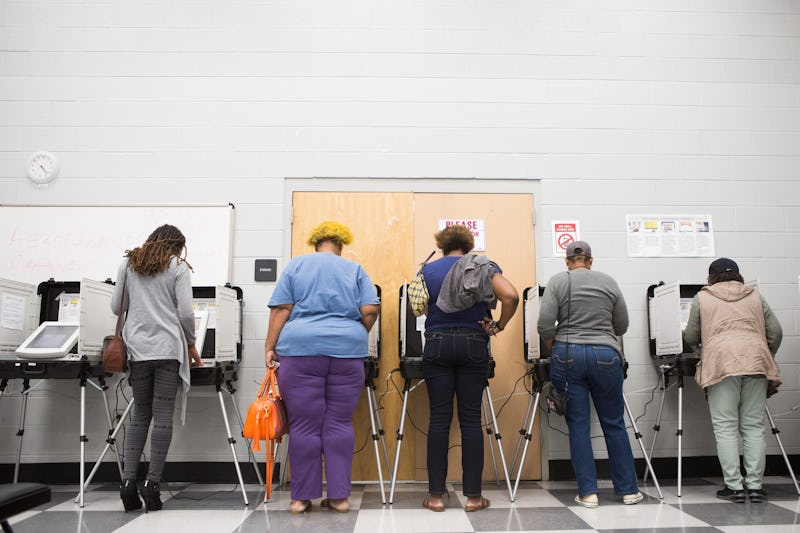 Jessica McGowan/Getty Images News/Getty Images
Across the United States, many voters have already cast their ballots for the 2018 midterms during their state's early voting period. In one state, Georgia, early voting turnout has far surpassed its previously record-breaking 2014 early voting rate. This strong early voting turnout brings further attention to the state, which is already being closely watched because of its potentially history-making gubernatorial race.
On Monday, Georgia's Secretary of State, Brian Kemp (who is also the state's Republican gubernatorial candidate) revealed in a statement that Georgians cast 2,071,830 ballots during the state's early voting period, which ended on Nov. 2. This number dwarfs the state's previous record for midterm early voting turnout, which consisted of 945,507 voters casting early voting ballots in 2014.
In the same statement, Kemp expressed pride that turnout had been so strong during Georgia's early voting period. As the Secretary of State described:
In Georgia, it is easy to vote and hard to cheat, and I am incredibly proud of this new record showing strong voter engagement leading up to tomorrow's election. This milestone is a testament to the hard work of thousands of election officials all across Georgia who are dedicated to secure, accessible, and fair elections for all.
Georgia is home to a gubernatorial race that is being closely followed by the state's residents and beyond. In the race, Kemp is facing Democrat Stacey Abrams. The latter could become the first-ever African American woman governor in the United States if she secures victory on Tuesday.
In addition to its possibly history-making race for governor, Georgia has also received a lot of attention because of its voter purge last year, which was spearheaded by Secretary of State Kemp. As American Public Media reported, in 2017, over 100,000 voters were removed from the voter registration rolls for failing to make contact with election officials or vote within a designated period of time. The outlet noted that many of these voters were not aware that they had been removed from the rolls, meaning they could think they are eligible to vote on Nov. 6, but will instead be turned away at the polls.
Georgia is not the only place where early voting has been exceedingly high. As Politico reported on Nov. 5, across the United States, a total of 36 million voters have cast early voting ballots. This number far outpaces the nationwide early voting turnout for 2014's midterms, in which 27.2 million people cast their ballots ahead of Election Day. In three states, Arizona, Nevada, and Texas, early voting rates are higher than each state's entire turnout for the 2014 midterms.
As Politico noted, it is not yet certain what these record-breaking early voting numbers mean for Election Day turnout or for the prospect of Democratic versus Republican victories on Tuesday. However, generally, experts seem to agree that this election is quite unique in terms of voter turnout. "This is not a normal election," Michael McDonald, a professor at the University of Florida who tracks voter turnout, told Politico. "The best guess is that we're looking at some sort of hybrid midterm/presidential election [in regard to turnout]."
Overall, the 2018 midterms appear to already be making history as a result of strong early voting turnout, in Georgia and beyond. It remains to be seen how the rest of the midterms' story will unfold as voters around the United States head to the polls on Tuesday.