Need A Costume Idea For You And Your Bestie? Look No Further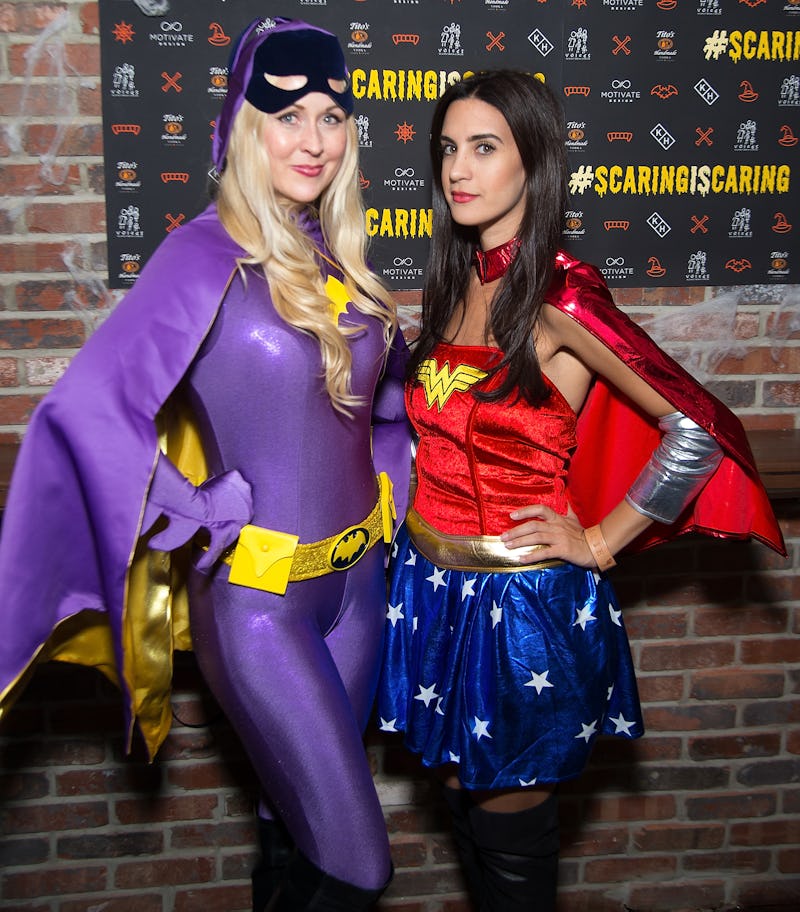 Michael Stewart/Getty Images Entertainment/Getty Images
The best part of Halloween is dressing up with your BFF. If you're stumped on what pair you and your bestie should go as this year, these easy best friend Halloween 2017 costume ideas are perfect for any true blue dynamic duo. Personally, all through grade school, high school, and college my best friend and I dreamed up some scary (vampires), or silly (we dressed up as each other) costume ideas for trick-or-treating, parties, and for our stints waiting tables. One year we both went as babies just so we could wear our pajamas to work and have an excuse to act cranky to customers.
You and your bestie likely share everything, so getting into the Halloween spirit is a perfect time to brainstorm an epic costume worthy of a thousand snapchats, and Instagram likes. From Thelma and Louise, to Lorelai and Sookie, to twin Wonder Woman superheroes, you can make most costume from items you already have in your closet, or by getting some new duds you'll wear this fall anyway.
If you feel too self conscious to walk around like Lady Gaga on the regular, Halloween is the time to become your wildest fantasy by dressing how you've always wanted to. Check out these best friend Halloween costume ideas to for your inspiration.
Check out the entire 'What's Up, Boo?' series and other videos on Facebook and the Bustle app across Apple TV, Roku, and Amazon Fire TV.
1. Wonder Women
You'll Need: DC Comics Wonder Woman Tiara from Hot Topic $10, Hot Topic | Diana of Themyscira Inspired Tiara Crown, $60, Etsy | Wonder Woman Body Suit, $16, BooHoo | Black Circle Skirt from Miss Selfridge, $14, Miss Selfridge | Lace Up Over The Knee Boots, $43, Tilly's
Channel your inner Gal Gadot by designing your own twin Wonder Woman costume with your bestie.
2. Pink Ladies From Grease
If you and your bestie know every word from the Grease soundtrack like me and my best friend, pay tribute to your favorite musical by going as two of the Pink Ladies.
You'll Need: Aviator Sunglasses, $14, PopMap | Bow Sleeves Pink Bomber Jacket from Impavid Girl, $24, Impavid Girl | Faux Suede Platform Ankle Booties, $30, Charlotte Russe | Pilot Rib Fleece Lined Leggings, $18, Pilot
3. The Twins From The Shining
If you want to go as a classic scare pair, the twins from The Shining (one of the scariest movies ever) are a great choice, and the costume is super simple to put together.
You'll Need: Off The Shoulder Smock Denim Dress, $40, BooHoo | Over-The-Knee Socks, $5, Aeropostale | Block Heel Mary Jane Pumps, $30, Romwe
4. '90s Troll Doll Twins
You'll Need: Troll Wig from Buy Costumes, $17, Buy Costumes
Go back to the '90s this Halloween with these bright troll doll wigs
5. Peanut Butter & Jelly
You'll Need: Peanut Butter and Jelly T-Shirt Set, $40, Etsy | Crushed Velvet Bell-Bottom Pants, $34, Sans Souci | Avah Ruffle Wide Leg Trousers, $25, BooHoo from BooHoo
If you and your bestie go together like peas and carrots, or like peanut butter and jelly, this easy peasy PB&J costume is perfect. Add a pair of retro bell bottoms for a fun Halloween look that shows off your friendship.
6. Lady Gaga & Beyoncé From "Telephone"
If you want to go total glam this Halloween, consider grabbing your bestie and dressing up as music's two reigning queens — Lady Gaga and Beyoncé from the "Telephone" video. Gaga and Bey are always making a statement, and while this video features numerous costume changes, this one is my fave.
What You'll Need for Lady Gaga: Crushable Cowboy Hat, $36, Venus | Blonde Inclined Bang Long Wavy Anime Cosplay Wig from May Kool, $24, May Kool | Hollie Chiffon Cape Detail Maxi Dress, $46, BooHoo | White Satin Short Gloves, $9, Unique Vintage | Cotton Shawl in Azure Blue from Novica, $18, Novica
What You'll Need for Beyoncé: M&F Western Gambler Hat, $39, Zappos | Long Center Part Shaggy Big Wavy Synthetic Wig, $17, Rose Gal | Front Slit Cape Sleeve Solid Black Maxi Dress, $30, Rotita | Black Vintage Lace Long Fingerless Gloves, $16, Luxury Divas
7. '90s BFFs Forever
You'll Need: Red White And Blue Trucker Hat (write your own BFF message on the front), $8, BoxLunch | Best Friends Letter Heart Keychain Necklace, $3, New Chic | Best Friends Tank Tops, $22, Etsy | Casual Navy Bomber Jacket, $21, Impavid Girl
If you grew up in the '90s you and your bestie likely had tons of BFF swag, like best friends forever necklaces. Celebrate your friendship with this tongue-in-cheek BFF costume.
8. Meredith and Cristina From Grey's Anatomy
If your bestie is your go-to person for everything, get your Meredith and Cristina vibes on this Halloween with some scrubs and continuous 30-second dance parties.
You'll Need: Adult Couples' Doctor Costume Set, $25, Target
9. Fork & Spoon
Do you and your BFF love to check out new restaurants? Celebrate your foodie friendship by dressing up as a fork and spoon.
You'll Need: Fork and Spoon Costume Set Adult, $35, Buy Costumes