This GOP Candidate Wants To Gut Virginia's Planned Parenthood From The Governor's Mansion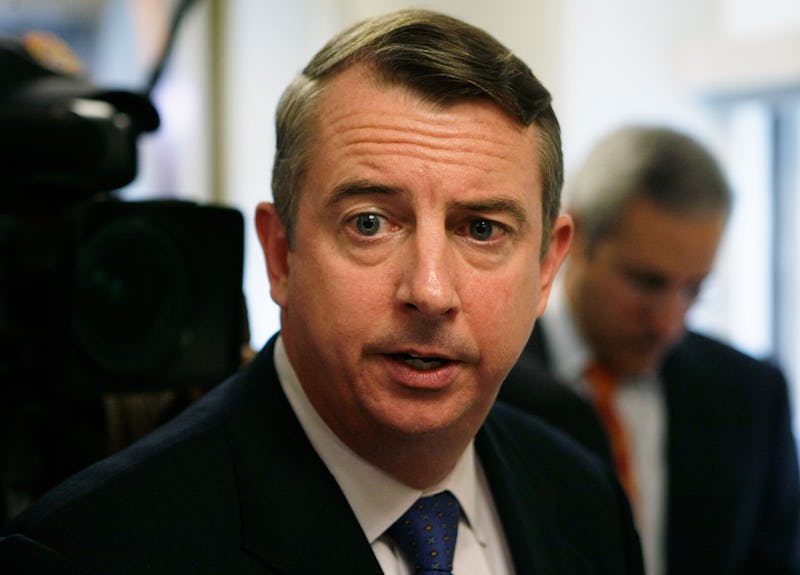 Alex Wong/Getty Images News/Getty Images
Virginia's GOP candidate for governor, Ed Gillespie, told a Planned Parenthood volunteer on Wednesday evening that he would defund Planned Parenthood if elected to Virginia's top office, an explosive announcement given that Gillespie has dodged the question for years.
Gillespie revealed his stance on Planned Parenthood, on the record, during a "Women for Ed Meet & Greet," event at Q Barbecue in Glen Allen, Virginia. In the recorded video, Sarah Smith, 30, a Virginia resident who has benefited from Planned Parenthood services, can be seen asking Gillespie what his plans would be regarding public funding of Planned Parenthood, if elected to office.
Virginia's state legislature is currently controlled by Republicans who support abortion restrictions. In 2016, Dem. Gov. Terry McAuliffe of Virginia vetoed legislation, passed by the Virginia General Assembly, to defund Planned Parenthood and restrict access to basic health care services for the 22,000 Virginians who rely on the organization's health centers.
But, and as the state's November general election inches closer, Smith says she's grown increasingly concerned that Gillespie would divert public funds from Planned Parenthood if elected.
Instead of avoiding the question, like his usual style, Gillespie responded by publicly denouncing Planned Parenthood, stating in the video, "I would sign a bill that does not have taxpayer funding go to Planned Parenthood."
"A Governor Gillespie would mean four years of dangerous attacks against the essential health care women in Virginia rely on."
His office confirmed the action, noting that the women's health organization has already voiced it's support for Democrat Ralph Northam, the state's sitting lieutenant governor. Planned Parenthood's Virginia affiliate recently announced they plan to spend $3 million to help elect Northam to office. This is Gillespie's second time running for office, after an unsuccessful bid against Democratic Senator Mark Warner in 2014.
"It's no surprise that Planned Parenthood would spend millions of dollars on Ralph Northam's behalf, given his extreme positions like supporting abortions in the eighth or ninth month or just because the unborn child is a girl. Most of Planned Parenthood's funding comes from individual donors, and Ed does not support subsidizing their budget with taxpayer dollars," David Abrams, spokesperson for Ed Gillespie's campaign, told Bustle in a statement.
Smith, who unsuccessfully ran for the Democratic seat for the House of Delegates in Virginia's District 73 last November, says she went to the "meet and greet" to show support for Planned Parenthood, which was holding a peaceful protest against Gillespie outside of the restaurant. Around 30 people, including volunteers and local congressional candidates, came out to the event.
"We've become increasingly frustrated because he wouldn't answer what his plans were as far as if he were to become governor, would he commit to making sure Planned Parenthood was funded or defunded," Smith tells Bustle. "I was surprised when he actually answered [the question] but then the surprise was replaced with disappointment."
Smith says she had a positive experience during a visit to Planned Parenthood last December for an annual wellness visit, influencing her decision to show support on the organization's behalf Wednesday evening.
"A Governor Gillespie would mean four years of dangerous attacks against the essential health care women in Virginia rely on," said Jennifer Allen, CEO of Planned Parenthood Virginia PAC and Planned Parenthood Virginia Advocates, in an official statement. "Gillespie's plan could take away birth control, life saving cancer screenings, and HIV testing for the over 23,000 Virginians who depend on Planned Parenthood. Virginians will not stand for it and will send a clear message on election day."
Planned Parenthood Advocates of Virginia will officially endorse Northam for governor on Thursday evening.