Ed Sheeran Will Guest Star On 'Game Of Thrones' S7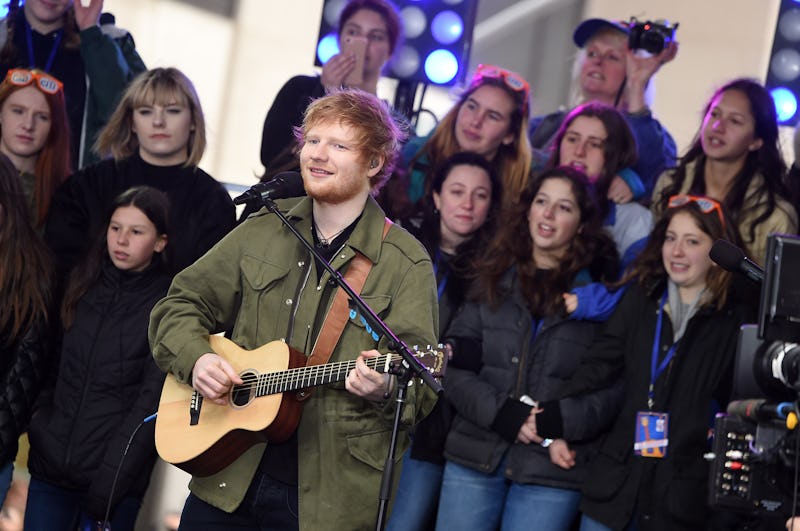 Jamie McCarthy/Getty Images Entertainment/Getty Images
There's going to be a new, but familiar famous face in Westeros soon — and here's hoping that he brings his trademark guitar. Ed Sheeran will guest star on Game of Thrones Season 7, which was announced by showrunners David Benioff and Dan Weiss at the South by Southwest Film Festival on Sunday as reported by Entertainment Weekly. There's no official word on who the "Shape of You" singer will play, how long fans could expect to see him on screen, if he'll sing, or if he'll be recognizable, but it has been confirmed that he is set to appear in the show's seventh season, which will premiere on HBO on July 16.
It sounds like if there's anyone who wants to share the screen with Sheeran, it's Maisie Williams, who plays Arya Stark in the HBO series. According to Vanity Fair, Benioff and Weiss told the panel that they had been trying to recruit Sheeran to appear on the series for years in order to surprise Williams, who is a huge fan of the musician's work and a friend of Sheeran. And now, it's finally happening. Aw. In 2015, Sheeran told the The Sun he wanted to try to land a small role on Game of Thrones. "There were talks ages ago of me being an extra, which could have been cool," he told the publication. "But every time they shoot it's the time I tour in the UK. But I've got that time off this year, so I'm going to hound them." Two years later, Sheeran will make that long awaited appearance on the show.
The English singer-songwriter joins the ranks of other past famous musician guest stars have appeared on the series in various ways, including as Gary Lightbody of Snow Patrol, Will Champion from Coldplay, Of Monsters and Men, and Sigur Rós.
As for Williams, she has been a long-documented superfan of Sheeran on social media and they have been friends. The two has tweeted at each other as early as 2014 and later met in person (above). And Sheeran seems to be a GoT fan as well, having discussed plot points with Williams on Twitter in the past.
But will these two friends share a scene together? And will Sheeran serenade Westeros? Fans will have to wait for tune into Game of Thrones Season 7 for those answers.