Here's How You Can Get Your 'El Marginal' Fix While You Wait For Season 3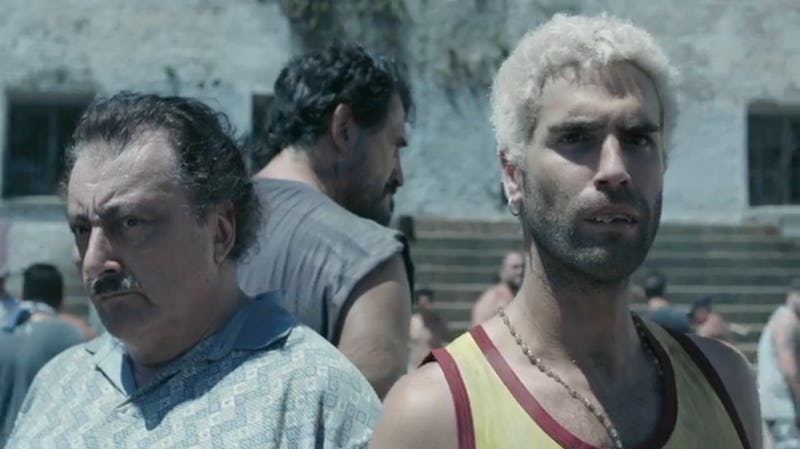 Netflix
As Netflix continues to expand its empire, it's looked more and more to international TV, snapping up popular shows like Dark and The Break and streaming them for global audiences. One of its latest acquisitions is El Marginal, a highly rated Argentinian thriller hitting the service for Season 2 Sept. 28. But because the show aired in its native country over the summer, viewers have already had plenty of time to ponder whether El Marginal will return for Season 3.
And those just tuning in are in luck: Turns out, El Marginal Season 3 is already underway. Producer Pablo Culell took to Twitter on Sept. 4 to share a picture of him and Nicolás Furtado, who plays Diosito in the series, captioning the image, "Vamos por la tercera! [We go for the third!]"
Of course, the renewal shouldn't come as much of surprise, considering the strong cable ratings for El Marginal Season 2. According to Todo TV News, the show premiered with an 11.3 rating and plateaued to a respectable 9.6 for the rest of the season. That's up significantly from last season, which premiered at just 2.0 and averaged 6.1 for the season. And that's not even taking into account the number of viewers who marathoned the show after it turned up on Netflix. It makes sense, then, that TV Publica would want to bring back their international hit.
But while Culell might be itching get going with Season 3, showrunner Sebastian Ortega sounds like he has his hands full. According to Variety, the Argentinian producer is already gearing up to produce Un Gallo Para Esculapio, a 10-episode collaboration between him and director Bruno Stagnaro. The premise of the show follows an outsider, much like El Marginal, only rather than a cop-gone-undercover, it's a man from northern Argentina that comes to Buenos Aires to find his brother, who he suspects has become mixed up in gang violence.
Ortega told Variety that Stagnaro is his ideal partner for creating such a series with. "Everything he has done in the past is linked to that marginal universe," he said. "He has a talent for portraying that lifestyle that is pretty similar to mine."
While it's great that Ortega's being recognized as such a talented filmmaker, it does beg the question: With Un Gallo getting off the ground, will he even have time for El Marginal Season 3? And if so, how long will we be waiting?
Without an official premiere date, it's too early too tell, but there is a way to get your El Marginal fix in the meantime. The Bubble reported in January that U.S. network Telemundo secured the rights to put out an American (but still Spanish-language) version of the show. It's titled El Recluso, and premiered Sept. 25.
Even better? It sounds like Telemundo might be vying for a Netflix pick-up, too. "With 13 hours, we can move that product to a lot of different places," Peter Blacker, the executive vice president of Telemundo, told Forbes of El Recluso's 13-episode first season. "With El Recluso, we have something that can really travel and that distribution opportunity becomes much bigger than it was before."
You hear that, Netflix? It sounds like there's another potential hit up for grabs!