An El Salvador Rape Survivor Was Sentenced To 30 Years In Jail For Her Stillbirth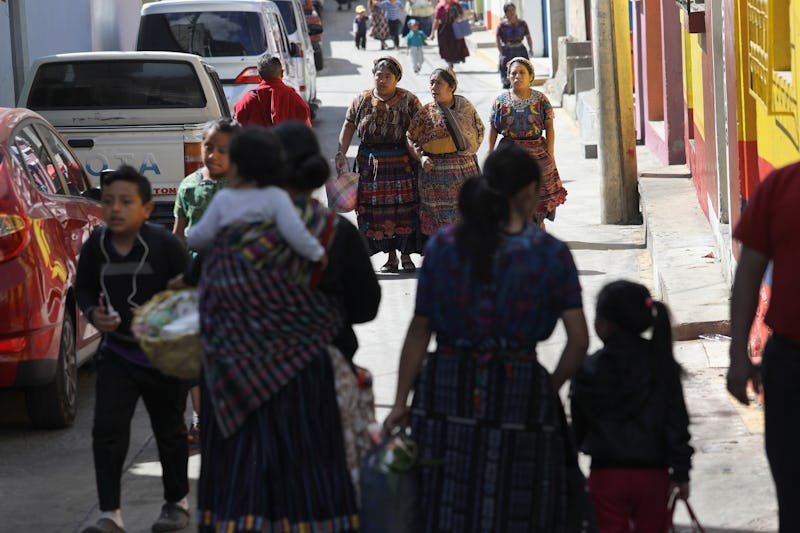 John Moore/Getty Images News/Getty Images
The ruling in a recent criminal case in El Salvador has highlighted just how serious the repercussions its restrictive abortion law are for women. According to reports, Evelyn Beatriz Hernandez Cruz, an El Salvadorian teenage rape survivor, will serve 30 years in jail for having a stillbirth on the grounds that her failure to seek prenatal care amounted to murder of the fetus.
Hernandez, who was reportedly raped repeatedly over the course of several months while in a forced sexual relationship, has said she didn't know she was pregnant and instead thought she suffered from severe back and abdominal pain.
She was 18 when she reportedly gave birth in a bathroom toilet in April 2016. Although medical experts have been unable to verify whether the fetus died after it was delivered or in utero, a judge convicted Hernandez of homicide, siding with the prosecutors' argument the fetus died due to her failure to get prenatal care, The Guardian reported. Under El Salvador's abortion law — which makes no exceptions in cases of rape, incest, or to save the life of the woman — miscarriages are often treated as suspected abortions
Dennis Munoz, Hernandez's lawyer, criticized the judge's ruling as unjust and condemned the lack of evidence presented by prosecutors. "The judge's verdict doesn't reflect the evidence presented in court. It's a decision based on morality, not the law or justice," Dennis Munoz told The Guardian. Lawyers plan to appeal the verdict.
Abortion and human rights advocates have also criticized the verdict handed down in Hernandez's case. In a statement issued Thursday, Amnesty International's Americas Director Erika Guevara-Rosas claimed the country's total ban on abortion violated women's rights to life, health, privacy, due process and to be free from discrimination, violence, torture, and other ill-treatment. "El Salvador's anti-abortion law is causing nothing but pain and suffering to countless women and girls and their families," Guevara-Rosas said. It goes against human rights and it has no place in the country or anywhere."
Hernandez is, unfortunately, not the first woman in El Salvador to be sentenced to prison on murder charges after suffering fatal complications during pregnancy or birth — and she likely won't be the last.
In 2014, a coalition of NGOs launched a campaign urging the release of 17 women who had been imprisoned after having had miscarriages. While the campaign has managed to free three of the women and drastically reduce the sentence of a fourth, according to The Guardian, five more women have been imprisoned since it launched.
And if her lawyers' appeal fails, Hernandez will be the sixth.