These 2017 Election Tweets Showcase A Newfound Optimism About Politics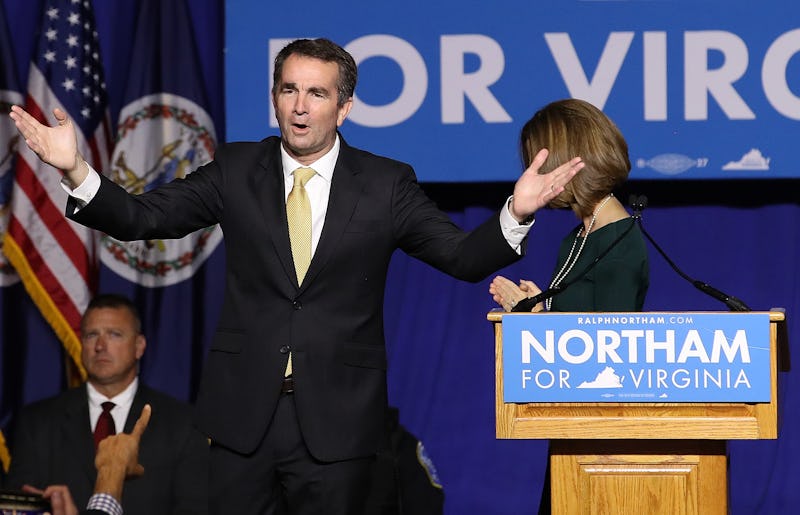 Win McNamee/Getty Images News/Getty Images
On Tuesday evening, the results of many state and local elections around the country were revealed — and they were a cause for celebration for many. Indeed, Democrats swept two gubernatorial races and a key mayoral race, and made significant gains in state legislatures, particularly in the battleground state of Virginia. As a result of these victories, many people were celebrating — and sharing optimistic tweets about Election Night 2017 to express their hope for the future.
In Virginia, Democrats swept the state, winning the governorship in a hotly contested race, as well as the offices of Lieutenant Governor and Attorney General; Democrats also flipped and secured several seats in the Virginia state legislature. These victories in the state is largely perceived as a referendum on Trump — and an indication of disapproval of his administration. Outside of Virginia, a Democrat was also elected Governor of New Jersey and Bill de Blasio, a Democrat, was re-elected Mayor of New York by a significant margin.
Many experts noted that these victories, as well as several other Democratic victories in local elections, bode well for the future of the party in 2018 midterm elections. As Business Insider reported, Dave Wasserman, a polling expert and an editor of the nonpartisan Cook Political Report, noted on Twitter that the future looks bright for the party.
You can't really look at tonight's results and conclude that Democrats are anything other than the current favorites to pick up the U.S. House in 2018.
Thus, Tuesday's elections gave many people a renewed sense of hope and excitement for the future, something which is reflected in their exuberant social media posts.