Elisabeth Moss' New Movie Takes On A Feminist Story From The '60S That's Eerily Similar To 'The Handmaid's Tale'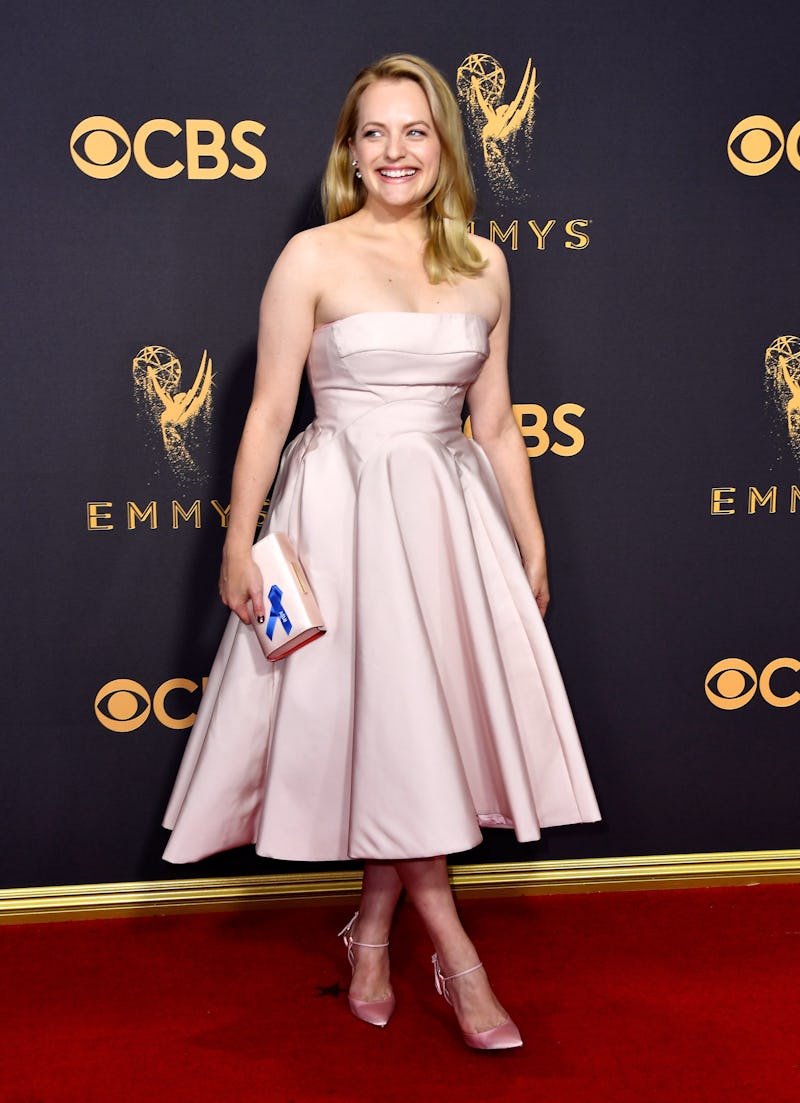 Frazer Harrison/Getty Images Entertainment/Getty Images
Everyone's favorite rebellious handmaid is taking her power back in time, to tell the true story of some fierce feminists who just may have helped change the world. While she will still be back as Offred in The Handmaid's Tale Season 2 following her Best Actress win at the 2017 Emmys, Elisabeth Moss will also star in a film about women who performed abortions, titled Call Jane. The feature will be a period drama based on the true story about a 1960s underground network of women who helped other women procure abortions before the Supreme Court's 1973 Roe v. Wade decision. The film sounds like the perfect intersection of the two television shows Moss starred in: the aforementioned Handmaid's Tale and her work on Mad Men.
Per The Hollywood Reporter synposis, viewers will be discovering this underground world through Moss's character, Jane, "a married woman who is unexpectedly pregnant and discovers the underground group of women. While based on a true story, the film likely feels like familiar territory to the women in 2017, who continue to find that their reproductive rights and access to abortion services are increasingly encroached upon by governing bodies at the state and federal level.
It's why The Handmaid's Tale has resonated with so many women. The series takes place in a dystopian world where religion fundamentally controls the rights of women in every way. Similarly, Call Jane will bring viewers back to the 1960s, a time when women's reproductive rights were much more restrictive. In 1973, the landmark Supreme Court case Roe v. Wade legalized abortion, but it is a case — and right — that continues to be debated now.
The real-life group Call Jane is likely based on is The Jane Collective. The collective was based in Chicago and often provided help to women by performing abortions themselves. Coming together in the late 1960s and early 1970s when abortion was still a criminal act, The Jane Collective and their work are considered an integral component in the push for women's liberation in the pre-Roe v. Wade years.
According to the history of The Jane Collective, the group began when college student Heather Booth was helping her friend's sister find someone to perform an abortion. Finding a doctor to do one often proved dangerous at that time, leading the women of the Jane Collective to learn how to safely perform abortions themselves in hopes of preventing other dangerous means of abortion such as coat hangers and plant poison.
The fact that this is based on a story that many Americans most likely don't know about and one that's eerily relevant decades later, Call Jane may just become an infinitely important film.
As Moss accepted her Best Actress in a Drama Series Emmy award, she thanked her mom for being "brave and strong and smart ... You have taught me that you can be kind and a f*cking bad*ss." Moss has recently embraced the word feminist, in regards to her role as Offred in The Handmaid's Tale. "As a woman, now, you have to speak up," she told The Guardian in an interview in June. "You have to own it [feminism] in a way that you never have before. It is different now." Her Mad Men character Peggy Olson was also considered a feminist for breaking barriers in the workplace on-screen in the period drama series.
Call Jane continues Moss' streak of taking on tough female characters thrust into even tougher situations. Without a doubt, this film will also provide a showcase for Moss's talents while also showing viewers with this previously untold story.