An Elizabeth Warren Action Figure Could Be Coming To A Store Near You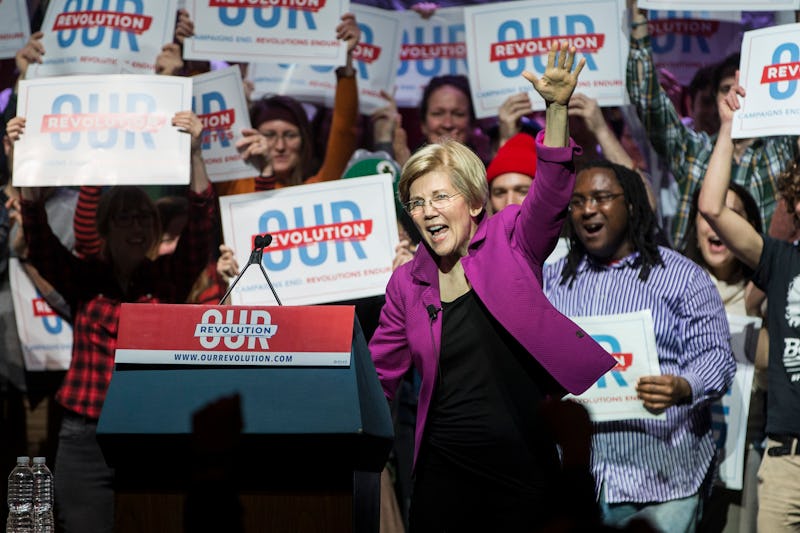 Scott Eisen/Getty Images News/Getty Images
She may not be a comic book superhero, but many would argue that Massachusetts Sen. Elizabeth Warren is equally, if not more deserving of an action figure of her own. That may become a reality soon, with the creation of a Kickstarter page for an Elizabeth Warren action figure that "can bring the fight to the Right," according to the description.
Conceived by FCTRY, a Brooklyn-based product design company, the Warren figure wouldn't be the first political action figure it's made. FCTRY has turned Hillary Clinton, Bernie Sanders, Barack Obama, and even Trump into miniature versions of themselves. While owning a Trump action figure may not seem particularly fun, FCTRY has committed to donating proceeds from his figure to the ACLU.
In the past, sales of Clinton, Sanders, and Obama figures went to donations to their respective presidential campaigns, according to FCTRY's Kickstarter page. Unfortunately, Warren does not yet have a presidential campaign to contribute toward. So, instead, FCTRY has pledged to donate proceeds from Warren's figure to EMILY's List, a nonprofit that helps elect pro-choice women to office. It's a great cause for a political figure intent on protecting women's rights.
Warren has been in the limelight for a while, but since Trump's election she's really become a leader in the Democratic party. Her fame was catapulted in February when Senate majority leader Mitch McConnell silenced her on the Senate floor as she argued against Jeff Session's appointment to Attorney General. He interrupted her reading of Coretta Scott King's 1986 letter that criticized Sessions, explaining that he had warned her not to do so beforehand. He complained, "Nevertheless, she persisted," and a rallying cry of the left was born.
What does she have to say about the action figure replica of her? When the Worcester Telegram in March asked Warren about a potential action figure, she replied, "I really like that — that's cool."
FCTRY initially had a goal of raising $15,000 for the Warren figure, but quickly passed the $35,000 mark on the first day. Contributing $19 gets you one Warren figure, and from there, various packages include Warren and Sanders; Warren and Clinton; and even Warren, Sanders, Clinton, and Trump. Or, you can pledge a few dollars just to contribute to the cause. For $5,000, FCTRY will even make you into a custom action figure. The action figures are expected to ship out in September 2017.
The Warren action figure is a fun way to celebrate the resistance of Trump's administration. And proceeds contribute to a great cause, like getting more brave women like Warren into the political arena.