Ellen Page Accuses Director Brett Ratner Of Outing Her & Of Abusive Behavior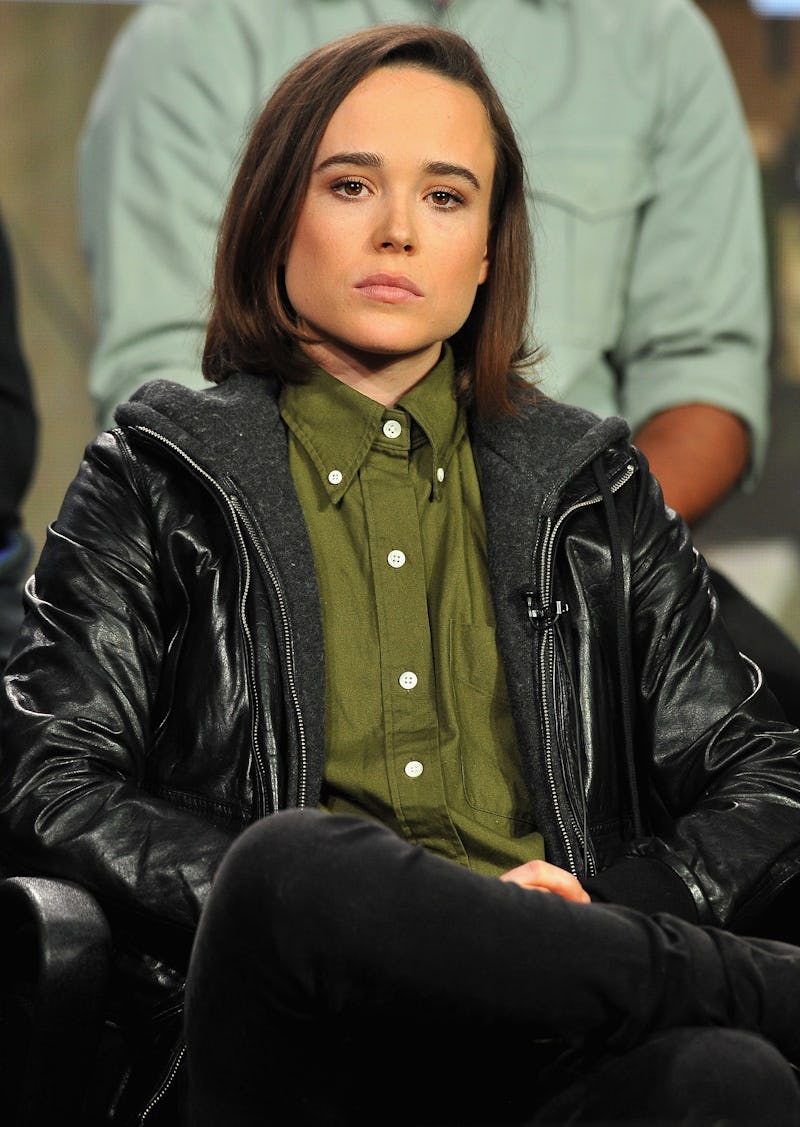 Jerod Harris/Getty Images Entertainment/Getty Images
Ellen Page has come forward to share her allegations of sexual harassment in the entertainment industry, and she's naming one of her alleged abusers. In a lengthy Facebook post on Friday, Ellen Page accused Brett Ratner of outing her in front of co-workers and of sexual harassment. Bustle has reached out to a rep for Ratner for comment, but did not receive an immediate response.
In her post, Page makes allegations about the work environment that she experienced while filming the 2006 movie X-Men: The Last Stand, which was directed by Ratner. She claims that the director "outed" her as gay when, in front of her and other cast and crew members, he allegedly told an older woman, "You should f*ck her to make her realize she's gay." Page says the alleged incident left her feeling "violated" as it allegedly occurred at a time when she was trying to figure out her own sexuality. The actor claims that the director "'outed' me with no regard for my well-being, an act we all recognize as homophobic."
Page continues, "We are all entitled to come into an awareness of our sexual orientation privately and on our own terms." She also said of the alleged incident, "Ratner's comment replayed in my mind many times over the years as I encountered homophobia and coped with feelings of reluctance and uncertainty about the industry and my future in it."
Page then goes on to make further allegations about Ratner on the set of the film. One alleged incident didn't involve Page, but she claims that the director said a woman had a "flappy p*ssy" as she walked by. She also claims that Ratner once tried to make her wear a "Team Ratner" T-shirt. After he allegedly insisted that she wear it, Page claims she said that she wouldn't and said, "I am not on your team."
In light of Page's allegations, Anna Paquin, who also appeared in X-Men: The Last Stand, corroborated Page's claim about Ratner's alleged comment and said that she stands by her former co-star:
These allegations come after multiple actors, including Olivia Munn, have accused Ratner of sexual harassment. According to a Nov. 1 Los Angeles Times report, six women have come forward to allege that Ratner has committed sexual harassment or misconduct. In response to those allegations, the director's attorney, Martin Singer, disputed the women's stories.
"I have represented Mr. Ratner for two decades, no woman has ever made a claim against him for sexual misconduct or sexual harassment," Singer said. "Furthermore, no woman has ever requested or received any financial settlement from my client." Bustle reached out to Singer for comment on Page's claims, but has not yet received a response.
In Page's account, she makes other claims of being harassed within the industry and highlights others who have allegedly committed similar acts. She also notes that she is in a position where she is privileged enough to come forward with allegations without the risk of losing career status. Her privilege also extends to her status as a "cis, white lesbian," she says, adding, "The reality is, women of color, trans and queer and indigenous women have been leading this fight for decades (forever actually)."
Page ends her Facebook post with an emotional statement highlighting the importance of listening to the conversation going on right now in regards to sexual misconduct.
"Don't allow yourself to become numb to the voices of victims coming forward, she writes. "Don't stop demanding our civil rights. I am grateful to anyone and everyone who speaks out against abuse and trauma they have suffered. You are breaking the silence. You are revolution."