Ellen Pompeo Just Revealed When 'Grey's Anatomy' Will End For Good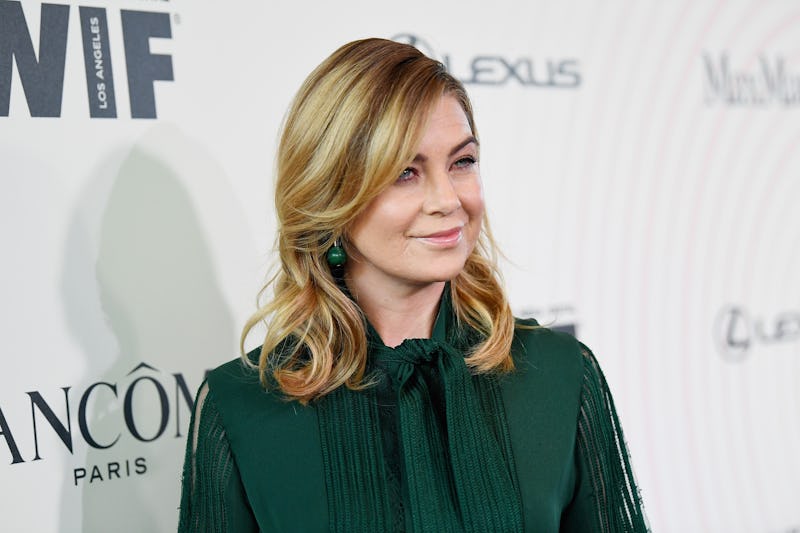 Emma McIntyre/Getty Images Entertainment/Getty Images
When a show like Grey's Anatomy has been on for a whopping 15 seasons, it makes sense to wonder how much longer the show can go on before it overstays its welcome. And now, the series' star has provided a little insight on the matter. During a recent interview with Entertainment Tonight, Ellen Pompeo revealed when Grey's Anatomy will end, and the answer might surprise longtime fans of the series.
"It's something Shonda [Rhimes] and I will decide together," Pompeo told the outlet. "I've been doing it a long time and I do get restless, but the fans are just still so passionate about the show." And, according to the actor, it's that passion that could continue bringing the show back season after season. Pompeo continued, saying that the viewers are the ones in control of Grey's Anatomy's fate. "I think the fans will let us know," she said in regards to when the show should come to a close. "When the numbers start to drop and people aren't watching the same, people aren't as passionate about it... it's time to call it." Considering how popular Grey's is even after all this time, Pompeo may regret making this statement because at this rate, the show could very well go on forever.
But for Pompeo, it's the fans who make all the time and effort well worth it. Knowing how much the show means to them makes her want to continue playing Meredith, whom she first brought to life all the way back in 2005. "When you meet people [who] are going through things in their life and they say the show brings them solace and the show brings them comfort, whether they have cancer, whether they are an abuse victim, whether they're in a marginalized community — even though it is a silly soap opera — to know that you're really touching people and making people feel better, even if it's just because they're crying, it's meaningful," Pompeo explained during the same interview with ET. "As an actor, what we want to do is to tell stories and have those stories reach people."
Pompeo added:
"We are really, really touching people's lives. I see the effects of it everyday. I hear the stories. We really make a difference in people's lives. As an artist, to be able to touch people in a meaningful way, I don't take it for granted, that's for sure. I appreciate it."
Back in September, Pompeo made some fans nervous when talking to Entertainment Weekly in September, via Deadline, after she hinted that the series could wrap as early as Season 16, which is when her two-year contract would expire. "I'm clearly not prepared right now to make any formal announcement about what my future is on the show, but I am really feeling like we have told the majority of the stories that we can tell," the actor told EW at the time. "It's about time that I mix it up. I'm definitely looking for a change."
However, given her latest comments about the fans being in charge of when exactly that'll be, viewers can rest easy in knowing that Grey Sloan Memorial's future looks brighter than ever. As long as you keep watching, those episodes will keep airing. Meredith Grey says so.