This Video Is Proof Ellen Pompeo Gets As Emotional About 'Grey's Anatomy' As Fans Do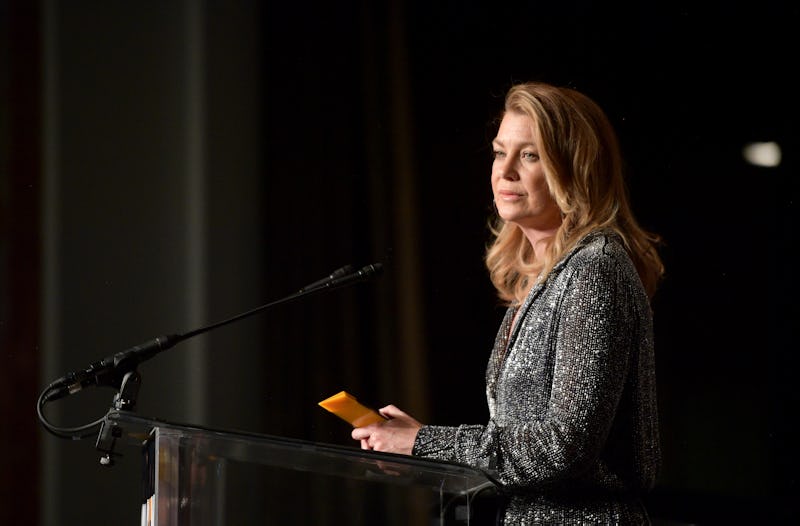 Matt Winkelmeyer/Getty Images Entertainment/Getty Images
To say that Grey's Anatomy is a beloved TV show would be an understatement. But as much as it means to fans, it means just as much (if not more) to the show's titular star. In fact, during a recent appearance on The Ellen DeGeneres Show, Ellen Pompeo got emotional discussing Grey's Anatomy's positive impact on the world and why the series still means so much to her after all these years.
When asked about the show's future, Pompeo was quick to confirm that there "of course" will be a Season 16, even though ABC has yet to renew the medical drama thus far. "There's just no end in sight," Pompeo told host Ellen DeGeneres. "The show is so popular." Considering that Grey's just started its fifteenth season, it's hard to argue with that logic. That success is a testament to just how many people the show has gone on to impact, which is why Pompeo loves coming on talk shows in order to thank fans for their continued support, not just in the United States, but on a global scale as well. "Everywhere I go, whether it's Italy, whether it's France, London, Kansas, the people that come up to me with tears in their eyes and tell me how meaningful the show is to them," she recalled.
Pompeo experienced this firsthand on set as well after directing an episode that featured a young gay actor who was playing a gay character. Afterward, the actor approached the Grey's star to tell her how he's watched the show with his parents pretty much his entire life. And, as Pompeo told Ellen, he said that he used the series "as a way to tell my parents that I was gay, and to show my parents it's OK, that I'm not different, there's nothing wrong with me."
That's a big part of why Pompeo is adamant to see Grey's Anatomy continue on. "I got to keep doing it, man, because we're touching lives and making a difference," she said with tears in her own eyes at this point. Though how many more seasons the show has in its future is up for some debate.
During an interview with Entertainment Weekly, via Deadline, Pompeo hinted that Season 16 could be the show's last. "I'm clearly not prepared right now to make any kind of formal announcement about what my future is on the show, but I am really feeling like we have told the majority of the stories we can tell," Pompeo told the outlet. "It's about time that I mix it up. I'm definitely looking for a change." However, while chatting with Entertainment Tonight, the actress teased that the fans will ultimately decide when Grey's Anatomy will end. "When the numbers start to drop and people aren't watching the same, people aren't as passionate about it... it's time to call it," she stated.
Considering that Pompeo's current contract will expire after Season 16, the show's fate remains unclear, but at the very least it should be a comfort to fans that Pompeo knows and appreciates just how big of an impact the show is making.