Emilia Clarke's Chewbacca Video Makes The Han Solo Set Look So Fun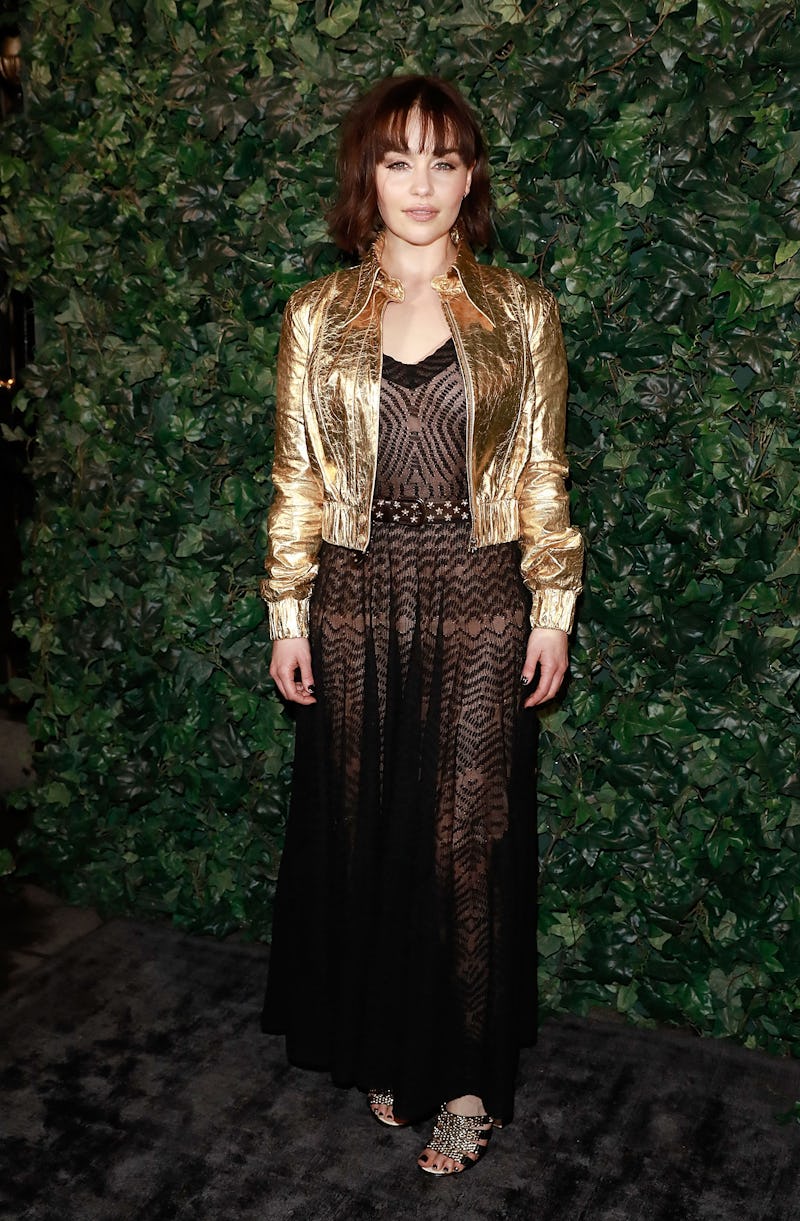 John Phillips/Getty Images Entertainment/Getty Images
Well, it's happened. The cutest piece of footage from the set of the Star Wars Han Solo spinoff has popped up on Instagram, and boy, oh boy, it will delight you. On Friday, co-stars Emilia Clarke and Chewbacca made a video on set wherein they both celebrated Clarke hitting the 10 million followers on Instagram. She posted the video to her account and shared with all of us, the good people of this galaxy, just what Chewie looks like when he gets all excited.
OK, so admittedly, it's tough not to break out into a big grin when you watching Clarke's video. She keeps the camera trained on Chewie (played by actor Joonas Suotamo for the spinoff, as opposed to Peter Mayhew who typically plays him) the whole time. She starts the video by saying, "Yo Chewie, I've got 10 million followers on Instagram!" He looks at the camera for a few seconds before breaking out into a signature Chewie howl-cheer and runs back and forth for a few minutes.
"It's great, huh?" Clarke asks him before Chewie stops, and then goes in for a big hug. The camera then cuts out just as we hear Clarke say, "No," which is probably down to the fact that the very big Chewie most likely give a mighty tight hug.
While she seems opposed to the hug, she's clearly joking, since in the caption, Clarke refers to Chewie as "furry ball of joy." As for Suotamo, she writes, "you are more than just a cute nose and lotta hair to me." Then, she throws in the hashtag #allhailthewookieofourdreams.
Even though there have been several behind-the-scenes sneak peeks at the Han Solo spinoff in recent weeks (like our first look at Lando Calrissian, played by Donald Glover), this might be the best for a few reasons. First off: Clarke's joy should be shared by us all because her positivity that radiates through this video is damn near infectious. Secondly, isn't it kind of fantastic to hear Chewie's iconic growl in a more IRL setting? Even without the extra sound effects to give it that deep rumble we're used to, he still sounds like himself.
At the end of the day, it's nice to know that Chewie get excited about fun Instagram news, just like the rest of us.