Emilia Clarke Got Bangs & You'll Barely Recognize Khaleesi Now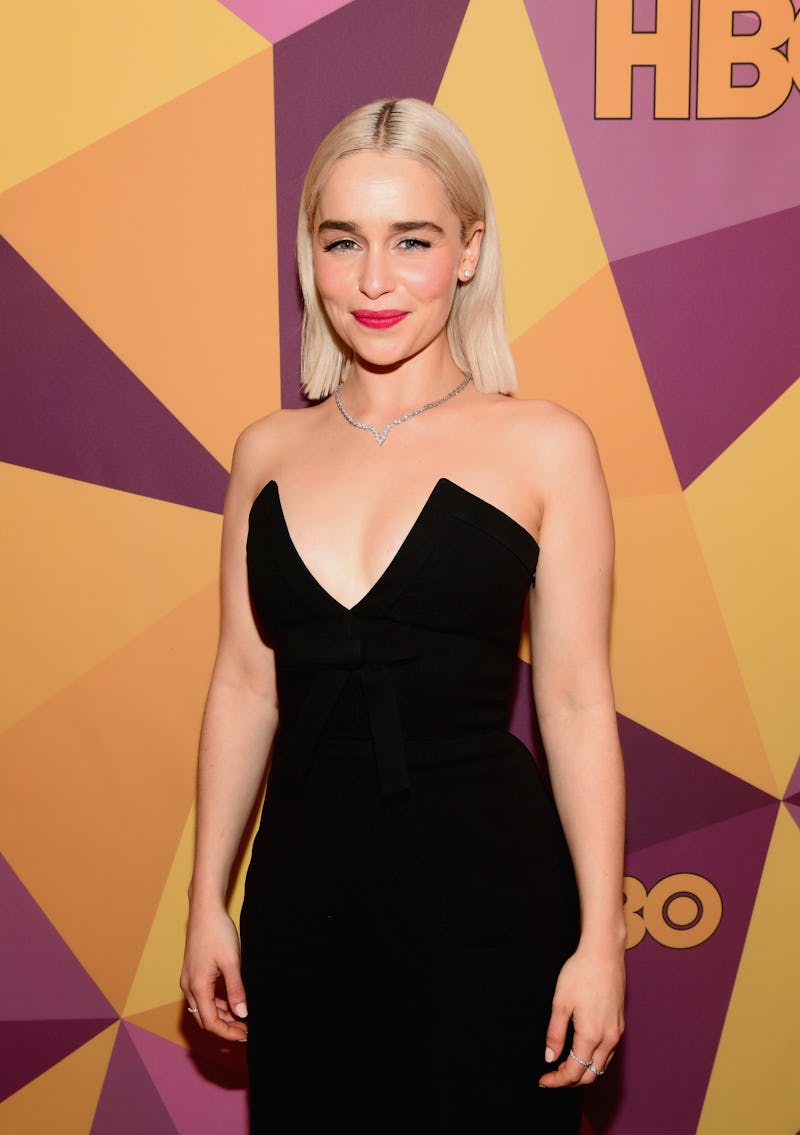 Emma McIntyre/Getty Images Entertainment/Getty Images
With the new year comes a fresh shot at a new look, and that rule doesn't skip you just because you're Khaleesi. Emilia Clarke just got bangs and you'll barely recognize the Targaryen. There's something about getting a brand new planner and resetting the timer on the year that makes you want to shake things up. There are just so many possibilities ahead of you, and who knows how amazing the next 12 months could be. And to match this new go-getter version of you, you need a haircut that shows you have risen out of the ashes of the garbage fire that has been 2017. Nobody can prove the transformative power of a haircut better than Clarke.
Constantly flipping between chin length locks and collarbone-skimming hair, bleached blonde colors and rich brunette hues, and wispy bangs or bare foreheads, the woman isn't afraid to change up her look. But her newest tangle with a pair of stylist scissors has left her with wispy, brow skimming bangs that make her almost unrecognizable.
She unveiled her new look on the Critics' Choice Awards red carpet on Thursday night, arriving in a slightly retro-feeling look.
She donned a Dolce & Gabbana long-sleeve column dress with reflective silver discs that gave off a polka-dot effect, and then matched it to a Mod-like cat eye accented with white shadow. It was all very "1960's in 2018," and her hair only helped tie it all together.
No, it wasn't a beehive or a bouffant, but close. While her platinum blonde locks aren't anything new (she colored them way back in September, matching her Khaleesi-alter-ego hair color,) the bangs are. Her hair was swept back into a raised chignon, where the crown was teased up with some volume, and her new side swept bangs fell chicly over her eyes.
It was a slight change to her usual hairstyle, but it made a huge difference. And it just might inspire you to take a similar leap if you have been toying with the idea of change. You don't have to do something as drastic as cutting off a foot of hair or getting a perm; sometimes getting a sweep of long fringe is change enough.
To see how different this look is to her other styles, below is a timeline of her various haircuts over the year.