A Golf Association Won't Recognize This Teen's Win Because She's A Girl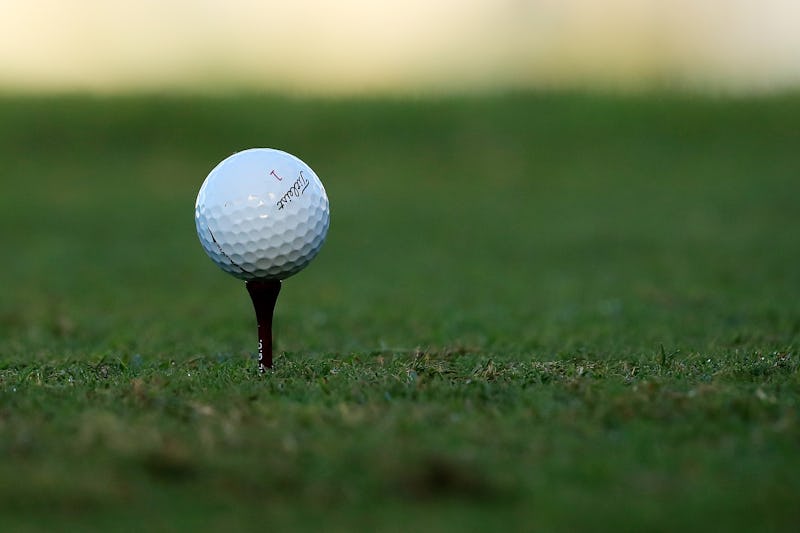 Cliff Hawkins/Getty Images Sport/Getty Images
When the Central Mass. Division 3 Boys' Golf Tournament concluded earlier this week, the player with the best score wasn't standing on the winners' podium despite garnering a score four strokes ahead of the second place finisher. Although she had the score that should have put her on the podium, high school student Emily Nash was denied the tournament trophy because of her gender, thanks to a rule that says she can play, but not win.
Nash, a 16-year-old junior at Lunenburg High School, topped the leader board at the Central Mass. Division 3 Boy's Golf Tournament on Tuesday with a score of 75. But when it came time to announce the winners and hand out trophies, Nash received nothing. The reason?
Massachusetts Interscholastic Athletic Association rules state that while girls can play in the boys' golf tournament and their scores can be counted towardstheir team's overall score, they aren't allowed to compete or win as individuals. "Girls playing on a fall boys' team cannot be entered in the Boys Fall Individual Tournament," MIAA rules state. "They can only play in the Boys Team Tournament. If qualified, they can play in the spring Girls Sectional and State Championships."
Although Nash and her coach were reportedly aware of the rule, the denial still stung.
"It still kind of stinks," Nash told the Boston Herald. "I'm disappointed I didn't get the trophy. But that's OK. Even if I didn't get the trophy, everyone knew my score. In golf, it's all about the rules."
In an interview with the Sentinel and Enterprise, Lunenburg High School golf coach Linda Collette confirmed they'd been made aware of the rule during the tournament.
"It didn't surprise us, but we were definitely disappointed," she said. "I don't know if it's a rule that needs to be looked at or changed, but it is the rule, and we had to go by it."
In a statement released Thursday, MIAA stood by the rule. "It has been clear to participants that female golfers playing in the fall boys' team tournament are not participating in an individual capacity," the association said in a statement. "The individual tournament opportunity for female golfers takes place during the spring season."
MIAA went on to congratulate Nash (whom they did not acknowledge explicitly by name, but rather referred to as Lunenburg's female golfer) on her performance and wish her success in the girls' tournament scheduled for 2018.
But while the MIAA isn't budging on the rule, multiple professional female golfers have spoken out in support of Nash.
"This is infuriating," LPGA Pro Brittany Lincicome wrote in a tweet published Thursday. "If everyone plays the same tees it doesn't matter if your [sic] a girl or boy. Lowest score wins, period."
Retired pro Swedish golfer Annika Sörenstam called the incident, "unacceptable" in a tweet.
And LPGA player Brittany Altomare tweeted MIAA's rule was "very disappointing," adding, "gender does not matter... a win is a win."
However, it wasn't just women who found Nash's situation to be unfair. According to Golf Digest, the boy who was awarded first place at the tournament offered the trophy to Nash — who ultimately declined it — and the tournament's director has said he is planning to purchase Nash a special trophy.
Perhaps the ideal trophy in this situation wouldn't be one made of shiny metal, but rather one which opens doors with the stroke of a pen.
"In a perfect world, I'd like this rule to change," Nash told the Boston Herald.