Emily Ratajkowski Just Chopped Off Her Hair Off & It's Everything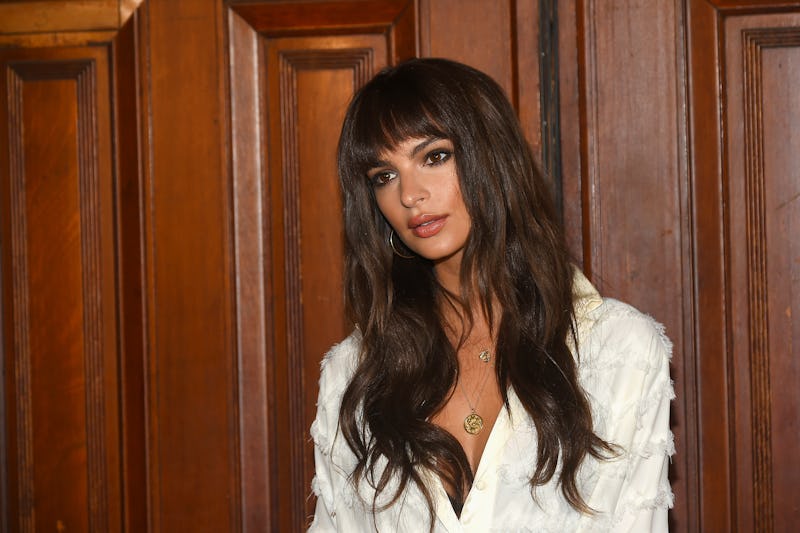 Ben Gabbe/Getty Images Entertainment/Getty Images
Short hair, don't care. Actor Emily Ratajkowski chopped off her hair, and it looks stellar. Ratajkowski, who has also been a Planned Parenthood spokesperson, is now rocking an angled bob that is sleek, chic, center-parted, and frames her face.
The bob, which is a bit too symmetrical and structured to be labeled the ever-popular "lob" despite its longer length, isn't the only newness when it comes to Ratajkowski's hair. Her coif color is several shades lighter and is more of a hazelnut hue, complete with major, blinding shine.
One look at this cut should inspire you to hit your stylist's chair immediately and demand they hack off your hair. It's that glam and gorgeous.
Ratajkowski, who shot to fame in Robin Thicke's controversial "Blurred Lines" video and who later starred in Gone Girl, is known for her long, chocolate brown locks. This glossy, statement bob will remind you of Victoria Beckham's former bob, thanks to the sharp angles and those curled-under ends.
Ratajkowski showed off her short 'do at Rihanna's Diamond Ball last night, pairing the newly shorn strands with a strapless black column gown. The combo of the shorter hair and open construction of her dress called attention to her neck and shoulders.
What's most striking about this long and angled bob is that it gives the illusion of length without being really long at all. Plus, check out the swing and the movement of the ends. Ratajkowksi should totally be twirling around right now, with her hair swinging around her head.
This view from the side shows the dimension of this bob. It's slightly shorter in the back and angled forward, giving it some further edge.
Face framer. Yes, Ratajkowski's vintage Chanel dress is beyond gorgeous and attention-grabbing, but my eyes instantly gravitate toward her hair. The best thing about this strong bob is that you don't have to stick with straight strands. You can spritz it with a sea salt spray for texture and the always desired beachy wave.
There is plenty of length to keep this cut versatile. You don't need to wear it the same exact way every day.
The super smoky eye, which was heavily rimmed and sooty on the bottom, was the right rock 'n' roll contrast to the overall polished-ness of the bob.
Ratajkowski's long, dark, and wavy locks are her most familiar look. She does do bangs from time to time.
She wore a faux bob earlier this year. It was an optical illusion, courtesy of long strands left loose and messy around her face, while the rest of her hair was braided and tucked under.
Ratajkowksi's fake lob was a delightfully undone contrast to her formal black gown. From this vantage point, you can see the braid and that her length remained still totally intact.
How does Em Rata's legion of fans feel about the new 'do? Well, as of press time, her Insta selfie grabbed over 775k likes in just 13 hours since it was posted. It's safe to say that the fans are feeling this cut, which shows off more of her face.
I certainly echo that sentiment. Ratajkowski looks terrific with shorter strands.
Indeed, this sleek bob should inspire you to cut your hair off right now.
This bob totally reminds me of Beckham's angled bob. It was shorter, but it was of the same spirit.
The beauty of an angled, head-hugging bob is the structure. These bobs are almost geometric and function almost like an accessory since they are so insanely stylish.
Now, once more with feeling: Here's a final look at Ratajkowski and her glorious new 'do.