Idina Menzel's Reaction During Eminem's Oscars Performance Should Win All The Awards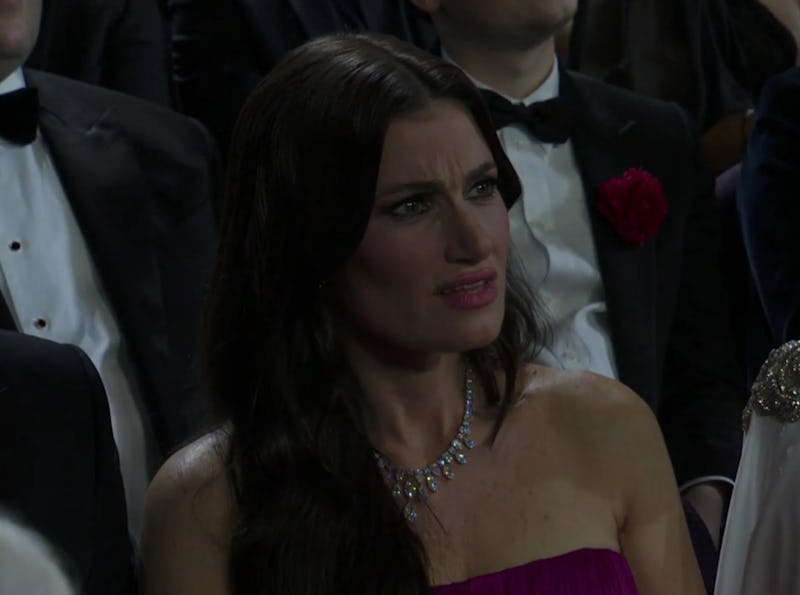 ABC/screenshot
In one of the most perplexing, random, and yet still delightful moments of the 2020 Oscars, Eminem sang "Lose Yourself" from his 2002 film 8 Mile. Perhaps no person summed up the reaction to the surprise performance better than Idina Menzel, who looked thoroughly confused by what was happening on the stage, as did everyone else in the audience.
Eminem appeared after a lengthy tribute to iconic movie songs, including "I Will Always Love You" from The Bodyguard, Celine Dion's "My Heart Will Go On" from Titanic, and The Breakfast Club's "Don't You (Forget About Me)," among others. But since "Lose Yourself" was released all the way back in 2002 and won an Oscar in 2003, it was a bit jarring to see Eminem suddenly performing, especially with so many other, more recent musical numbers to choose from. Needless to say, no one was really sure what was going on.
Martin Scorsese unfortunately looked asleep, while both Billie Eilish and her brother seemed just as confused as Menzel. Still, some people were thoroughly into Eminem's performance. Chief among those on board were Hamilton original cast member and star of the upcoming In the Heights film Anthony Ramos, who sang along in the audience, and Star Wars actor Kelly Marie Tran.
Mostly, though, the performance served as a full-circle moment for Eminem, who wasn't there to accept his Oscar for "Lose Yourself" in 2003. Instead, his co-writer Luis Resto accepted the award on behalf of himself, Eminem, and Jeff Bass. As Eminem tweeted after his performance, "Look, if you had another shot, another opportunity... Thanks for having me @TheAcademy. Sorry it took me 18 years to get here."