Emma Roberts' New 'AHS: Apocalypse' Photo Teases An Epic 'Murder House' Crossover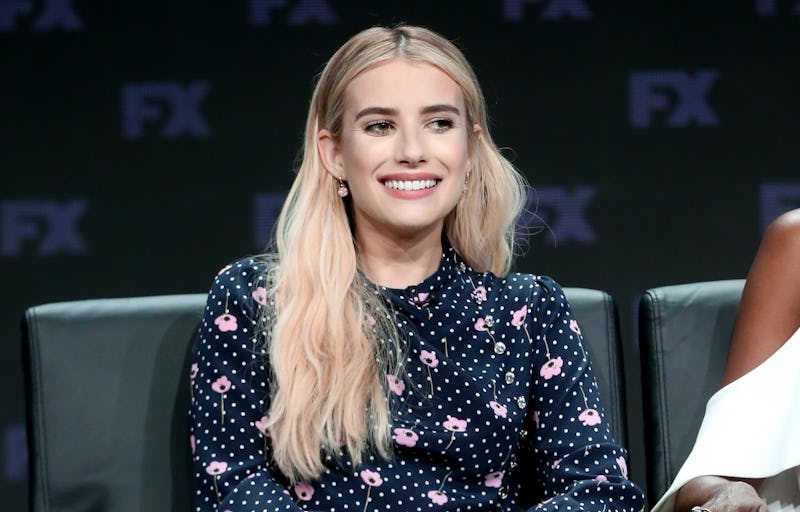 Frederick M. Brown/Getty Images Entertainment/Getty Images
The upcoming eighth season of American Horror Story is already looking to be the best one yet, thanks to the special crossover story between Season 1's Murder House and Season 3's Coven. Many familiar faces will be reprising their former roles, but thanks to Emma Roberts' new AHS: Apocalypse photo, we now have a slightly better idea of what her character Madison Montgomery will be up to when the show returns this fall.
While you would think that Madison would be popping up back in New Orleans at Miss Robichaux's Academy for Exceptional Young Ladies — which is where the majority of Coven took place — Roberts' Instagram post shows her standing on a pile of bones and dirt while holding a feather duster in what is clearly the Harmon family's backyard from Murder House. "I bring you Madison Montgomery on #ahs8 🖤 Does the b– survive the #apocalypse ?" Roberts wrote in the caption of her post.
While Madison's fate on Apocalypse — which premieres on Sept. 12 on FX — has yet to be revealed, it'll be interesting to see what brings her to Murder House in the first place. Does she perhaps have a connection to someone within the house that we as viewers have yet to learn about? Only time will tell.
Diehard fans of Murder House will undoubtedly recognize the location Roberts is standing around. It's precisely where Dylan McDermott's character Ben Harmon built a gazebo in order to cover up the dead body of his former student and mistress, Hayden McClaine (played by Kate Mara). It's also where Frances Conroy's character, Moira, was buried after Constance shot her in the head for sleeping with her husband. (Hence why there's quite an impressive pile of bones at Madison's feet.)
It's unclear why exactly these bones are getting dug up and how Madison fits into it all, but either way, Season 8 just got even more exciting thanks to this new photo. Of course, Madison has firsthand experience with coming back from the dead — having done it after getting her throat slit by Jessica Lange's Coven character Fiona Goode. As such, Madison should fit right in with all the ghosts that currently haunt Murder House.
This isn't the first time fans have been given a glimpse into what's going on behind the scenes for Season 8. AHS series creator Ryan Murphy has made a point of posting various teasers and reunions of the returning cast members. This includes a photo of Connie Britton and McDermott standing inside Murder House as well as Sarah Paulson, Stevie Nicks, and Lily Rabe all standing on a eerily familiar staircase as their Coven counterparts. Murphy also posted a photo in late August depicting Evan Peters, reprising his role as Tate Langdon. "Tate. Happy to be home," Murphy wrote in the caption.
Suffice to say, Murder House is bound to get pretty crowded this season, so let's hope everyone can all get along with one another. But considering this is American Horror Story we're talking about, that probably won't be the case. Madison may need more than a feather duster to clean up this mess.