Emma Stone's Guest Role On 'The Suite Life Of Zack & Cody' Is SUCH An Unexpected Character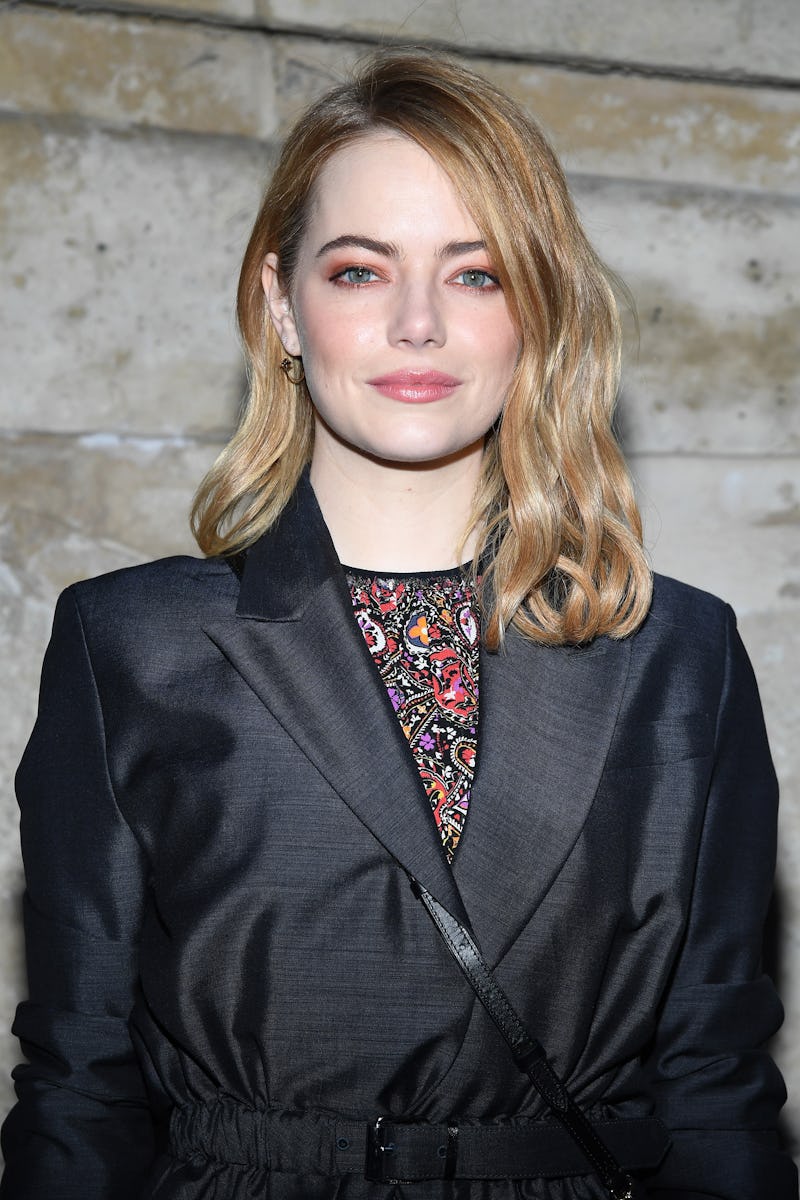 Pascal Le Segretain/Getty Images Entertainment/Getty Images
Even the most devout Mouseketeers would find difficult to get an Easy A if this piece of Disney trivia came up on a quiz. Before she stole our hearts in The Help or won her Best Actress Academy Award for La La Land, Emma Stone guest starred on The Suite Life Of Zack & Cody, as Buzzfeed reminded us on Wednesday, April 11. OK, not so crazy, right? But here's the part that's blowing our minds: Even if fans didn't know she was on the show, her character is one that you will definitely recognize.
We all know that in life you have to crawl before you walk, but Stone is proof that sometimes you also have to walk on all fours before you ascend to A-list status. Remember Ivana, the fluffy, pampered Pomeranian that Brenda Song's London Tipton oft had cradled in her arms? Believe it or not, the Birdman actress lent her trademark voice to the pooch in a January 2006 episode from Season 1 entitled "Crushed!" as reported by BuzzFeed. Granted, she had yet to shoot to superstardom, but, seriously, there's no mistaking that voice. How did fans miss it?
Fans may recall that in a majority of the Cole and Dylan Sprouse-led Disney comedy, which ran from 2005 to 2008, prissy Ivana only barked or "spoke" via subtitles. But in the episode, which ended up only being a one-time gig for Stone, the pup must've found her voice, so to speak, after falling in love and running away with Scamp, the beloved pup of Maddie Fitzpatrick (played by Ashley Tisdale) in a Lady and the Tramp-esque storyline. Even hawk-eyed viewers get a pass for missing the connection, though, as the actress was credited by her given name, "Emily Stone" for the appearance.
Although the bit part remains shocking to many, it isn't entirely breaking news, of course. Fans first lost their minds — and rushed to re-watch the episode — when Seventeen revealed the "secret role" in October 2016, and the Oscar winner herself mentioned once voicing a dog in a Rolling Stone interview months later, also referencing early guest spots on Fox's Malcolm in the Middle and CBS' Medium.
Coincidentally, to pay the bills and not roll-over on her dream of working in Hollywood, she also tackled another K9-related gig: making treats at a bakery for dogs! "I was, like, 'Now I'm working, see?" she told Rolling Stone. "I'm not getting auditions, but I gotta stay here.'"
It's difficult to imagine a time when she wasn't a household name, but the actress has said that the voiceover came at a time in her fledgling career when she was just trying to keep hope alive. "When I first moved out to L.A. I was fifteen and I was with this youth agency, and they were sending me out on a lot of Disney Channel stuff," she told Elle at a press day for La La Land in December 2016. She continued:
"I was getting nothing. I was going on lots and lots of auditions. And then it was radio silence. Nothing. I didn't get any auditions for months. And that, to me, is more painful than auditioning a lot and getting rejected. Because if you're auditioning, you're lucky."
But soon thereafter, she got her big-screen break as Jonah Hill's love interest in 2007's Superbad, and the rest is history. More than a decade — and two Academy Award noms — later, producers aren't settling for just her voice (though it certainly remains one of her trademarks). And it's a good thing, too because fans will take all the Emma we can get!
She was hardly the first star to check-in to the Tipton Hotel on The Suite Life of Zack and Cody. Miley Cyrus, Zac Efron, Chris Brown, and Jaden Smith all appeared in the series, and Selena Gomez even had her first kiss (with Dylan Spouse) while guesting in 2006. All those stars were much easier to spot, though, since, you know, viewers could actually see their faces on-screen.
Although we're suckers for Stone's million-dollar smile, our ears will be perched if Disney re-runs her episode in the near future. Either way, good luck looking at Ivana the same way ever again.