Emma Stone Looks Just Like Khaleesi With Her New Super-Long Blonde Hair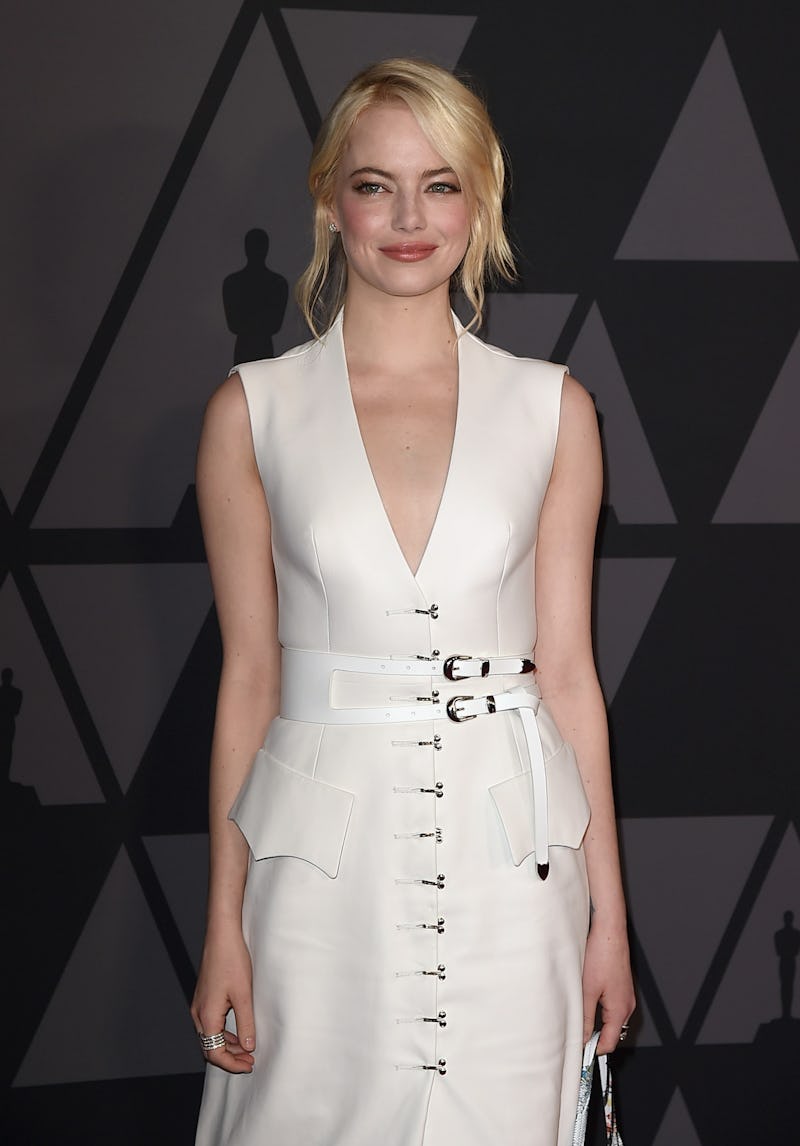 Kevin Winter/Getty Images Entertainment/Getty Images
While Emma Stone is known for her red hair, the newly-minted Oscar winner is actually a natural blonde. Stone has revisited several different shades and tones of her natural hue through the years. But it's her latest blonde locks that are causing a stir. Emma Stone's super-long blonde hair is serving up total Game of Thrones vibes. More specifically, the strands are giving us all of the Khaleesi feels.
Images of Stone rocking a long 'n' thick cascade of white hot strands on the set of the Netflix series Maniac have been making the rounds on the Internet, and fans are most definitely feeling it. Even fellow actor Orlando Bloom noted the similarities to his character Legolas from Lord of the Rings.
It's certainly an edgy look for the actor, who is known for her elegant and classic style off the set.
While Stone opted for flame-hued hair when she picked up her Best Actress Oscar statuette at the 2017 Academy Awards earlier this year, she has been showing off shorter, buttery blonde strands while making public personal appearances as of late.
But for this role, Stone looks like a badass princess about to head into battle. Seriously, this is the Emma Stone you've not yet seen before.
It's totally paying homage to Daenerys, right?
It's a lot of look, thanks to the major length, bright color, and the random braids that are mixed in here and there. There is all of that windswept realness going on, too. Of course the Twitterverse is abuzz with lots of emotions and comments regarding Stone's new look.
Vikings? Um, OK!
The similarities are there. Just ask Orlando Bloom and Twitter.
Perhaps Twitter's reactions to Stone's blonde 'do will cause a spinoff of the two characters to happen. Maybe Khaleesi, Legolas, and Stone's Maniac character can get their own show based on their complimentary coifs. We can dream, can't we?
Let's take a look at Stone's hair transformation to get the full effect.
Stone recently slayed a blonde bob with a deep side part and bedhead texture. Even messy strands look gorgeous on her.
Stone has also been known for her beautiful blonde bun at awards shows in recent months.
The La La Land star opted for a soft auburn shade on the night she scored the biggest professional accolade of her impressive career so far. Her side-parted, Old Hollywood waves, which skimmed her shoulders, were very "Emma Stone." The color was right for her golden dress.
She experimented with multiple tones of red at Cannes a few years back. The result cannot be argued with. The flame hue popped against her peaches-and-cream complexion.
Stone also rocked a deeper, more brown-toned auburn in the past, which played up her her green eyes. And that concludes our stroll down Emma Stone's Hair Memory Lane.
There is one constant with Stone's hair, and that's the fact that she will always change it up in regards to color, texture, and length. Her blonde extensions from Maniac are indeed her most unusual and unexpected strands to date — but it's all for her craft.