Emma Stone's New Film Will Push Her Acting Boundaries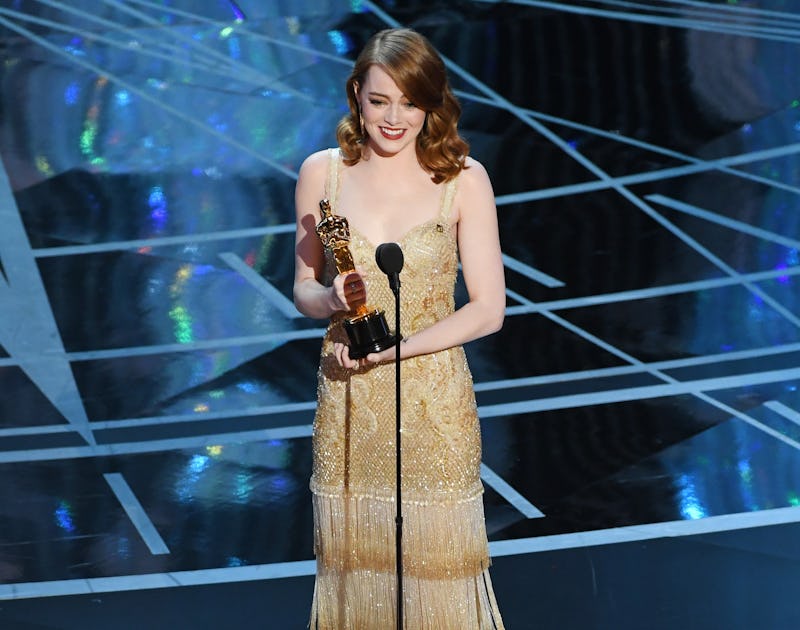 Kevin Winter/Getty Images Entertainment/Getty Images
It's always fun to see where Oscar winners will pop up next; for Emma Stone, it would appear that she is continuing her her hot acting streak with a dive into period drama. Not only that, but the period drama Stone is starring in, The Favourite, may be an LGBTQ-themed drama. I mean, sign me all the way up. I love Stone, I love period dramas, and yes, I love a good LGBTQ story. In the hands of The Lobster director Yorgos Lanthimos, The Favorite is teed up to challenge Stone in more than a few ways; should she successfully navigate this material and turn in a good performance, her action trajectory could also be forever changed (that's a good thing).
According to IndieWire, the plot of The Favorite goes a little something like this: "[The Favorite is] a 'bawdy, acerbic tale of royal intrigue, passion, envy, and betrayal,' [...] set in 18th century England during the court of Queen Anne. Sarah Churchill, Duchess of Marlborough and confidante, adviser, and secret lover to the Queen. The power shifts when the Duchess's younger cousin arrives to court, and the two women battle for influence and the Queen's affections." Stone is set to play the Duchess' younger cousin, with Rachel Weisz playing the Duchess and Olivia Colman playing Queen Anne.
What's got me particularly excited about The Favourite is that we're going to potentially see Stone dip her toe into the LGBTQ waters. While it sounds like these women will be using their sexuality to flip the script on the queen (as opposed to a traditional story that might see the women seduce a king for power), thus making their queerness possibly problematic, I'm nonetheless intrigued. It's going to be tricky, yes, but if handled correctly, watching Stone play a queer woman could add some dimension to her acting resumé that would be exciting to see.
Both Weisz and Colman worked with Lanthimos on The Lobster. As such, they have gotten familiar with the pacing, language, and mind of Lanthimos (who frequently writes and directs his films, thus leaving a unique stamp on each film he creates). However, Stone is going to be new to the delightful quirkiness of Lanthimos and watching her face the potential challenges of Lanthimos' vision for The Favorite could prove to be an exciting endeavor. Stone has flourished in the high-concept projects of auteurs before (think Birdman and, yes, La La Land), so I have a feeling she is going to rise to the occasion with The Favourite. I mean, if you have ever seen The Lobster or Lanthimos' exceptional Dogtooth, you know that there is much more to his films than their descriptions imply.
Are you ready to see Stone step outside her comfort zone? Because I sure as hell am so, so ready.