Emma Watson's Graphic Eyeliner Will Give You Life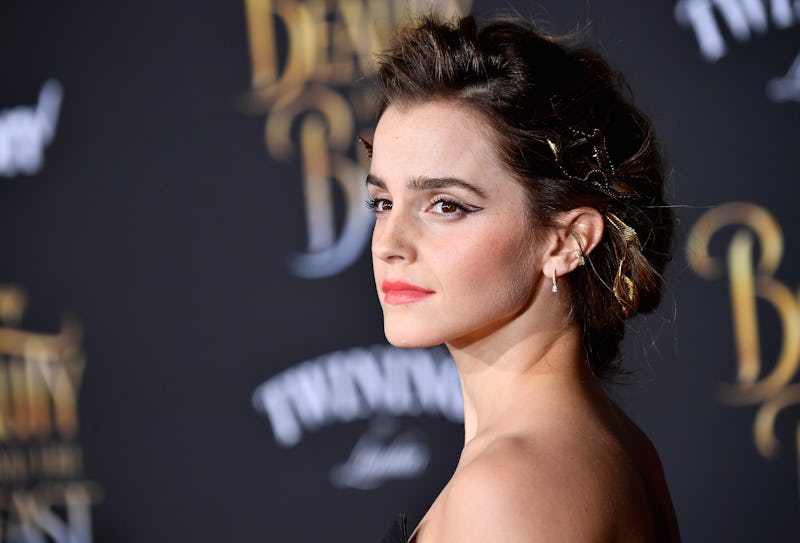 Frazer Harrison/Getty Images Entertainment/Getty Images
There's no wrong way to rock eyeliner, but some looks just beg to be experimented with. Emma Watson's graphic eyeliner will give you major inspiration on how to shake up your makeup routine this week. If you're a fan of the liquid cat eye, then think of this look as an upgraded, modern version. The same steady hand will be needed to apply it, but it's going to force you to think outside of the box when it comes to accenting your eyes.
Emma Watson wore her graphic liner to the Beauty and the Beast premiere on March 2, and it's basically an outline of a thick cat eye, with the middle space left bare. The neat thing is that it isn't too intense of a look, so even those with a more minimalist makeup aesthetic could feel comfortable dabbling in it for a day. "Emma Watson's graphic eyeliner look from last night's world premiere of Beauty and the Beast is the most wearable, safe-for-work take on the Instagram trend," Allure reported.
Even more exciting is that the negative space eyeliner is simple enough to reproduce — meaning you don't have to be a wizard with makeup to try it out. First you draw the liner on your upper lash line, just as you normally would. Then you etch the outline or a winged tip (customizing the thickness to your own personal taste,) and leave it unclosed, with the wing ending right on the crease of your eyelid. That way the eye has an unfinished, artsy feel to it.
According to Allure, the makeup artist that created the look for Watson was Kara Yoshimoto Bua, and she shared more tips on Instagram how to balance the modern eye.
"To balance the modern graphic eyeliner and bright coral lip, for me it was all about healthy moisturized skin and keeping her freckles as well as brushing out the brow so they are less groomed and more free," Yoshimoto Bua captioned her photo. But of course, it's up to you how you want to interpret the look. You can go the minimal, natural way that Watson did, or you can go even bolder and pair it with a brighter lip or a wilder eyeshadow palette.
It'll look gorgeous no matter what — as long as you have fun wearing it.