Emma Watson Has A New Sustainable Style Instagram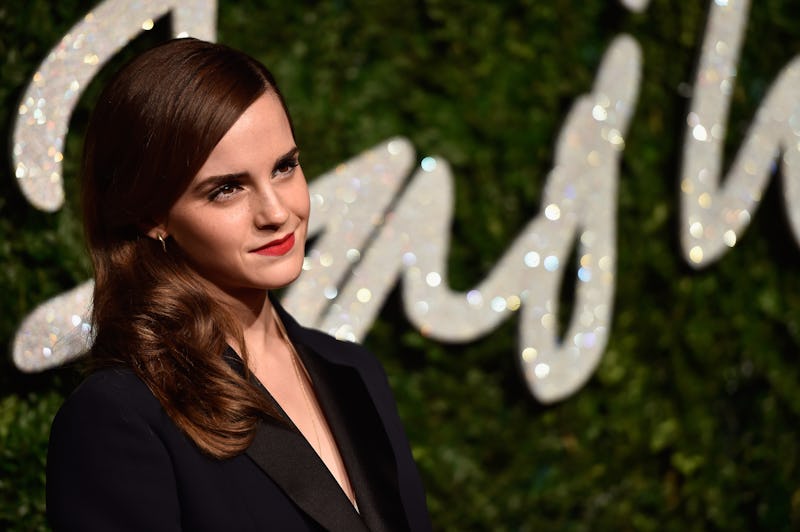 Pascal Le Segretain/Getty Images Entertainment/Getty Images
Style snaps with a purpose? That's exactly the point of Emma Watson's new sustainable fashion Instagram account. During her press tour for Beauty And The Beast, the actress is sharing her on-duty looks, and she's taking the opportunity to prove that eco-friendly fashion can be seriously chic.
The Instagram account, @the_press_tour, chronicles her ensembles for photoshoots, press junkets, and other appearances. In addition to promoting the film, she's promoting the environment-concious clothing she's wearing, too. With the help of her stylist Rebecca Corbin-Murray, according to The Hollywood Reporter, her looks not only capture the sophisticated, fashion-forward style we've come to love from Watson, but also her commitment to making green choices (not always literally, of course).
This isn't the first time she's used her celebrity status to promote sustainable fashion. At the 2016 Met Ball, she wore an edgy dress and pantsuit combination by Calvin Klein made out of recycled water bottles.
In the first chic post, Watson writes, "Coat is from @stellamccartney, the world's first luxury brand that is committed to producing products that do not use leather, skins, feathers or fur. Instead, Stella has spent years developing ways of using materials such as regenerated cashmere, recycled fabrics, organic cotton and forest-friendly fabrics."
While the different brands she talks about use varying sustainability practices, they're committed to goals like reducing fabric waste, repurposing materials, rejecting animal materials, using organic textiles, and reducing emissions from the manufacturing process. All of the brand information is verified by brand consultant Eco Age, which aims to empower businesses to make choices that are better for the environment.
In another photo, Watson writes, "Custom @louisvuitton dress designed by @nicolasghesquiere. The dress fabric is Newlife recycled polyester, created from used plastic bottles. These are sourced, mechanically processed and spun into yarns in Italy, with a fully traceable supply chain. This saves energy and reduces CO2 emissions compared to creating brand new polyester fibre."
It's worth noting that as wonderful as these brands' objectives are, many of them are beyond the average shopper's price point. (I don't exactly head straight for Stella McCartney at Bloomingdale's, and I've never owned a custom Louis Vuitton dress, sadly.) However, some of the brands she promotes are definitely more reasonable — she wears shoes from Good Guys in a couple of snapshots, and their classic white vegan leather sneakers are about $120. Almost everything from bamboo-fabric basics brand Boody is under $40, too.
In one Instagram, she also talks about her beauty products, which include items from brands like RMS Beauty and The Body Shop (read: won't break the bank).
Ultimately, though, it's not necessarily about buying all of the exact pieces and brands she highlights (although, let's be real — I would if I could). With this Instagram, Watson is making the statement that being smart about the clothes you buy is an important (and often forgotten about) way to do your part for the environment. We have influence by putting our dollars toward companies that use sustainable practices, and clearly, there's no need to sacrifice style to do it.