Emmanuel Macron Wants To Team Up With American Scientists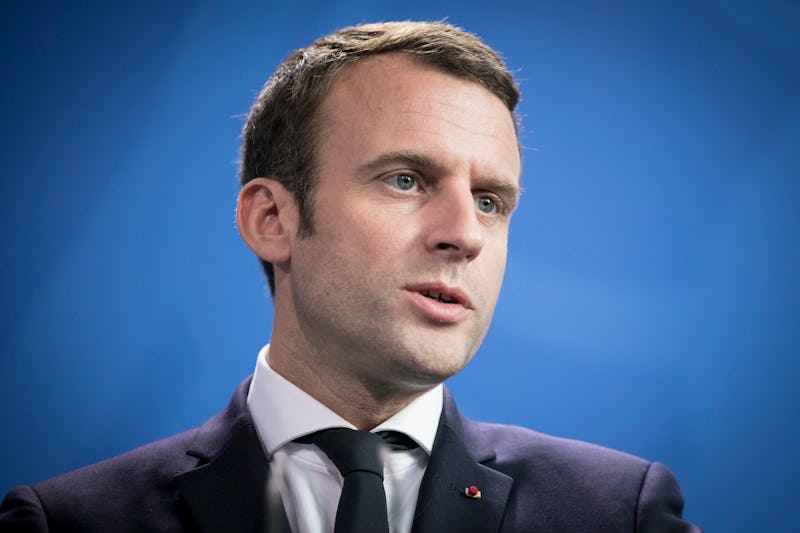 Axel Schmidt/Getty Images News/Getty Images
Following Donald Trump's controversial decision to pull America out of the Paris climate accord, France's newly elected president has extended a special invitation. Emmanuel Macron wants American scientists to join France's climate change efforts and even call France their "second homeland."
In a statement released on Thursday, Macron characterized Trump's decision to withdraw from the landmark (though admittedly non-binding) international climate agreement as a "mistake." Ultimately, he called on scientists who are concerned with the state of the climate to work alongside France, saying:
To all scientists, engineers, entrepreneurs, and responsible citizens who were disappointed by the decision of the president of the United States, I want to say that they will find in France a second homeland. I call on them, come, and work here with us, to work together on concrete solutions for our planet, our environment. I can assure you France will not give up the fight.
It should come as no surprise that Macron is positioning France as a leader on addressing climate change, as well as in the international community. This is especially true after Trump's behavior at the recent NATO summit in Belgium fueled the belief that American international leadership may be on the wane.
Simply put, any opening for a major EU member state to pick up some of the slack left behind by the United States could be a big opportunity, establishing that country's place in a new global pecking order. Obviously, France is not and will never be the military power the United States is, but on matters of climate and environmental science, there's a wide-open lane to seize global leadership.
Trump, for his part, insisted while announcing his plans to withdraw from the agreement that he was elected "to represent the citizens of Pittsburgh, not Paris," seemingly ignoring or forgetting that the deal was an international one, and had nothing solely to do with Paris beyond that being where it was signed. He also forgot that the city of Pittsburgh voted against him overwhelmingly, and that the citizens of Pittsburgh favor efforts to mitigate the effects of climate change, a point that the city's mayor promptly corrected.
Of course, it remains to be seen whether any American scientists take Macron up on the offer. But amid a symbolically dire step back for the United States on climate science, the fact that European allies are standing tall and holding the line is something anybody concerned about the environment, regardless of political party or national origin, should cheer.