The French President Was Ready For Trump's Handshake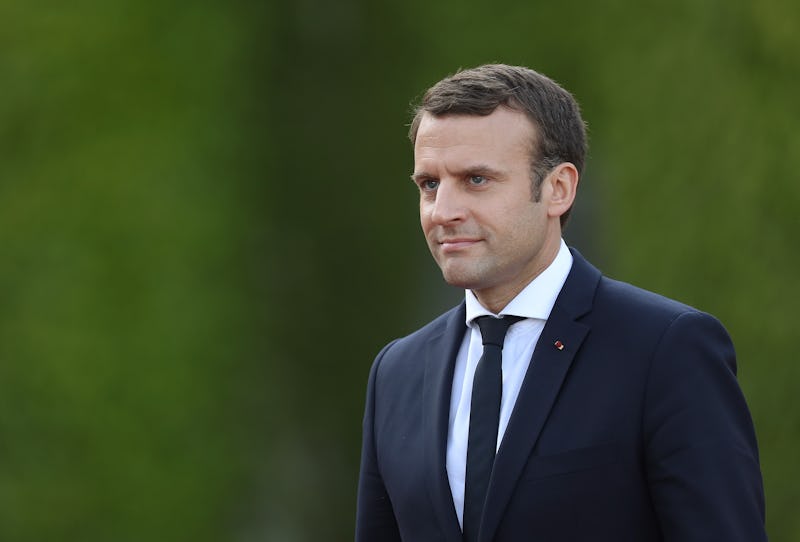 Sean Gallup/Getty Images News/Getty Images
When U.S. President Donald Trump met newly-elected French President Emmanuel Macron, the two world leaders locked hands in a white-knuckle handshake that set the internet abuzz. Now it appears that Macron was warned about Trump's bizarrely aggressive handshake style prior to their meeting in Brussels and his firm counter grip wasn't purely coincidental.
"My handshake with him, it wasn't innocent," the Associated Press reported Macron said in an interview published Sunday by the French paper Le Journal du Dimanche. "One must show that you won't make small concessions, even symbolic ones, but also not over-publicize things, either." The French president reportedly referred to his now legendary handshake with Trump as "a moment of truth."
"I don't miss a thing," he said. "That's how you get respect."
Although most people think of the handshake as a common form of greeting or agreement, Trump has been well known to use the gesture in an alpha-male display of assumed dominance. His aggressive grab-and-yank handshakes with Supreme Court Justice Neil Gorsuch and Japanese Prime Minister Shinzo Abe, to name only a few, have spurred intense scrutiny both in the news and on social media. Last week, however, it appeared Trump may have met his handshake match in French President Macron.
When the two leaders shook hands ahead of a NATO summit meeting Thursday in Brussels, their grip was so firm and went on for so long that their knuckles began to turn white. But while it's normally Trump who refuses to relinquish his acquaintance's hand, it was Macron who appeared to keep Trump trapped in the handshake as cameras captured both leaders' jaws appearing to clench.
According to the Washington Post's Jonathan Capehart, French ambassador to the United States Gérard Araud warned Macron about Trump's handshake prior to the two presidents' meeting in Brussels. "I asked him if he'd seen the videos of the handshakes and if he indeed had a chance to warn Macron," Capehart wrote in a column published Friday. "'Yes!' he said, eyes sparkling behind his black mask as he smiled and enthusiastically pantomimed the grab-and-pull." Along with a warning about Trump's aggressive handshake, Capehart also reported Araud "sent a memo to Macron advising him on how to handle the American president."
Cameras also caught Macron swerving to avoid greeting Trump (favoring German Chancellor Angela Merkel instead) after walking up toward NATO leaders Thursday at the start of the summit in Brussels. Perhaps that was an intentional power play too?