7 People With Endometriosis Tell Us Their Best Pain Relief Tips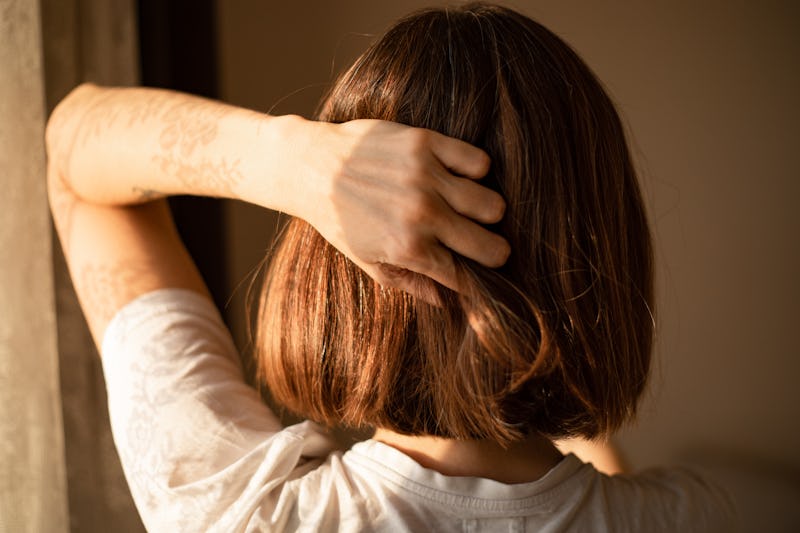 Photographer, Basak Gurbuz Derman/Moment/Getty Images
Coping with endometriosis requires more than just an ibuprofen and a hot shower. Endometriosis is so painful because it causes uterine tissue to grow outside the uterus, where it behaves like a period and sheds every month; without anywhere for these cells to go, it hurts. It's like "having a medieval torture device inside you" or "being stabbed with a thousand knives," people with the condition say. Pain management tips for endometriosis can involve everything from surgery, heating packs, and diet changes to CBD oil and hormone therapy.
Estrogen-blocking drugs are often the first prescribed treatment. "Treating endometriosis with the elimination of female hormones and rhythms has many associated problems and many failures," Dr. Felice Gersh M.D., an OB-GYN, tells Bustle. "Unfortunately, though fairly successful in the reduction of pain, taking away a young woman's hormones is both unpleasant and potentially harmful to her health."
Surgery to remove the cells growing outside the uterus is another potential treatment, but Dr. Gersh says it can have complications, create scarring, and potentially not be beneficial. Acupuncture, meditation, hypnosis, pelvic massage, cannabis, and non-steroidal anti-inflammatories are also recommended for dealing with endo, as is the drug Elagolix, now marketed as Orilissa, which was approved by the Food & Drug Association (FDA) in 2018.
If you have endometriosis, you may have tried every classic remedy, but people with the condition tell Bustle that everybody's experience different — and that sometimes not even the most drastic treatment takes away all the discomfort. Here are tips on managing endometriosis pain from seven people with the condition.