Prepare To See A Whole New Ethel In 'Riverdale' Season 3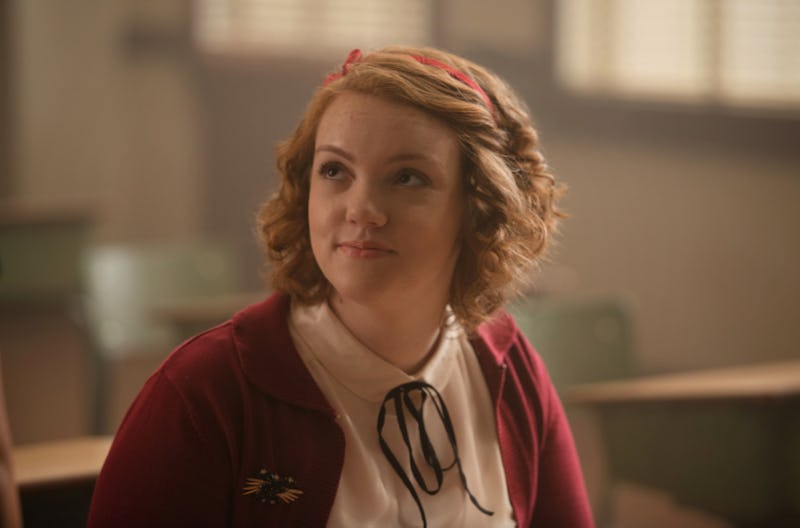 CW
Back in 2017, Riverdale creator Roberto Aguirre Sacasa hinted that Ethel Mugg (Shannon Purser) would meet her demise in the show's second season. But Ethel withstood the Black Hood, surviving through the season. Yet if you were worried that the character's time on the show will be cut short in the upcoming third season, fear not; Riverdale Season 3 will see Ethel have a substantial role, according to Purser.
"There's definitely more Ethel in Season 3, so fans can definitely look forward to that and it's definitely interesting," shared the actor, speaking over the phone to Bustle while promoting her upcoming Netflix film Sierra Burgess is a Loser. "I can't give away too much, but she definitely undergoes some pretty big changes... there's a new side of her [fans] haven't seen before. I think it plays a very interesting part in the story this season."
As Riverdale fans know, Ethel Muggs went from being a minor character to having a key role in the show's second season. She was introduced in Season 1 as an outcast who helped Veronica and Betty take down Chuck, and when she later re-emerged, she formed a strong bond with Veronica over their family struggles. But their friendship only lasted briefly, until Ethel found out that Veronica's dad is Hiram Lodge, who caused her family's hardships.
But even though Ethel remained friendly with the core four after these events, everything changed by the second season. Once Hermione Lodge announced she was running for mayor, complete with a front-page article in the local newspaper promising new jobs and to make Riverdale safer by turning South Side High School into a private for-profit prison, Ethel decided that it was time to stand up to Veronica. She did so in a hugely dramatic way: dumping a milkshake all over Veronica at school. Even though Veronica tried to repair their friendship by offering to convince Hiram to give Ethel's dad a job, Ethel had no interest.
Ethel then ruined Veronica's chances of becoming student council president by handing out flyers with everything Veronica had lied about — including her parents' plans of turning South Side High into a prison. This showed Ethel's cunning side, which was vastly different from her passive one shown during the first season that painted her as a constant victim.
In a March interview with Teen Vogue, Purser discussed what it was like to explore that deeper side of her character. "Ethel especially, I think she could easily come off as sort of one-dimensional, but she's not. She's a human being and she's having a really rough time with her family. It's been really interesting to show the results of all of that inner turmoil and her kind of snapping," said the actor.
Ethel's most intriguing side of all came out when, after a magazine with cutout letters was found in her dressing room, she became the prime suspect for writing a letter pretending to be the Black Hood and murdering Midge. Even though it was later revealed that Hal was the Black Hood and killed Midge, Ethel remained a mysterious character throughout the season, especially since she had previously expressed jealousy over Midge getting the coveted role of Carrie.
In April, Purser told Refinery29 that becoming a prime suspect was perfectly timed with Ethel becoming in touch with her dark side — akin to Betty's. "Season 2 is where we see her — I don't want to say snap, because she doesn't go run around with an axe and start killing anybody … But she takes matters into her own hands," explained the actor.
So while it may not be clear just yet what Purser means by telling Bustle that there'll be "a new side" to Ethel in Season 3, it's safe to assume that there's a lot left to be discovered about the character.