Women Now Make Up Half Of Ethiopia's New Cabinet In A Historic Move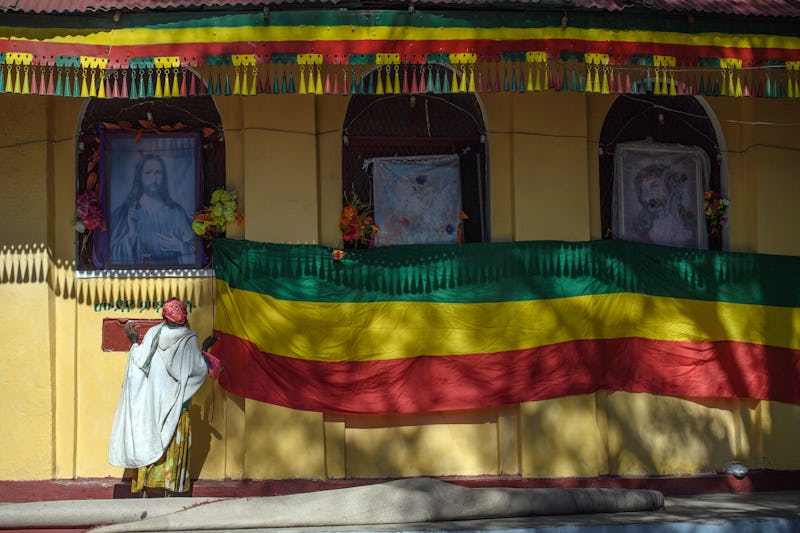 Carl Court/Getty Images News/Getty Images
On Tuesday, Ethiopia's prime minister made a major announcement. For the first time in history, Abiy Ahmed said, Ethiopia's cabinet members are half female, according to The Washington Post, marking a significant move toward gender parity in one of the most important parts of government.
Abiy celebrated the change. "Our women ministers will disprove the adage that women can't lead," he said in Parliament, per the Post.
International news characterizes Abiy as a reformist politician, pointing to a number of changes he has instituted within the country's government. Among those changes is the reshuffling of his own cabinet, and the elimination of eight positions therein, per the Post.
But reducing the number of ministers and increasing gender parity aren't the only changes he has made. Women are also being appointed to security oriented positions, including Aisha Mohammed Musa, who is the first woman to ever be Ethiopia's defense minister, per The Guardian. Previously, per the BBC, she served as the construction minister.
In discussing the changes, Abiy characterized women as natural fits for government. He said that, in general, they were less corrupt, had the energy to see through changes, and contributed greatly toward promoting peace and stability, per the BBC.
Along with restructuring his cabinet, Abiy also created an entirely new ministerial position, per a multitude of reports. That would be the Ministry of Peace, which will be headed by former House speaker Muferiat Kamil, according to The New York Times.
"The main problem in this country is the lack of peace. This [peace] ministry will be working hard to ensure it prevails," Abiy told parliamentarians, according to The Guardian.
Indeed, Abiy, who has been prime minister only since April, has made a concerted effort to promote peace amongst Ethiopian residents, as well as between Ethiopia and other countries, The Guardian reports. In particular, he is credited with making peace with neighboring Eritrea, ending a two-decade long conflict, according to the BBC.
Abiy's ascension to prime minister is significant in several ways, however. He is, for example, the first Oromo leader Ethiopia has ever had. According to the BBC, the Oromo are an ethnic group that has fought against the government for years over political, economic, and cultural marginalization, making Abiy's current role historically important.
With newly established gender equity within Ethiopia's cabinet, it joins a very select group of countries, worldwide, who have accomplished the same feat. Among them are Rwanda, the only other African country to do so, which is currently ranked within the top five countries for gender equality, per the World Economic Forum Gender Gap Index. (According to the World Economic Forum, Rwanda has a female labor force participation rate of 86 percent, guarantees women three months of paid maternity leave, and the country's women make 88 cents for every dollar that men do, outpacing countries like the United States in every category.)
While gender equality in government does not automatically solve all of any country's problems, it appears to be a strong indicator of social and economic progress. And it appears Ethiopia has made a significant step in that direction.