Eva Longoria Is Joining The 'Dora The Explorer' Movie In The Most Perfect Role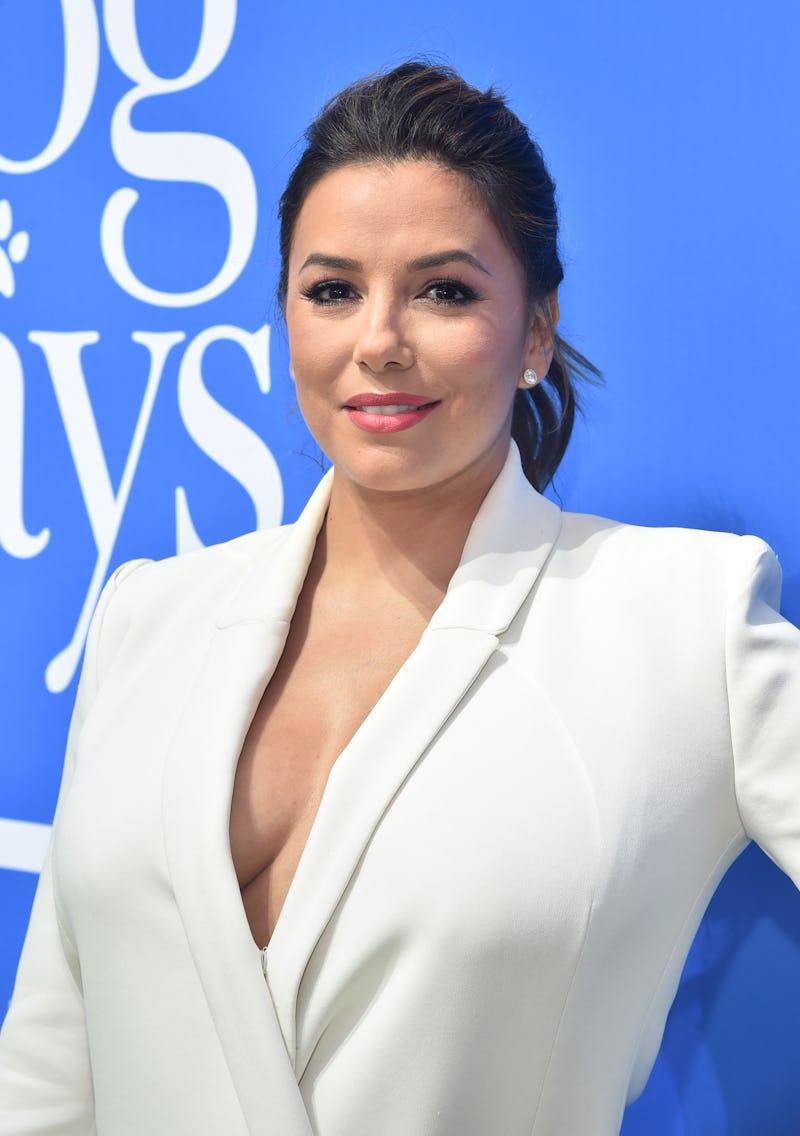 Alberto E. Rodriguez/Getty Images Entertainment/Getty Images
She's played a mom before, but Eva Longoria's role in Dora the Explorer could have a whole new meaning for the actor this time around. On Monday, Aug. 20, Deadline revealed that Longoria will join the live-action Dora adaptation as Dora's mother, Elena. Longoria's rep confirmed the casting to Bustle.
Announced just two months after Longoria gave birth for the first time (and has been gushing about the experience of her newborn son ever since), the maternal role is perfect for the new mom.
Longoria will star in the film, out next August, alongside Isabela Moner, who will play Dora. Deadline's provided the movie's synopsis: "The young explorer takes on high school, and with her new pack of friends as well as her sidekick the monkey Boots and her cousin Diego, leads them on a Goonies-esque quest to save her parents and solve the impossible mystery behind a lost Inca civilization."
Extremely passionate about motherhood, and Latinx activism, it seems Longoria's greatest worlds will collide in the upcoming project. Although the 43-year-old was stepmom to husband Jose Baston's three children, welcoming her son in June has opened up a whole new world to the actor. In July, Longoria revealed her son Santiago Enrique to the world in HOLA! USA. She's been raving about the childbirth experience ever since, recently telling Us Weekly, "I've been with him 24/7 since he was born... I am very grateful and thankful for my body for making this amazing human being."
Beyond motherhood, Longoria's background allows her to have such a personal connection to Dora. The animated adventure series first premiered in 2000, rich in Latinx culture with elements like its young female protagonist and inclusion of Spanish. Throughout the years, Dora the Explorer has been recognized for its uniqueness and influence on commercial diversity.
In 2015, show writer Maria Escobelo opened up about being Latina in the industry, saying, "It's still a 'white man's' world, of course. I've got two strikes against me because not only am I a woman but I'm Latina," she told Latina. "I look at it as a positive thing because that is what I can bring to the stories as well and be as authentic as possible."
Longoria, who has Mexican-American parents, started the Eva Longoria Foundation in 2012 to "help Latinas build better futures for themselves and their families through education and entrepreneurship." She further explained, "The growing Latina population is an untapped resource in this country. If we give Latinas the tools to unlock their potential, we will see amazing results."
Longoria has been a part of a handful of Latinx-driven projects, such as The CW's Jane the Virgin (in which she directed and appeared in) and NBC's Telenovela from 2015 to 2016. In a 2012 interview with Mario Lopez, Longoria opened up about her Hispanic heritage. "We're a very fractioned group, and I think that's what makes our demographic so beautiful... it was so interesting, the truth of: We didn't cross the border, the border crossed us."
This opportunity couldn't have come at a better time for the actor, and for aforementioned reasons, she's going to thrive in this role.