Eva Marcille From 'RHOA' Used To Be On The Ultimate 2000s Reality Show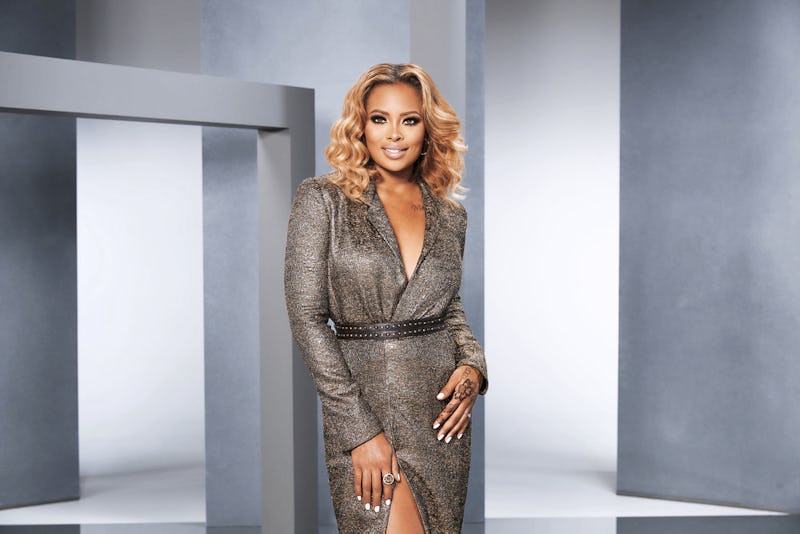 Bravo
You may recognize Eva Marcille from another beloved reality show that stars a slew of gorgeous women — America's Next Top Model, which she won in 2006. But now, over a decade later she's taking on a new series and a new title: Real Housewife of Atlanta. A lot has changed for her since her ANTM days, so you may be wondering, who is Eva Marcille now? Is she still the same woman viewers saw rise to the top?
In 2008, per her IMDb profile, she joined the cast of The Young and The Restless, one of her most widely recognized TV roles besides ANTM. On the show, she played a young mom named Tyra Hamilton. She has also made lots of one-time guest appearances on series including Wild n' Out, Smallville, and Everybody Hates Chris, and she's hosted a few reality shows on BET and Oxygen (Rip the Runway, Hair Battle Spectacular). Not to mention that she made an appearance on Season 10 of RHOA as a friend to the women, so fans should already be familiar with her even if they haven't seen her elsewhere.
Season 11 will surely feature tons of updates regarding Marcille's love and family life, considering that, according to People, she recently married Mike Sterling, an attorney and a former candidate for mayor of Atlanta. The two share a five-month old baby boy, Michael Todd Sterling Jr., and Marcille also has a four-year-old daughter, Marley Rae, with her ex Kevin McCall. Marcille told People that Marley asked for a baby brother, and she got one.
"I said, 'Marley, would you like to have a little brother or sister?' And she said, 'Yes, Mom, but you know what? Maybe a baby brother. Make it a brother,'" Marcille said. "I thought that was adorable, but at the time, I had no idea what I was having."
The outlet further reports that the couple had a private ceremony in Atlanta to say "I do," but Entertainment Tonight reported that the wedding was filmed, so fans might get to relive the night with Marcille and Sterling after all. Afterward, the pair honeymooned in Greece, and by the looks of Marcille's Instagram posts, they were glowing with sun-kissed happiness the whole time. (She's also shared some beautiful wedding photos that should give fans an idea of what RHOA Season 11 could bring).
Marcille has experienced a lot of monumental life moments in the last year, and now, she gets to ride out the high on Real Housewives of Atlanta. Hopefully the drama doesn't get in her way, but it doesn't seem like she would let it. "At the end of the day, we are living it up and living our best lives fabulously here in Atlanta," she told Bravo in a video update. So that's promising.
And let's not forget the tagline every Real Housewife receives. ET exclusively revealed the Season 11 catchphrases and Marcille's is perfectly representative of her character: "I live a model life, now I'm ready to be a top wife," she says on the show. Watch her do just that on RHOA.