Evelynn Escobar-Thomas Bridges Activism & Fashion On Instagram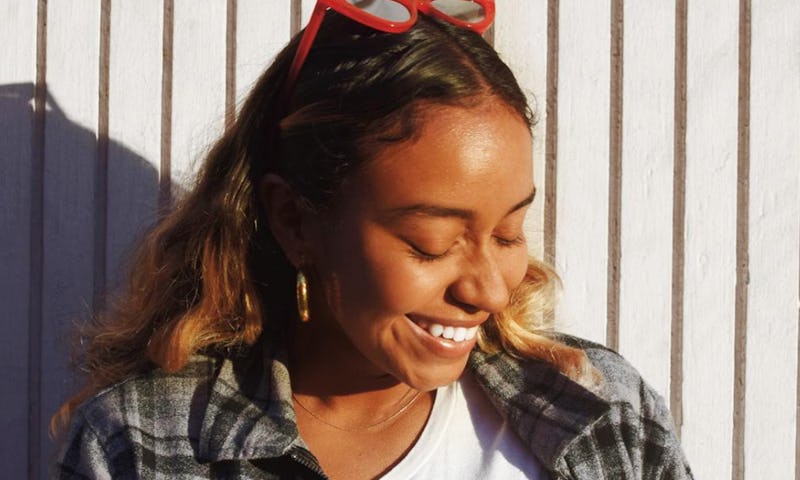 Photo courtesy of Evelynn Escobar-Thomas
Evelynn Escobar-Thomas loves what she loves in an irresistible, inspiring way. She blends all of her passions, from activism to sneaker drops, seamlessly on Eve Meets West. In a political climate that can be triggering and joy-stealing, Escobar-Thomas allows us to be informed, to care, and also indulge in lighthearted fare. That's why she's included in this special edition of Bustle's Must Follow, in which we highlight the incredible Latinx voices you need to follow on Instagram and Twitter.
Describe yourself in one line, including how you identify and what you do.
"A Guatemalan American activist + creator who gets paid to talk about shoes by day and inspires others through her content by night."
What do you hope people take away from following you on social media?
"I hope people will see that it is 'cool' to care. You can care about really important issues in the world and using your platform while also being well-versed in the latest sneaker drops, etc., or whatever it is that you also care about. I often feel like a bridge marrying serious issues and fun topics in a lighthearted way. There's no reason to feel like you have to be one or the other, the two can exist seamlessly."
When did you first feel that you were a voice for the Latinx community?
"I have always made it a point to speak on my experiences as a Black and Latina woman in this country, but it [wasn't] until recently when content I created around immigration, beauty, and people of color in outdoor spaces really took off and spread to corners of the internet I would've never imagined!"
Who's another Latinx person you would recommend to follow on social media?
"I'm forever inspired by my dear friend @_gabriella_sanchez, a Mexican American fine artist from L.A. who is also vocal about issues she's passionate about all while being insanely talented."
Follow Evelynn Escobar-Thomas on Instagram, @evemeetswest.