O'Reilly's Sharp Turn In His Trump Interview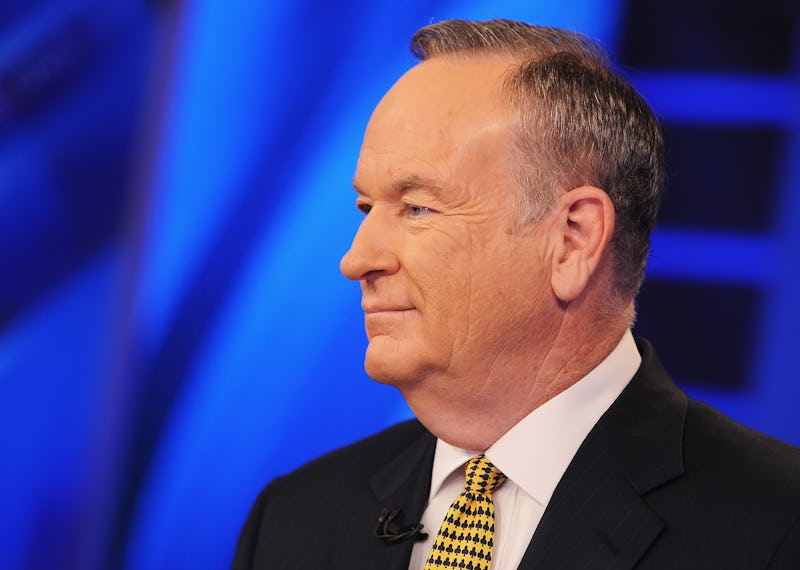 Slaven Vlasic/Getty Images Entertainment/Getty Images
Before the big event of the 2017 Super Bowl on Sunday, there was a shorter event for the country. In the tradition started by George W. Bush, President Donald Trump sat down for a pre-game interview with Fox's Bill O'Reilly that was a little, let's say, unexpected. During his interview with the president, O'Reilly pushed back at Trump's claims of voter fraud, insisted that Trump back up his points with facts, and even questioned why the president respects Russian President Vladimir Putin.
While Trump has been insisting for weeks that voter fraud is a real problem and also said he would call for an investigation into voter fraud, there isn't any evidence-based backup for this claim. Indeed, Trump and his administration have ignored facts and evidence a number of times during his barely-begun presidency — using, as senior advisor Kellyanne Conway herself coined them, "alternative" facts instead of real ones. Those notorious "crowds" of millions at the inauguration that were never there, for example, not to mention the fictional "Bowling Green Massacre."
Although O'Reilly admitted to agreeing with Trump that voter fraud is real, O'Reilly raised a good point when he questioned whether saying things without having verification for them is such a good idea for a president, asking Trump:
Is there any validity to the criticism of you that you say things you can't back up factually, and as the president, if you say, for example, that there are 3 million illegal aliens who voted and then you don't have the data to back it up, some people are gonna say that it's irresponsible for a president to say that. Is there any validity to that?
Trump responded, "Many people have come out and said I'm right. You know that."
To which O'Reilly said: "I know, but you've gotta have data to back that up."
This decision of O'Reilly's to question Trump's approach is unusual for a Fox News reporter. In Sean Hannity's interview with Trump, he allowed the president to talk about how great everything was going and once again bash the media. However, O'Reilly made an effort to actually question Trump's answers and polarizing comments.
Besides voter fraud, O'Reilly also questioned Trump's opinion on Putin. When O'Reilly asked Trump if he respected Putin and he answered yes, The O'Reilly Factor host asked him why. Trump's reasoning was that he is the leader of a country that the U.S. might need to help fight ISIS. O'Reilly continued pushing Trump for his reasoning by trying to remind him how different Russia is from the U.S., saying,
O'Reilly: But he's a killer, though. Putin's a killer.
Trump: There are a lot of killers. We've got a lot of killers. What do you think — our country's so innocent. You think our country's so innocent?
O'Reilly: I don't know of any government leaders that are killers.
Trump: Well — take a look at what we've done too. We made a lot of mistakes. I've been against the war in Iraq from the beginning.
O'Reilly: But mistakes are different than —
Trump: A lot of mistakes, but a lot of people were killed. A lot of killers around, believe me.
While Trump's answers are pretty horrifying, it's at least a very small comfort to know that O'Reilly wasn't totally letting him get away with saying whatever he wanted. This interview is a step in the right direction for holding Trump accountable for his actions and words as he makes decisions for our country. Hopefully others will take this cue and prod Trump further for data and backup for his declarations.