Republicans Are Bashing Trump's "Cyber Security Unit"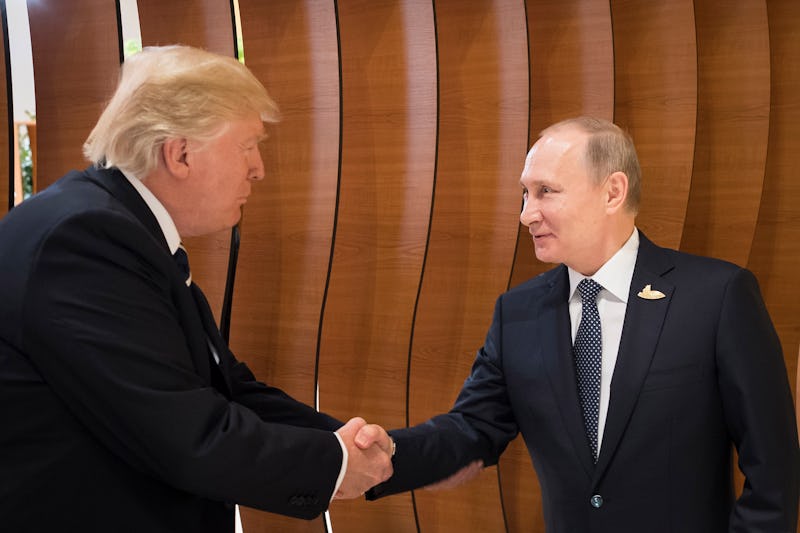 Handout/Getty Images News/Getty Images
Whatever you were expecting from President Trump and Russian leader Vladimir Putin's G-20 meeting, the update that Trump tweeted Sunday had to come as a surprise. Following Trump accepting Putin's promise that there had been no Russian meddling in the election, the president tweeted about forming, with Russia, an "impenetrable Cyber Security unit so that election hacking, & many other negative things, will be guarded."
But that didn't even fly with his own party — some Republican senators criticized the Trump cybersecurity plan, even saying it potentially was "betraying democracy."
Given that Russia is the number one suspect for the election hacking (which is still a question for only a select few, like Trump himself), you'd think it would be obvious they shouldn't play a role in policing those same actions in the future. Sens. Lindsey Graham of South Carolina and John McCain of Arizona went on talk news shows to point out their take on it, and Mario Rubio of Florida took to Twitter.
Graham was the one to use the "betraying democracy" terminology, but before that he was unequivocal on Trump's plan. Graham told NBC's Meet the Press, "It's not the dumbest idea I have ever heard, but it's pretty close."
McCain, who appeared on CBS's Face the Nation, focused not on the proposed cybersecurity plan but on ensuring Russia faces some sort of penalty:
So far the interesting aspect of this whole issue is we know that Russia tried to change the outcome of our election last November. And they did not succeed. But there was really sophisticated attempts to do so. So far they have not paid a single price for that. ... [and] there has been no penalty whatsoever. ... Yes, it's time to move forward. But there has to be a price to pay.
Marco Rubio also used strong language, tweeting:
While reality & pragmatism requires that we engage Vladimir Putin, he will never be a trusted ally or a reliable constructive partner. Partnering with Putin on a "Cyber Security Unit" is akin to partnering with Assad on a "Chemical Weapons Unit". We have no quarrel with Russia or the Russian people. Problem is with Putin & his oppression, war crimes & interference in our elections.
Trump then backtracked Sunday night, also on Twitter. In the following tweet, he referenced a ceasefire in Syria, one area of agreement between Russia and the United States that so far seems to be a positive possibility.
As for Trump's quick about-face on the "Cyber Security Unit," it could have been prompted by the unequivocal language Sen. Graham used.
I want a clear message to Russia that you'll pay a price for undercutting democracy, and if President Trump doesn't embrace this, I think he will be empowering the Russians and betraying democracy. I can't say it any clearer than that.
The Senate has already tried to make it harder for Trump to relax sanctions against Russia and voted on adding a few more. Whether there are more to come could depend largely on the findings of the Special Prosecutor Robert Mueller, the man in charge of investigating Russian interference in the election and any possible connections between Russia and the Trump campaign.
Meanwhile, it seems even the GOP sees that the "Cyber Security Unit" with Russia is not the answer.