Here's What Every "Old Taylor" In "Look What You Made Me Do" Means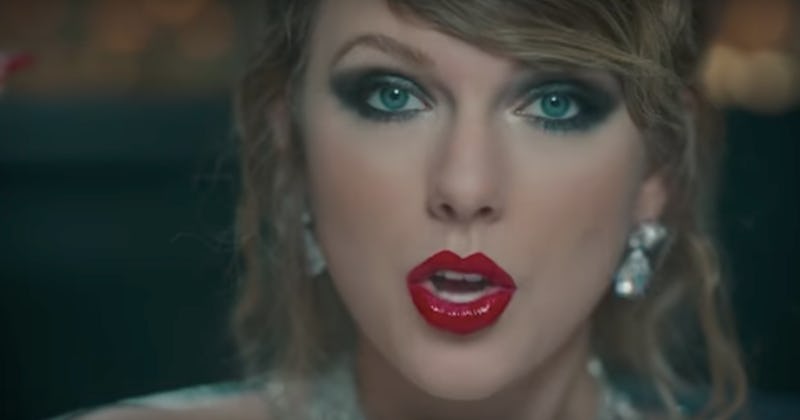 YouTube
Since Taylor Swift released her first single in three years on Friday, reviews have been mixed about her comeback. But after her video for "Look What You Made Me Do" premiered on the 2017 VMAs Sunday night, she may have gained a few more fans. One of the best parts of the video was the way she included all of her past looks in the end, and seeing them fight with each other was priceless. So who were all the Taylors in the "Look What You Made Me Do" video? She didn't miss a single one.
The various Taylors made their first appearance when they were trying to climb up a giant T, where Reputation era Taylor was standing at the top. Then, at the end of the video, they were all standing in a line together, in front of a plane that Swift spray painted the word "reputation" on. And the argument they all had? Epic. Swift mocked herself in the best way possible, bringing up her feud with Kanye West and Kim Kardashian and even having one Taylor mock another for looking so surprised all the time. Even though the entire video was incredible, the ending really made it.
Here's every Taylor from the video. They definitely make it worth a second watch (or 10).
"You Belong With Me" Taylor
In her PJ pants and Junior Jewels t-shirt, this Taylor is straight from the "You Belong With Me" music video — the Taylor who dances around her bedroom and sends Lucas Till messages written in Sharpie through her window.
"Shake It Off' Ballerina Taylor
This is the Taylor who couldn't dance in the "Shake It Off" video. Still as adorable as she was the first time.
Fearless Era Taylor
Remember when Swift used to exclusively dress in sparkly dresses and cowgirl boots? She even included her trademark "13" on her hand for this one.
Red Tour Taylor
Swift wore this circus costume during her Red tour, back when straight hair and red lipstick first became her trademark.
Taylors From The "Look What You Made Me Do" Video
These are the newest Taylors — maybe we'll learn more about them as the Reputation release gets closer?
Snake Taylor
This one's new, too, but it's also a play on how everyone called her a snake after Kardashian released the recorded phone call between her and Kanye West last year.
2014 Met Gala Taylor
This is the exact gown and look Swift sported to the 2014 Met Gala, and it quickly became iconic for her.
Receipts Taylor
This version of Taylor was meant to mock Kim Kardashian, since she was recording their conversation in the video... and threatened to edit it later. Yikes.
2009 VMAs Taylor
In the same dress she was wearing the night West interrupted her at the VMAs and started their feud, too. The perfect outfit for her to bring up her "narrative" line, honestly.
And Every Taylor In Between
It would be impossible to name every single Taylor in this frame, because there are so many of them, but it's easy to see the Taylor in her PJs from the "We Are Never Ever Getting Back Together" video — and the red polka dotted outfit from the same video, too — as well as her blue romper from the 2014 VMAs. Can we please get a full lineup?
There are more details to notice every single time you watch "Look What You Made Me Do" — Swift's many identities included. If this video is a sign of what's to come in this new chapter of her career, it's going to be amazing.