The "Monster" Doctor Accused Of Assaulting 140 Gymnasts Has Been Sentenced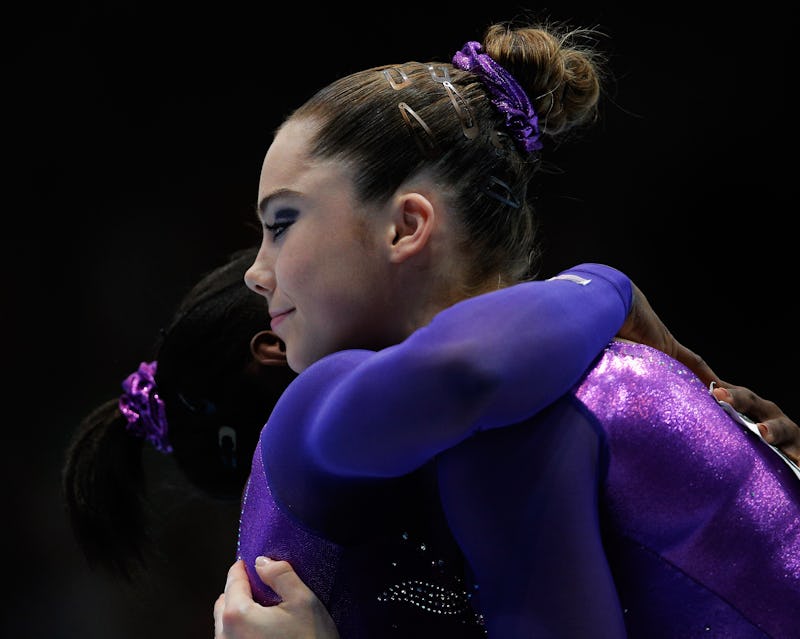 Dean Mouhtaropoulos/Getty Images Sport/Getty Images
On Thursday, former USA Gymnastics doctor Larry Nassar was sentenced to 60 years in prison for child pornography charges. Nassar had been accused of sexually abusing Aly Raisman, McKayla Maroney, Gabby Douglas, and more than 140 others during his tenure.
"You have to wonder whether he felt he was omnipotent," said Judge Janet Neff as she sentenced the disgraced team doctor.
Investigators had found tens of thousands of child pornography files on Nassar's computer after a woman came forward to accuse him of assaulting her. In her statement, Neff added: "[Nassar] has demonstrated that he should never again have access to children."
In an emotional letter pleading for Nassar to receive the fullest sentence possible, Maroney's mother wrote:
Our daughter was totally failed by USA Gymnastics, by Michigan State University and by the U.S. Olympic Committee. No one from the USOC has ever reached out to me or my husband or my daughter to inquire about her well being. Not once. No one has apologized.
McKayla herself wrote in a letter alongside her mother's: "A simple fact is this. If Michigan State University, USA Gymnastics and the U.S. Olympic Committee had paid attention to any of the red flags in Larry Nassar's behavior, I never would have met him, I never would have been 'treated' by him and I never would have been abused by him."
She added: ""He abused my trust, abused my body and left scars on my psyche that may never heal. ... Larry Nassar deserves to spend the rest of his life in prison."
Given that this is just the first of Nassar's sentencings, it's more than likely that the ex-doctor will spend the rest of his life behind bars. Prosecutors had asked for him to receive the maximum sentence, arguing that he was likely to reoffend if and when he was released from prison.
Maroney says she was abused by Nassar for more than five years. Several of her Team USA teammates, including Gabby Douglas and Aly Raisman, have also come forward to say that Nassar abused them, as well. These gymnasts are merely the most high-profile of Nassar's victims; more than 100 others have done the same, both before and after the Team USA gymnasts came forward.
Nassar will be sentenced separately for 10 assault charges brought against him, to which he has pleaded guilty. That sentencing will take place in January. Part of Neff's ruling made clear that Nassar will have to serve whatever time he is sentenced to for those crimes in addition to the 60 years that she sentenced him to for child pornography.
Nassar was not held accountable for his crimes until 2016, when Rachael Denhollander reported to police that Nassar had abused her 15 years previously. Investigators then searched his home, and found the tens of thousands of pornography images, including images of Nassar abusing young children.
Michigan State fired the doctor shortly afterward, and USA Gymnastics cut ties with him, as well. Criminal charges were quickly brought against Nassar for both child pornography possession and assault.
However, victims along with Maroney say that red flags were raised years earlier, and that Nassar should have been held accountable much, much sooner.