'Face Off' Fans Have Waged A Social Media Campaign To Try & Save The Syfy Reality Show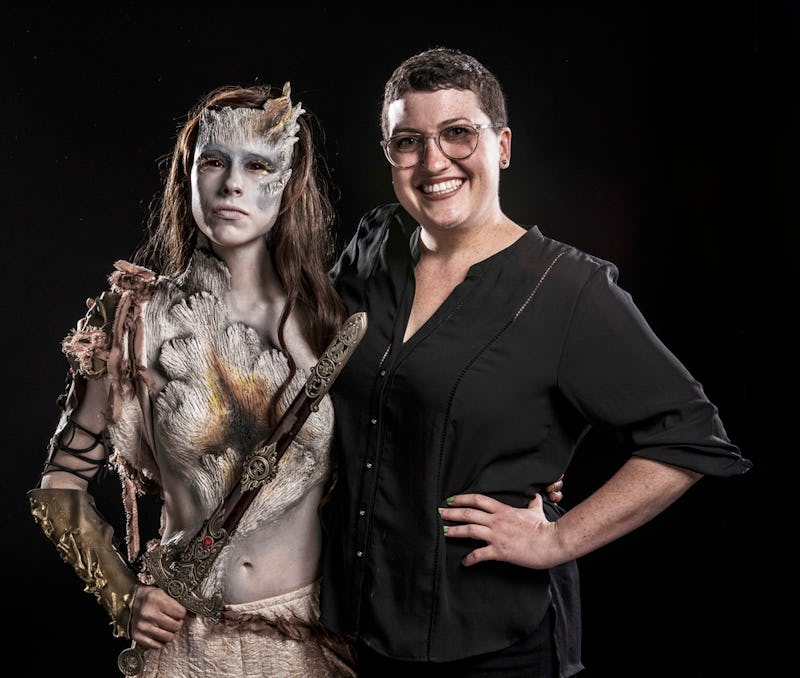 Brandon Hickman/Gemini 3 Productions/SYFY
It's the final showdown for a final group of talented makeup wizards. Syfy's reality competition series Face Off has been pitting prosthetic makeup artists against each other to take the top prize and win the respect of industry greats since 2011. The Face Off Season 13 (aka Face Off: Battle Royale) finale will air on Aug. 7, with the final challenge between past competitors who are back to redeem themselves after a difficult loss. Unfortunately, Face Off won't return for Season 14, according to TV Insider, so the winner will be the show's final champion. So many fans and people who worked on the show are sad to see the end of this creative competition era.
Host McKenzie Westmore re-posted a cancellation message from the show's production company Mission Control Media on her own Instagram The post thanked Face Off's creative team, the fans, and (of course) the talented artists who contributed to the show's longevity and noted that the show has had an "incredible" run. Westmore also encouraged fans to sign a Change.org petition to bring Face Off back for another season. Several fans commented on the post and said the show was inspiring, family-friendly, and brought more happiness to the world.
As the finale approaches, Twitter fans are begging Syfy to #SaveFaceOff from its impending demise. The network has not given a definitive reason for ending such a popular and beloved show and there is no indication that they'll change their minds. But, that won't stop viewers from trying hard to keep their favorite show on air.
Executive producer and co-founder of Mission Control Media Dwight D. Smith spoke to Reality Blurred's Andy Dehnart about the petition and the passionate fandom. "The outpouring of support and passion from our fans has been incredible," says Smith. "We always knew that Face Off had really, really passionate, hardcore fans, and I think they're proving that to be true." The article also claimed that Syfy owns the show and its format, so that means it can't get the Brooklyn Nine-Nine treatment and be rescued by another network.
Honestly, 13 seasons is a great run in today's world where TV viewers have an abundance of options and short attention spans. A reality series like Face Off would eventually run out of innovative challenges and ideas to keep the show feeling fresh.
There was a spin-off series called Face Off: Game Face that debuted in August 2017 and brought back Face Off's big stars to compete in more challenges, but there has been no word on if it is coming back for another season. But perhaps it's best for Face Off to leave while it is on top instead of going out after it has become stale. That's not really comforting to fans who want more right now, unfortunately.
Face Off may be officially over, but the finale will give fans one more chance to marvel at some of the most incredible prosthetic and makeup work ever seen. Hopefully, the show's current and former contestants will continue to let their work shine in the entertainment world after gaining a bigger platform on this special reality series.