Facial Popsicles Are Now A Thing & You Can Make Them Right At Home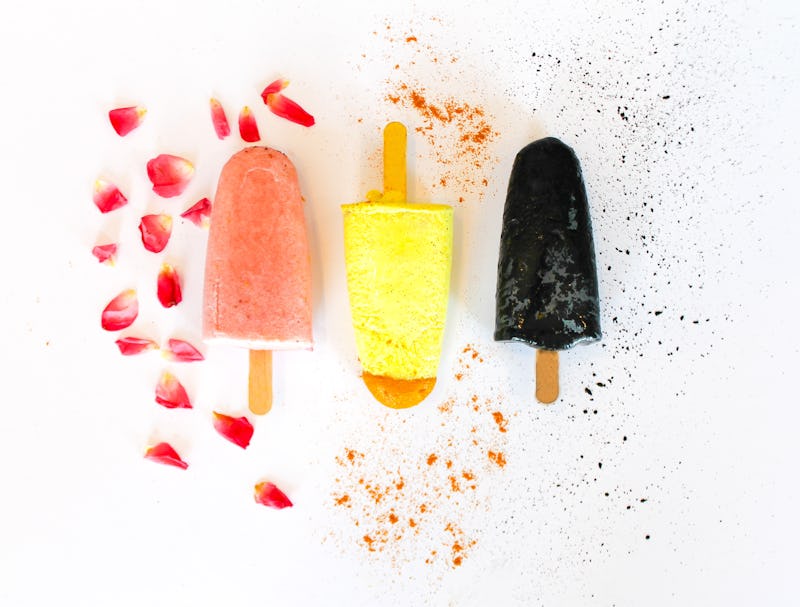 Courtesy Blush
People tend to have a love-hate relationship with skin care. Either your skin loves you for putting it on or hates you for skipping it. Well, it just got a whole lot more fun. Dr. Arleen Lamba, skincare expert and founder of Blush, created facial popsicles that give you all of the benefits of skin care with none of the fuss. Think: all the fun of the childhood snack with glowy skin benefits.
According to Blush, the idea of a popsicle facial was first created in France. It's a frozen serum that you apply straight to your face. No, you don't eat the facial popsicles. The idea is to cool down your skin in the hot summer months while packing in some incredible ingredients and skin care benefits as well.
Since the frozen serums are hard to get across the pond, Lamba figured out how to get all the glowy skin benefits in a product that you can make right at home. Some of these super powerful ingredients might already be hiding in your cabinet, too.
Lamba's popsical facials take ingredients like Greek yogurt, cucumber, and coconut water, and turn them into a part of your skin care routine. You just mix them together, freeze them like a popsicle, and them apply them to your face.
There are three different recipes for the facial popsicles — Charcoal Smoothie, Calm Down, and Just Rosey.
The unique skin care treatment is available at Blush Med Skincare, as the company's treatment of the month. The brand packs the facial popsicles with hyaluronic acid. If you can't make it in to get the treatment, you can make your own right at home. Lamba give some incredible recipes for the popsicles that are super easy to make.
1. Charcoal Smoothie
This face popsicle uses active charcoal and Greek yogurt, mixed and frozen together, to give the skin a deep clean. Just pop the ingredients into a popsicle or ice cube tray, freeze, and let it sit on the skin for five to 10 minutes.
2. Calm Down
If your skin is feeling a little puffy or inflamed, this is the facial popsicle for you. The special ingredients are cucumber water and turmeric, which smooth redness and add hydration to the skin. Remember: This is meant to be rubbed on your skin and not ingested.
3. Just Rosey
Last, but definitely not least, is for all you flower lovers out there. To give your skin a pick-me-up, combine rose water, fresh mint, and coconut water into a mixture and give it a freeze. Not only will your skin be cleansed and hydrated, but you'll also get toner skin from the addition of mint. Basically, this is an entire skin care routine in one little popsicle.
All of these recipes are meant to be rubbed straight onto your face. Don't let the name of the new skin care treatment fool you. The recipes all use edible ingredients, but you'll need to apply them directly to your skin to see the benefits.