Fake Russian Soldiers Were Spotted Trolling Trump At His Walk Of Fame Star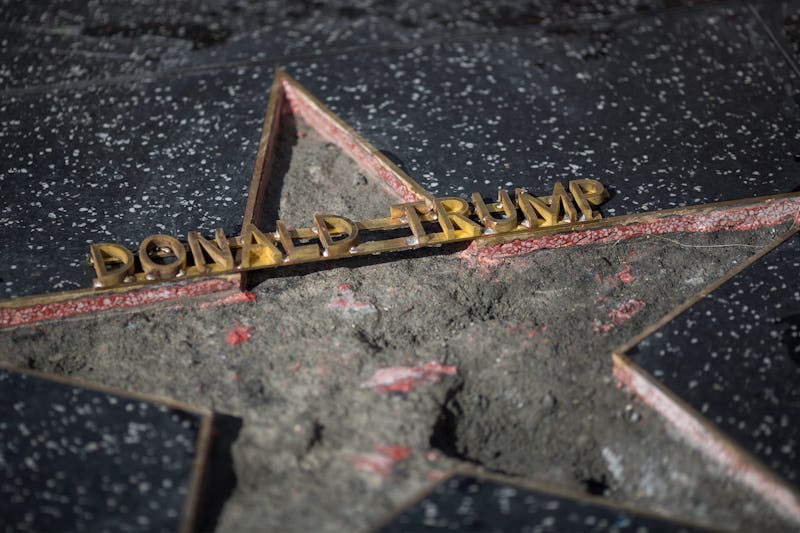 David McNew/Getty Images News/Getty Images
Has President Donald Trump's Hollywood Walk of Fame Star acquired its own security team? Two men dressed as Russian soldiers have guarded Trump's Walk of Fame star since it was destroyed last week. But were they sent by the Kremlin or is this merely satirical trolling? Trump's Russian guards are more than likely a clever protest against the president's alleged Russia connections.
Trump's Walk of Fame star has become a popular site for protests since an anti-Trump protester took a pickaxe to the public monument early Wednesday morning. But some of Trump's critics took their protests to a truly satirical level when they showed up to "protect" the remnants of Trump's Walk of Fame star while dressed as Russian guards.
The two men were first spotted standing guard at Trump's destroyed star on Wednesday. Despite Los Angeles' sweltering heat, the two men were dressed in fur-trimmed ushanka hats and heavy olive colored knee-length coats reminiscent of a Soviet officer's uniform. To further drive home the point of their protest, the stone-faced men carried a Russian flag as they stood guard over Trump's Walk of Fame star.
President Trump has come under intense criticism and scrutiny for his apparent unwillingness to accept U.S. intelligence agencies' reports of Russian election interference. Earlier this month, at a joint press conference in Helsinki with Russian President Vladimir Putin, Trump said he did not see "any reason" why Russia would be behind the election meddling and implied that he had accepted Putin's denial. Trump went on to characterize Special Counsel Robert Mueller's investigation into allegations of collusion between the Trump campaign and Russia as "ridiculous" and a "witch hunt."
Later, the president attempted to walk back his statements amid mounting criticism, claiming he'd been trying to use a double negative and had misspoke. He claimed he'd meant to say, "I don't see any reason why it wouldn't be Russia."
But Trump continued to issue a series of confusing and often contradictory remarks regarding his thoughts on Russia's election interference as the week went on. A day after meeting with Putin, Trump said he accepted U.S. intelligence agencies' findings regarding Russian meddling but then added that the hacking "could be other people also."
The "Russian guards" standing guard over the remains of Trump's decimated Walk of Fame star even attracted the attention of late-night talk show host Jimmy Kimmel. "The president now has security out there on the boulevard protecting his star," Kimmel said Thursday while airing footage of the men on his show Jimmy Kimmel Live!. "That's what comrades do for other comrades. If anyone even thinks about trying this [again], those guys will be there to say, 'Nyet.'"
Trump's star on the Hollywood Walk of Fame has been destroyed twice since he announced his intention to run for president. Los Angeles Police said Austin Clay turned himself in after taking a pickaxe to the star early Wednesday morning. He was arrested on suspicion of felony vandalism but later bailed out by James Otis, the man who'd used a sledgehammer and pickaxe to destroy Trump's Walk of Fame star in the run up to the 2016 election.